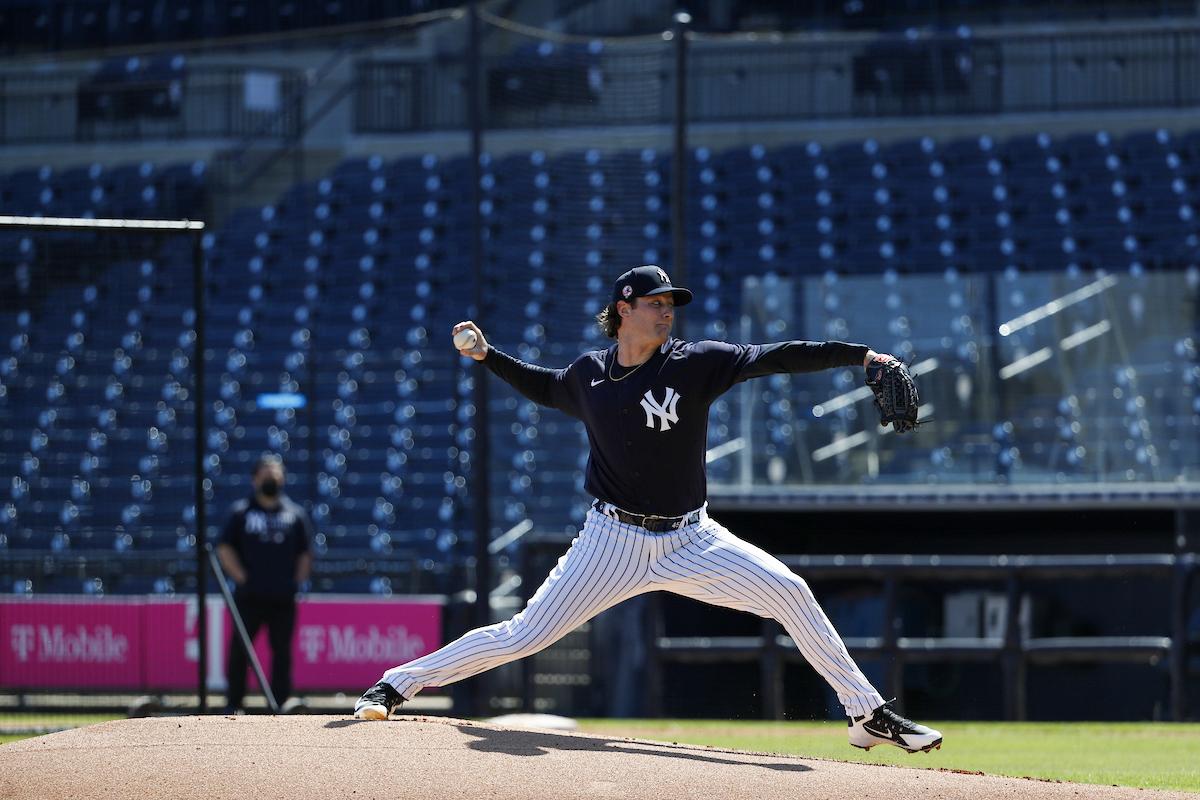 Another quiet day for the Yankees in Tampa. So it goes. Spring training is in full swing and we're not too far away from game action (this Sunday! and it's on TV!).
Before we get to the story of the day and a few other notes, take a look at the ups and downs of Mike Tauchman's day:
Believe this is our first bat snap of the spring. Mike Tauchman vs. Domingo Germán. pic.twitter.com/XxkDJmKdpY

— Lindsey Adler (@lindseyadler) February 25, 2021
Take it easy there! It's not even March yet. Then again, Tauchman is fighting for a job this spring. With Kyle Higashioka, Tyler Wade, and Brett Gardner assured bench roles already, there's just one open spot remaining. Could be Tauchman, but he'll have to beat out Jay Bruce and Derek Dietrich. At least Tauchman redeemed himself later:
Redemption for Mike Tauchman, who takes Gerrit Cole deep. Long season, etc. pic.twitter.com/wVNmq4TEUR

— Lindsey Adler (@lindseyadler) February 25, 2021
Similar to what Lindsey tweeted, it's still a lengthy spring training to get through. A lot of players are eager to head north within a week or two of Opening Day, but Tauchman could still be fighting for a job at that point.
The Big Story: Brett Gardner
Brett Gardner spoke to reporters this afternoon regarding a few topics, ranging from his offseason contract negotiations, his role on the team, Clint Frazier, and his playing future.
Brett Gardner said no hard feelings toward the Yankees for what ended up a long, "frustrating" contract negotiation. He says he's just glad he's back.

— Brendan Kuty (@BrendanKutyNJ) February 25, 2021
Brett Gardner said that he wanted to return to the Yankees, but that he was at least somewhat open to playing elsewhere. He didn't want last season to be his final one.

— Brendan Kuty (@BrendanKutyNJ) February 25, 2021
It's no surprise to hear that the negotiations were frustrating. The Yankees seemed prepared to stand their ground until they got Gardner at their price, which they did. Greg Allen was around as insurance, even though I don't think there's anyone who'd prefer Allen to Gardner on this year's team.
"I'm planning on playing every day,'' Brett Gardner says. Mindful of Yankees outfield situation, his approach does not change. Also says this could be his last year as player, but circumstances could change. Plans to soak in each day, w/ a goal to be on "the last team standing.''

— Pete Caldera (@pcaldera) February 25, 2021
We already know that Clint Frazier is the team's starting left fielder. Aaron Boone has said as much. So there's no need to read into Gardner saying he's planning on playing everyday. He's saying that because of he course he is — he's a competitor. Besides, it's better to be ready to play daily. We sure as hell know that the Yankees have exhausted the injured list in recent years.
Speaking of Frazier, there's absolutely no animosity between him and Gardner. For one, Gardner said this:
Brett Gardner said he accepts whatever role he will have on this team and praised Clint Frazier's ability and growth as a player.

Gardner said less than two weeks ago he still was unsure where he'd be. Other teams, retirement were on the table but happy to be back with NYY

— Sweeny Murti (@YankeesWFAN) February 25, 2021
And two, Frazier is happy to see his teammate back.
"I don't think there was one person that was not excited when Brett (Gardner) was coming back. I was at the top of the list." – Clint Frazier

— Bryan Hoch (@BryanHoch) February 25, 2021
You didn't need these tweets to know that these two get along. Gardner's a bit of a prankster, and we have already heard about Brett using some of Clint's equipment during games. Frazier has joked about Gardner not taking his stuff already.
Lastly, let's touch on Gardner's future after this year. He's 37. As you can see from Murti's tweet above, retirement was "on the table" before he re-signed. This year really sounds like it could be his last though, considering Caldera's tweet. I think Gardner could probably play another year or two, but his time is certainly coming. I'm glad there'll be (some) fans in the stands to give him a good sendoff, should he actually depart for good.
Leftovers
Pitching Assignments: New signee Justin Wilson threw a side session at the gas station. Gerrit Cole, Domingo Germán, Jonathan Loaisiga, Lucas Luetge, Nick Nelson, Kyle Barraclough, Tyler Lyons, Nestor Cortes, Brooks Kriske, and Addison Russ threw live batting practice. (Bryan Hoch)
Grapefruit League Opener: Michael King starts the Yankees' first spring training game on Sunday. It will be on YES and start at 1pm. Stay tuned for our TV schedule post forthcoming.
Bullpen competition: Aaron Boone told the media that one or two bullpen roles are up for grabs. He also noted that whoever the team carries as its fifth starter could act as a reliever in the early going given all of the off days to start the season. The Yankees have four days off in April.(Brendan Kuty)
---
In case you missed it earlier: Dom previewed the infield corners, Matt looked into ways Jordan Montgomery could improve, and I wrote about the Yankees' strong pitching depth.
And that's it for today. I'll leave you all with this:
let the kids playyy! @VictusSports 🕶 pic.twitter.com/pAKntBLc6K

— Clint Frazier (@clintfrazier) February 25, 2021
What does everyone think? Me personally: I'm a fan. I do wonder if pitchers would complain about it being distracting, which I suppose is a possibility. But it would add a little bit of personality into a league that we know lacks it.