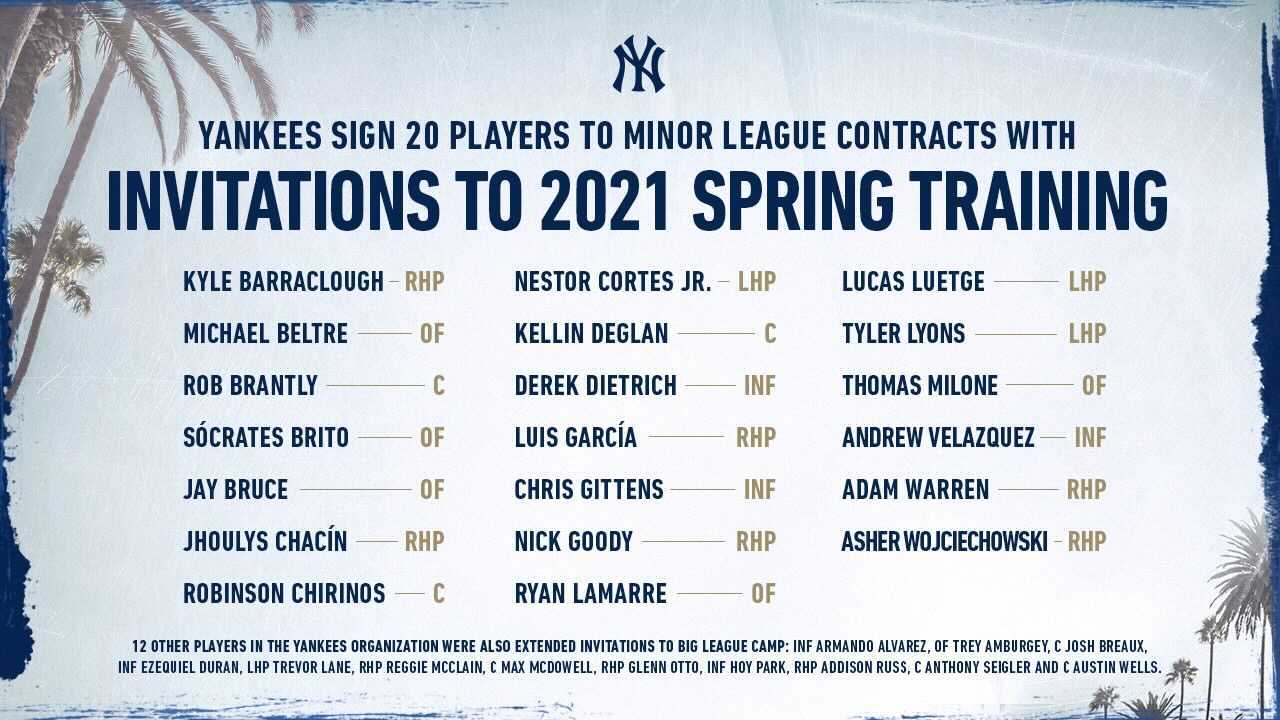 The wait is over. And no, I'm not talking about pitchers and catchers reporting to spring training today. Rather, the Yankees finally announced the club's non-roster invitees to big league camp this morning.
The vast majority of these players are no surprise given the trickle of minor league deals during the offseason. However, there are a few players who popped up out of nowhere. For instance, there was no word of Derek Dietrich or Nick Goody joining the Bombers until the team pushed out this announcement. Then there are a couple of prospects, namely last year's first rounder Austin Wells, who are aboard.
The Yankees officially will have 72 players in camp (really, 73 once Justin Wilson is announced). Let's break down those joining the club's 40-man roster.
Catchers
Ample catching is always a requirement early in camp, and the Yankees will have seven more backstops in tow alongside Gary Sánchez and Kyle Higashioka.
Of this subgroup of NRIs, Robinson Chirinos is the only player likely to see any time in New York. Now, don't expect him to unseat Sánchez or Higashioka out of camp, but Chirinos is the break glass in case of [injury] option. Chirinos, 36, is a lifetime .231/.325/.431 (102 wRC+) hitter in 2,125 big league plate appearances. He's not much of a defender, but the bat is useful.
Rob Brantly is the other catcher with major league experience here, but the vast majority of that was way back in 2012 and 2013. He's really just another body in camp. Kellin Deglan and Max McDowell represent the other two minor league depth backstops in camp.
Now, for the fun part. The Yankees invited three noteworthy prospects: Austin Wells, Anthony Siegler, and Josh Breaux. Wells, last year's first round draft choice, has yet to see any professional action. Siegler (2018 first round) and Breaux (2018 second round) certainly could use the reps after no game action last year too. We've yet to see Seigler do much in the minors, but he's also had a hard time staying healthy. Meanwhile, Breaux broke out in 2019 in Charleston when he posted a 141 wRC+ and 13 homers in just 216 plate appearances.
Infielders
Derek Dietrich is the most notable player in this group, but it's somewhat difficult to envision him breaking camp with the Bombers. Even though he's a lefty bat with power, he's basically limited to second and first base. The other guy with big league time here is Andrew Velazquez. He might be the first non 40-man guy up if the Yankees have an injury in the middle infield. Otherwise, he looks ticketed for Scranton.
Chris Gittens, who we've seen in big league camp before, brings tons of power from the right side of the plate as a first base/DH type. Armando Alvarez, a 26 year-old infielder, will serve as an extra glove. He did top out at Triple-A in 2019, but he's not a real threat to play for the Yanks this season.
On the prospect side, Ezequiel Duran is the most exciting name in this group. He's not going to sniff the majors this year, but he's a fun player to watch. Duran has big power, especially for a second baseman, though there's some uncertainty about his bat-to-ball and defensive skills. Hoy Park is the other prospect here, though of the fringe-prospect variety.
Outfielders
Jay Bruce leads this gang of NRIs, though he's nominally an outfielder still. The Yankees have listed him there, though he belongs at first base or DH at this stage of his career. It wouldn't be a shock to see him in pinstripes come Opening Day. Although he hasn't performed well at the plate since 2017, he still has big power from the left side and could pepper the short porch.
Don't expect to see anyone else in this group in the majors this season. Hopefully, at least. Socrates Brito and Ryan LaMarre both have some experience in the majors, but really just represent emergency options in center field.
This is the second straight year the Yankees have signed Thomas Milone to a minor league deal with an invite to big league camp. He had been in the Rays organization, topping out at Double-A, and was a former 3rd rounder. I suppose he was a mildly interesting prospect years back, so perhaps the Yankees like something in Milone. Then there's Michael Beltre, another minor league free agent the Yankees brought in. He had spent his entire minor league career in the Reds' organization and provides the Yankees with another outfielder for the upper minors.
Lastly, there's familiar face here: Trey Amburgey. He's been in big league camp before. Amburgey's a 26 year-old outfielder who the Yankees drafted in the 13th round back in 2015. He's played at Triple-A and has had some success there, but he's not much of a prospect.
Pitchers
Embed from Getty Images
Plenty of arms in this group, as you'd expect. Some who we've seen in the organization before as well. Southpaws Nestor Cortes and Tyler Lyons along with righties Nick Goody and Adam Warren have major league time in the Bronx. Wouldn't surprise me to see any of them with the Yanks this season.
Goody's posted a couple of solid seasons in relief for Cleveland in the past few years, but struggled in Texas in 2020. Old friend Warren should be a go coming off Tommy John surgery. Cortes is a mop-up lefty who can eat low leverage innings as needed. Lyons, who's popped up on the Yankees' roster each year since 2018, is really just a LOOGY without a great fit in the three batter minimum era.
Other ex-big leaguers of note: Lucas Luetge, Kyle Barraclough, Jhoulys Chacín, Luis García, Asher Wojciechowski, and Reggie McClain.
I wouldn't expect any significant contributions from these guys, but Barraclough and García are interesting relief arms. Although it's been a few years, both have had really good seasons as relievers in the majors. Barraclough posted a 2.85 ERA and 2.11 FIP in 72.2 innings out of the Marlins' bullpen back in 2016. Meanwhile, García had a strong campaign in Philadelphia's 'pen in 2017 (2.65 ERA and 3.12 FIP in 71.1 innings).
Chacín and Wojciechowski are depth starters and/or long relievers. Wojciechowski got rocked in Baltimore over the last two years, so I'm not sure what the Yankees see in him other than an extra warm body. Chacín, on the other hand, has some really good seasons in big league rotations under his belt. Things haven't gone so well for the now 33 year-old over the last two years, but he did record a 3.50 ERA and 4.03 FIP in 192.2 innings for Milwaukee in 2018.
Trevor Lane, Addison Russ, and Glen Otto round out this group. Lane's a lefty who figures to pitch in relief for the Railriders this summer. The Yankees acquired Russ for David Hale last season and somewhat surprisingly didn't add him to the 40-man roster a couple months ago. Then again, he was passed up in the Rule 5 so perhaps something didn't look right at the Alternate Site. Finally, Otto is the lone NRI starting pitcher prospect. He was the club's 5th round pick in 2017 and maxed out at Double-A in 2019.