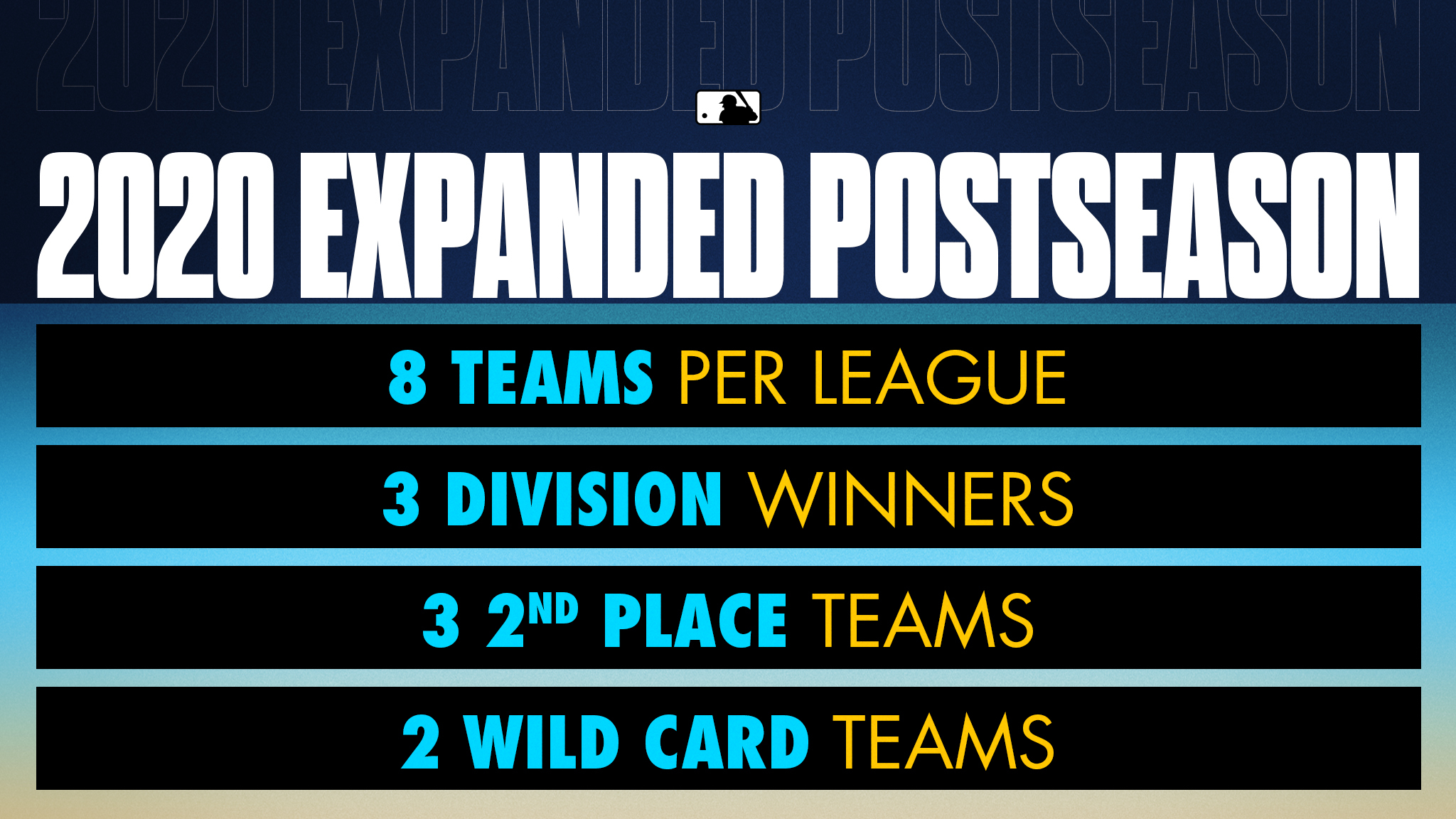 A few hours before first pitch last night, MLB and the MLBPA agreed to expand the 2020 postseason to 16 teams. Sometimes you really just have to stand in awe of MLB's ability to surprise, don't you? Changing the season format on literally Opening Day is incredible. Needless to say, this new format changes this considerably. Here are the new rules:
There will be 8 teams from the American League and 8 teams from the National League, totaling 16 playoff teams.
Every division winner and runner-up makes the dance, with each league's 1-3 seeds being divided by division winner record and seeds 4-6 divided by best runner-up record. Seeds 7 and 8 – the true wild cards – will be the league's best remaining records. (Lamely, all ties will be resolved mathematically.)
The new Wild Card round will be a best-of-three series all played at the higher seed's park – 1 vs. 8, 2 vs. 7, and so on.
Crucially, there is a $50 million pool that will be divided up and distributed to players participating in the playoffs. (This is actually a good get for them.)
There's a lot that can be said about all of this, of course. Personally, I'm not a huge fan of more than half the league making the playoffs in baseball. I just don't like it. I'm okay with it for 2020 specifically given, well, everything, but I always assume these rule changes are here to stay. That's usually how it works! I just hope that this particular change comes and goes with pandemic baseball. Could be worse.
Regardless of my feelings, this new format has a tangible impact on the Yankees. Let's get into how this all breaks down.
Playoff/World Series Odds
On some level, the new format is a good thing for the Yankees (and everyone else). It offers a massive level of protection against injury, slumps, a slow start, etc. That seems pretty obvious. All things are not created equal, though. The expanded postseason format definitely hurts top teams like the Yankees more than it helps them.
FanGraphs' playoff odds calculator provides a good illustration. Before the new format, it gave the Yankees a 72.9% chance of making the postseason and a 10.9% chance of winning the World Series. Then, after the new rules were implemented, the playoff odds jumped to 91.4% while World Series odds declined to 1o%. (In a show of how important each game is, both the Yanks' playoff and World Series odds jumped a bit after their 4-1 win last night.)
FiveThirtyEight has a slightly different calculation, obviously, but it's mostly the same result. The new format increased the Yanks' playoff odds (81.6% to 94.5%) while decreasing World Series odds (14.4% to 13.6%). (Baseball-Prospectus' PECOTA standings – my preferred projection system – haven't yet been updated to reflect the new system but will likely yield a similar outcome.)
This all tracks. Expanded playoffs mean more teams but also more playoff games, which makes it more difficult to actually win the World Series. Not rocket science, but for a team like the Yankees, it's definitely a small irritant. At FiveThirtyEight, only the Nationals, Twins, Yankees, Astros, and Dodgers – all of whom could be considered favorites – saw their title odds decrease.
A Sprint vs. A Jog
For weeks, we've been focused on how the 60-game season is wholly unique in baseball history. With each win "counting" the same as 2.7 wins in a regular 162-game season, that placed an unprecedented importance on each game. A two-week skid here or a 10-game slump there could derail a whole season. That calculus is now changed, as demonstrated by the playoff odds above.
Will that change the Yankees' strategy? It could. As Derek noted earlier today, it might influence the way the team manages playing time. It's really hard to imagine the Yankees missing the postseason in virtually any circumstance now. It's also almost as difficult to imagine them not hosting all 3 games in the Wild Card round. (Remember, they'd have to be the lower seed to be on the road for the Wild Card games, which means seed 5-8. It's borderline unfathomable, but anything is possible.)
In other words, making the dance is all but guaranteed at this point. That means we might see more rigid bullpen use of top arms, more lineup variance on a day-to-day basis, and just generally more inflexible rest scheduling. The sprint has become a jog, so it a careful team like the Yankees may deploy a 2020 strategy like we see the NBA. (60 games, while short, is still long enough for the best teams to separate themselves in most cases, I think. The Yanks and Dodgers will still be comfortable.)
Now, if the Yankees really struggle and my confidence proves unfounded in the coming weeks, then this is all subject to change. Let's hope it doesn't come to that – and, right now, there's no reason to think it will.
Trade Deadline
Finally, this significantly alters the trade deadline calculus. The new deadline was pushed back to August 31 and was already going to be a weird, unpredictable one. First, there is only a month to size up your team and standing. Second, I was curious to see if teams will want to give up prospect talent to go all-in on an uncertain season. Now, though, there's an additional layer: nearly every team will still be in the race.
That most likely means a stagnated market. There will be fewer sellers, and, theoretically at least, more buyers. It'll make it harder for the Yankees to trade for another bullpen arm or replace an injured player if push comes to shove. The good news is that the Yankees are already really deep and talented, so they shouldn't be relying on the trade market this year anyway. But it is another factor to consider.
---
I'm sure there will be other impacts down the line – it's still amazing to me that this happened less than 24 hours ago on Opening Day – but that seems like the basics for now. In a short season, it's probably fine. Give me more playoffs to watch this year and I'm happy, even if it hurts the Yankees. I'll absolutely hate it if this is here to stay, though.
On the other hand, instead of getting to watch the Yankees win 11 games en route to World Series number 28, this year we'll get to watch 13 wins. That's the best glass half full perspective I can muster, but I'd be okay with that.