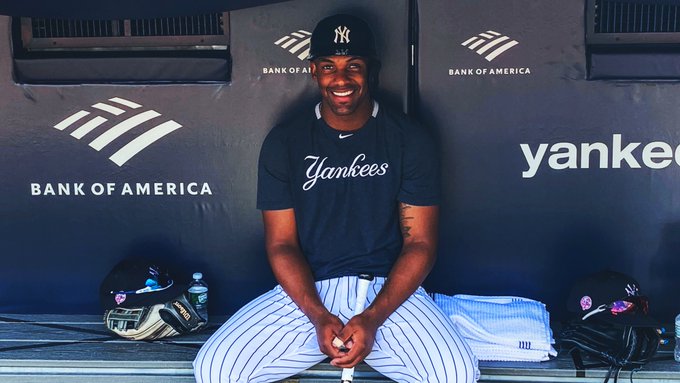 One week from now, we'll all be gearing up to watch Gerrit Cole take on Max Scherzer in the nation's capital. It will be the first baseball game since Howie Kendrick devastated the Astros in Game 7 of the World Series, making him a true hero in my book. Hopefully the league can pull this off in a way that will be safe for everyone.
Last call for any mailbag questions for tomorrow. Send in your questions to viewsfrom314 [at] gmail [dot] com. Before then, here are some quick-hitters on my mind as Opening Day gets ever closer.
1. DJ LeMahieu's Return and the Yankee Lineup: Last night, the Yankee lineup got a lot deeper. Ken Rosenthal reported (and Joel Sherman confirmed) that last year's Yankee MVP is returning to camp this week after being diagnosed with COVID earlier this month. We still don't know when DJ is actually going to show up or how long it will take him to get up to game speed, but it's good news for a lot of very obvious reasons.
Let's assume for a minute that he'll be ready to go by Opening Day. (Is this a big assumption? I honestly don't know!) That will obviously change the Yankee lineup for the better against Max Scherzer. The team, which is fully healthy offensively, has a deep lineup with a lot of options. Let's compare the lineup they've been using to the one we can expect them to trot out next week:
Old Lineup:
Aaron Hicks, CF
Aaron Judge, RF
Gleyber Torres, SS
Giancarlo Stanton, DH
Gary Sánchez, C
Brett Gardner, CF
Luke Voit, 1B
Gio Urshela, 3B
Tyler Wade, 2B
Expected New Lineup:
DJ LeMahieu, 2B
Aaron Judge, RF
Aaron Hicks, CF
Giancarlo Stanton, DH
Gleyber Torres, SS
Gary Sánchez, C
Brett Gardner, CF
Luke Voit, 1B
Gio Urshela, 3B
Does that look right? I think it's close, at least. We pretty much know for sure that LeMahieu will hit in the leadoff spot: he played in 145 games last year and led off in 126 of them. As for the rest, the Yanks love to have a lefty option in the 3rd slot, so I think Hicks will replace Torres between Judge and Stanton. Gleyber will then hit 5th, with the rest of that lineup shifting down.
That feels close to the Yankees' A-lineup, at least to me, even if I personally would flip Gardner and Voit. That is one scary collection of hitters right there.
2. James Paxton in Game 2: Aaron Boone announced yesterday that James Paxton will start the second game of the season for the Yankees. Big Maple started last night's intrasquad game, which puts him on track to start that game on regular rest. Cool with me – when he's really going, Paxton is about as good as it gets.
Remember, Paxton really turned a corner right after the trade deadline last year and became the pitcher the Yankees expected him to be. He started using both his curveball and changeup a lot more and it really paid off. His strikeout rate (29.9%), walk rate (8.1%), BAA (.215), and BOP (.281) all improved in August and September. He really earned that Game 1 of the ALDS slot. The 2020 Yankees will be a lot better if he is in this form. Here is a reminder of what that looks like:
With that said, there are a few reasons to be worried about Paxton right now. Most obviously, he is recovering from back surgery. That is never easy on a pitcher and I'm afraid we're already seeing some of those impacts. It seems to be manifesting in two distinct ways: his windup and his velocity.
Paxton told Bryan Hoch that his arm angle was lower than it normally is when he got to camp. Apparently, he's fixed that issue – that's what he says, anyway – but we'll have to keep an eye on that. I'm not too concerned about it just yet, as pitchers have to make these sorts of mechanical tweaks all of the time. More worrying is his claim that his velocity is down.
"I think the next step for me is finding the velocity," Paxton also said. "I'm not really a guy that gets that velocity in bullpens or anything like that, so that'll be more of a game-time thing when the adrenaline starts pumping. It'll be good to see some mid-to-high-90s numbers come in there. That'll really show me that I'm 100 percent back."
For Paxton to be effective, he'll want to be sitting at 95+ mph. He doesn't seem to be there right now. Perhaps that not surprising – again, back surgery – but it's worth watching. We haven't gotten velocity readings yet but hopefully we see some mid-90s stuff when we do. It'll be important.
3. Chad Green's Curveball: Back in early March, I wrote about Chad Green using a new curveball. He has tried introducing a real second pitch nearly every Spring, and it makes sense: he is traditionally a one-pitch pitcher who gets by on his fastball alone. I'll admit that I haven't been able to pay close enough attention to Green's usage of the pitch in recent weeks, but I'm very interested to see if he sticks with it this year.
The fastball/curveball combination is a classic one for a reason. It really works. Green's fastball is so good that he only needs to threaten a bender to make it effective, like he did here on this 0-2 pitch:
And here again on on a 1-1:
I don't have much more to add here – I basically said it all in March – but this is something on my mind as we get close to real game action. The loss of Chapman means everyone's role in the bullpen is now that much more important. If Green can develop a real complement to this pitch, the Yankees will be all the better for it:
4. Aaron Judge and Giancarlo Stanton Together Again: The YES Network's stat guru James Smyth pointed something out last night that I didn't even realize: Aaron Judge and Giancarlo Stanton didn't homer in the same game in all of 2019. That's not surprising – neither of them were exactly healthy – but it really underscores how remarkable it was that the Yankees went 103-59 anyway. It's nuts.
Anyway, this is all relevant because, well, both Judge and Stanton went deep last night off James Paxton. There's video for both. Here's Judge:
And here is Stanton's, which is just absolutely ridiculous:
As I noted in last week's mailbag, Judge and Stanton are good for a HR every 13 at-bats or so collectively, which is an elite mark in baseball history. If they're healthy, we should be treated to some real fireworks displays this year. I sure hope so anyway. It's a damn shame that they both missed time during the rocketball year. But, if last night is any indication, we are going to feel sorry for the baseballs, indeed.
5. Artificial Crowd Noise: Finally, it looks like teams are going to pump fake audio into the parks this year without fans. Here's some video of the Mets doing it last night:
It sounds kinda weird, right? But I guess teams are in a difficult spot. Silent ballparks – apparently you could hear Brett Gardner sneeze all the way from the press box the other day– are also weird. I think we all know that this is going to be a really dystopian, weird year and this really brings that home. I do think it's a bit strange that no team is (publicly, at least) considering the Zoom hangouts that some European soccer teams are doing, as commenter MG309 pointed out last week. Read about that here. Seems like a potential revenue opportunity that could be a bit more organic than fake noise.
I don't know, though. There's no good solution here, and it's going to be weird as hell to watch games in empty stadiums. Oh well. The times are the times.