Well, if this isn't rock bottom for the 2021 Yankees it's certainly close. After losing a series to the putrid Orioles, the Yankees got swept by the Blue Jays in truly embarrassing fashion. Bobby outlined just how poor they played in that series in last night's recap. Since the 13 game winning streak, the Yankees are 2-10, lost 6 straight, and dropped 3 straight series to teams that are currently not in a playoff position. The playoff win probability chart says it all: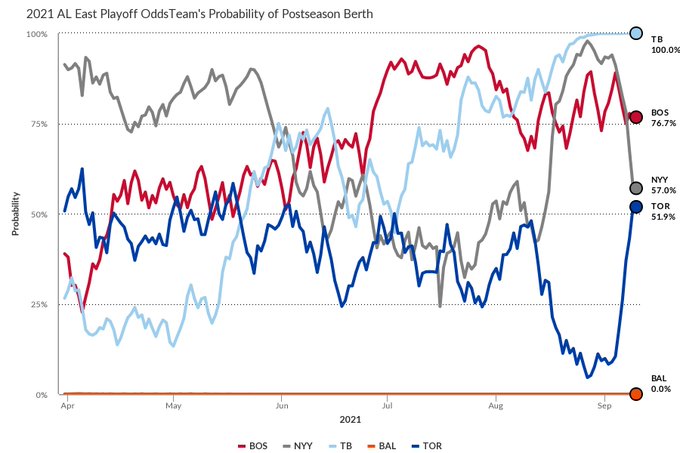 The Yankees playoff odds have dropped from over 95% to just over 57% with the Blue Jays nipping at their heels. The turnaround needs to start and it needs to start tonight. Luckily for the Yankees, they are not the most publicly embarrassing organization in the city and they start a 3 game series against that team – the crosstown rival Mets – tonight.
Setting baseball aside for a moment, this is a very important series because it's the 20th anniversary of 9/11 and I'm sure the ceremonies will respectfully honor the important occasion. Hopefully it is a weekend of healing for the people and the city who can never forget what happened.