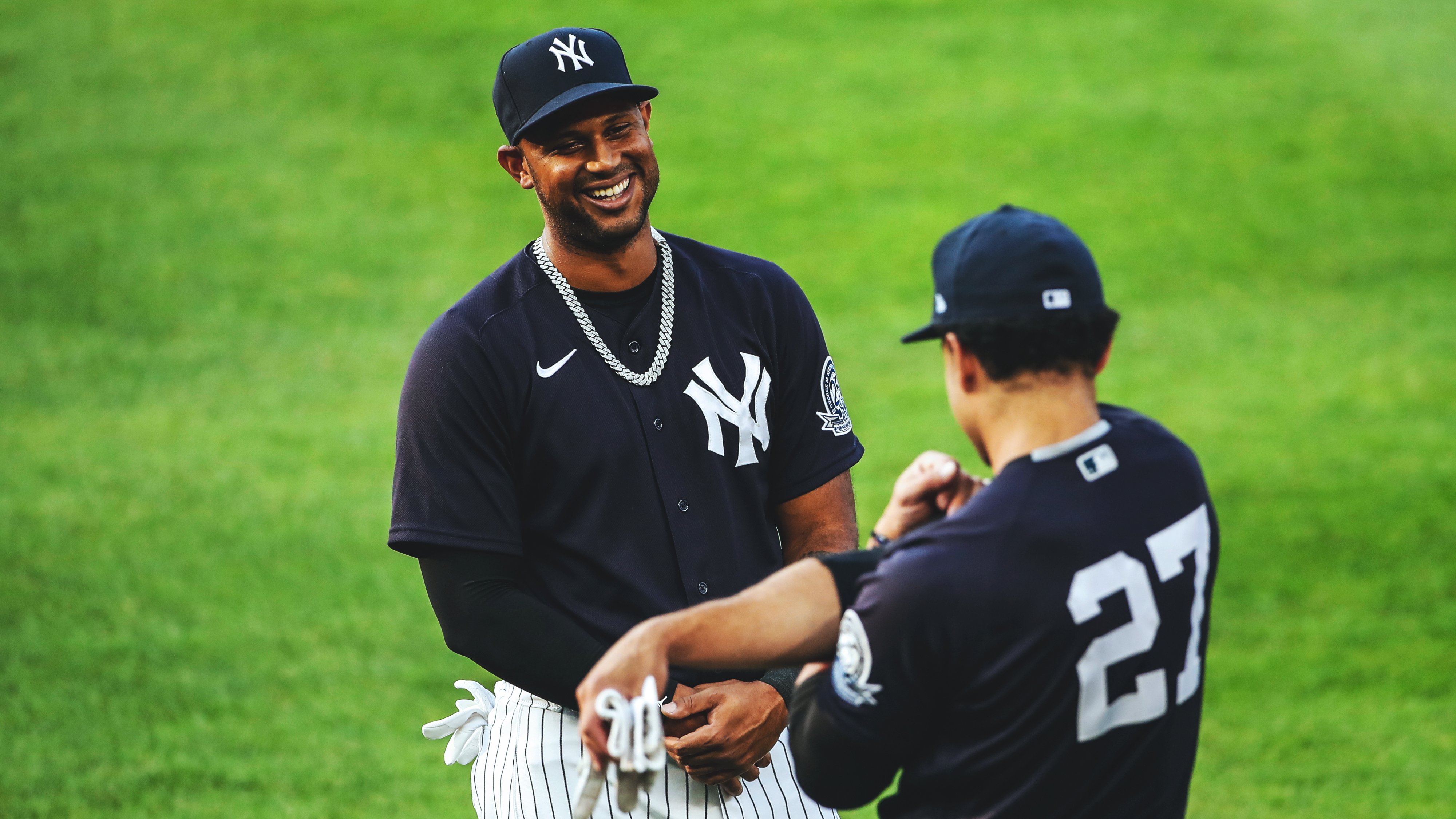 The Yankees played the Mets twice this weekend and it sure did feel good to watch. Granted, the Yankees outscored the Mets 15-3 and won both games, which made them feel extra good, but even just having baseball on felt tremendous. I listened to John and Suzyn, thought about strategy, and watched home runs. It was almost like things were normal.
Anyway, these games may have been meaningless, but the real ones begin in just four days. In other words, we saw this weekend is instructive about what we should expect this week and beyond. Here are my biggest takeaways of the weekend:
1. Power, Power, & More Power: The current Yankee resurgence began in earnest in 2017, and the team has been mashing the ball ever since. Check out the team home run leaderboard from 2017-2018:
Yankees: 814 HR
Dodgers: 735 HR
Astros: 731 HR
Obviously, we all know this. But it's easy to forget how much more powerful the Yanks are than their competition. That is a huge gap between the league's three best teams and it was really on display this weekend. The Yanks hit 6 homers off the Mets and every single one of them was an absolute shot.
Clint Frazier (more on him in a minute) got the action started on Saturday with a massive home run in Queens. It was a meatball from Mets starter Rick Porcello. I mean, look at this:
It was an off-speed pitch, so that one continued to drop down right into the sweet spot and over the heart of the plate. Frazier is obviously the subject of a great deal of controversy, but one thing is not in doubt: he has incredible bat speed. If you lay one on a tee for him, well, you're going to get something like this:
Frazier's success was great to see and there was a lot more where that came from on Saturday. Aaron Judge went deep twice, with Gary Sánchez, Luke Voit, and Giancarlo Stanton all joining in the fun. Each ball was absolutely obliterated. Here they are, in all of their glory:
It's just an exhibition game, but I think the Yankees' offense might be pretty good! Who know?
2. Clint Frazier's New Stance: Speaking of Frazier, we got to see his new stance in a "real" game for the first game since March. As a reminder, here is a side-by-side of the old stance (left) and the new (right):
It's a drastic difference. His left foot is up on its toes, with his heel (and hip) pointed directly at the pitcher. In Frazier's estimation, 60% of his weight is now on his back foot in the new stance. The idea is to free up his mechanics to let him really attack the ball and capitalize on his bat speed. We could see it in action on the pitch he hit out on Saturday. Check it out as Porcello comes set:
I think we all know that Frazier is capable offensively, but it's nice to see him trying to get even better. As we all know, you can never have too much offense, and quality depth is always a differentiator between legitimate title threats and flukes. Who knows what kind of playing time he gets this season – it's a crowded lineup and roster – but if the new stance helps him take his game to the next level, it will be all the better for everyone
For his part, he thinks it will. "A lot of times, people have talked about my bat speed, but I never really felt like it was always there," Frazier said in Spring Training. "I felt like I was trying to shoot a gun with it on safety. There were things stopping it along the way and I didn't feel like I wanted it to. I feel like this move is giving me my best chance."
3. Gary's New Defensive Stance: Speaking of new stances, we got to see Gary Sánchez's new defense in action over the weekend as well. I just wrote about this in more detail on Thursday, so there's not a whole lot more to add now. It's just something I think is interesting. Anyway, i said that I didn't notice the new stance in the intrasquad games. I'm sure that means I wasn't paying close enough attention because, well, look at this:
Pretty tough to miss! Interestingly, it even stands in stark contrast to Kyle Higashioka's stance from Saturday night:
My guess is that Higashioka isn't deploying the new stance because, well, he doesn't need to. He has always been an elite framer – he himself says he thinks that skill is the biggest reason he's in the Yankee organization – and therefore doesn't need the same work as Gary. Remember, Tanner Swanson's work with Mitch Garver was to take a weakness and turn it into. a strength. It's a similar idea with Gary, I'm sure.
I am very much looking forward to getting a representative sample of how the new stance impacts Gary's defense. That probably means we won't really know until 2021 but that's sure not going to stop me from paying close attention in 2020. (Better framing all around may even help Gerrit Cole, who was dominant last year despite poor framing from the Astros' catchers.)
4. Pitching Gets the Job Done: One of the most encouraging developments of both games was the fact that the Yankees pitching was mostly pretty dominant against their crosstown rivals. In 18 innings, they surrendered 3 runs on 11 hits while striking out 16 against just 2 walks. It was a very, very solid display from the whole Yankee staff. Here are the individual lines, broken up by game:
Friday (9-3 win)
Mike King: 4.0 IP, 3 H, 1 ER, 1 BB, 3 K
Zack Britton (H): 1.0 IP, 2 H, 1 R
Chad Green (H): 1.0 IP, 1 H, 1 K
Tommy Kahnle (H): 1.0 IP, 1 K
Adam Ottavino (H): 1.0 IP, 1 K
Ben Heller: 1.0 IP, 2 H, 1 ER, 1 K
Saturday (6-0 win)
Jordan Montgomery (W): 5.0 IP, 2 H, 1 BB, 6 K
Jonathan Loáisiga (H): 3.0 IP, 1 H, 1K
Jonathan Holder: 1.0 IP, 2 K
I was especially impressed by both starters. King made a nice case for himself to get regular innings once the games count and reminded everyone why he was such a well-regarded arm after 2018. But it was Montgomery who deserves most of the accolades. He looked downright dominant at times, blowing some good Mets hitters away with his fastball. He was even touching 95 mph on the YES Network gun! It seems that his post-TJS velocity bump is for real and is getting him back to where he was when he was in High-A.
I'm not going to read too much into exhibition game results, but it was nice to see the entire Yankee staff looking as locked in as they were. Even my man Loáisiga looked pretty good, but he should probably drop the weird slider thing if he's going to be in short relief. Just stick to the FB/CB combo. In any case, it sure does feel like the team is in a good place going into Thursday.
5. Five-Man Infield: Last week, Derek wrote about the Yankees tinkering with a five-man infield with Zack Britton on the mound. Personally, I think it's a great idea and something the Yanks should try in real games. On Saturday, we got a real indication that this was not just some idea the Yankees are using in practice. They gave it a whirl in a "real" game. YES had a great shot of it:
Britton surrendered a run in the inning – turns out a foolproof way to get around the five-man infield is to "hit a ball on a line into the outfield" – but still generated two ground balls. I think this will work and I hope the Yankees keep trying it. More to come, I'm sure.
6. Pandemic Baseball Feels Almost Normal: Finally, a note about the entire experience itself. It felt surprisingly…normal, didn't it? As normal as can be expected, anyway. I've done a complete 180 on both fake crowd noise and also cardboard cutouts. From a viewer perspective, the fake crowd noise actually seems to work. It really works on the radio, I'd say. You could almost forget that there was nobody there. At the very least, it lends some normalcy to the games.
The same is true for the cutouts. Look at this screengrab from Saturday at Citi Field:
And compare it to this one from Yankee Stadium last night:
The cutouts are obviously fake if you look at them for too long, but who does? To me, they're just good background filler. They fit right into the background, you don't notice them, and it looks more normal. The totally empty Yankee Stadium looks super creepy and is much more distracting, at least to me.
Honestly, there's little we can do to distract from the bizarre circumstances surrounding the season, but the cutouts help. On a pitch-by-pitch basis, at least, it is easier to be distracted and get lost in the on-field action. I think that's the point of all of this, and I hope the Yanks smarten up and add cutouts before long.