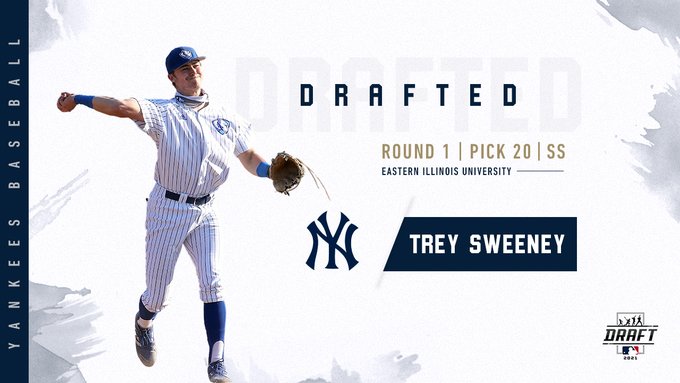 With their first round pick in last night's MLB draft, the Yankees selected shortstop Trey Sweeney with the 20th overall pick. You can read our initial post on him here, and continue below for a more in-depth profile on the newest Yankee prospect.
Background
Sweeney is a 21 year old shortstop prospect who just finished his redshirt sophomore season with Eastern Illinois University. He was undrafted out of high school and EIU was the only college that he received a scholarship offer for, where he absolutely dominated play this past season earning first team All-American honors from Baseball America, Perfect Game, ABCA and at the NCAA Division I level.
Vice President of Domestic Amateur Scouting Damon Oppenheimer had this to say about Sweeney:
We are really excited to have selected Trey Sweeney. He has excellent raw power and contact ability, and he can hit to all fields with strong plate discipline.

At shortstop, he has a good clock, doesn't play rushed and has good field awareness. His timing for both getting to ground balls and getting the ball across the infield is excellent. We also really like Trey's makeup as he's smart with good instincts. With his overall tool set, we believe he has the potential to be an impact player.

Damon Oppenheimer
And to his credit, Sweeney said all the right things on draft night where he attended in-person:
Performance
After leading his Louisville, KY high school to a state championship, Sweeney dominated at the college level, albeit against weak competition. As a freshman in 2019, he slashed .271/.342/.354 with 2 home runs, and 18 walks to 24 strikeouts – which is a great ratio for anyone, let alone a freshman.
That theme of great BB:K ratio continued throughout Sweeney's career. After his freshman year, he played in the Wood Bat Prospect league and hit an eye-popping .354/.453/.524 with 7 home runs and more walks than strikeouts (36 BB & 25 K).
In 14 games last year before the pandemic, Sweeney was off to an incredible start hitting .351/.439/.456 with 8 BB and just 9 K. He followed that up with a strong showing in the wood bat Coastal Plain League where he was 2nd in the league slashing .397/.481/.676 with 4 homers, 11 walks, and 13 strikeouts in 17 games.
This year, Sweeney absolutely smashed to the tune of .382/.522/.712, bashing 14 home runs with an incredible 46:24 BB:K ratio. That's nearly twice as many walks as strikeouts! That line and increased power earned him the All-American accolades as well as being named the Ohio Valley Conference Player of the year. He moved up draft boards after a series against Kansas State (the best college competition he faced) where he went 5-15 with 1 HR and 6 RBI. He also hit 3-4 with 2 RBI against Jordan Wicks who was selected one spot after him in the draft:
Here is a scouting video of Sweeney:
Scouts Take
There is a discrepancy between how scouts and analytics folks view Sweeney as you'll see in a moment – namely scouts are low on him whereas analytics people love him.
MLB Pipeline ranked him 55th overall in this class, giving him a 60 hit grade and a 50 overall grade. They rave about his hand-eye coordination and arm strength. Here is a snipped of their scouting report:
Sweeney has a big leg kick and a hitch and a lot going on in his left-handed stroke, but he has outstanding hand-eye coordination and makes the timing work at the plate. He has good feel for the barrel, controls the strike zone and makes hard contact to all fields against lefties and righties, good velocity and tough offspeed pitches. His hitting ability, arm strength and bat speed should produce at least average power, perhaps more if he adds more loft to his swing.

Sweeney's below-average speed limits his effectiveness at shortstop and will necessitate a position change at the next level. He has reliable hands and solid strength but doesn't cover enough ground at short. He profiles well at third base, should be able to handle any corner infield or outfield position and may be playable at second base.

MLB Pipeline
Baseball America also ranked Sweeney 55th in this year's class, though they are more optimistic about the longterm defensive projection for Sweeney and believe he could stick at short longterm. They mention he "has a big leg kick and a big bat tip in a noisy swing" and they wonder "what he might do against tougher competition."
FanGraphs ranked him 60th overall highlighting his pro frame, plate discipline, and power.
Keith Law of The Athletic was the lowest on Sweeney, ranking him 89th overall and highlighting the contention between scouts and stats folks in their view of Sweeney.
My Take
There is a difference between looking at Sweeney in a vacuum and in context because before last night, he was viewed in reference to who else the Yankees could draft whereas now that is no longer relevant, though it is difficult to disentangle the two.
Drafting a guy who is ranked no higher than 55th in the first round seems like a reach upon initial glance, though that is par for the course with the Yankees. Anthony Volpe, T.J. Sikkema, Anthony Siegler are all first rounders in recent years who were ranked lower by scouts than where the Yankees took them, which says the Yankees have their own secret sauce and most likely favor their own analytic models.
That is clearly the case with Sweeney who reportedly has high exit velo numbers and performed well in wood bat leagues. Those are two things the Yankees are known to value along with strong makeup which by all accounts Sweeney has.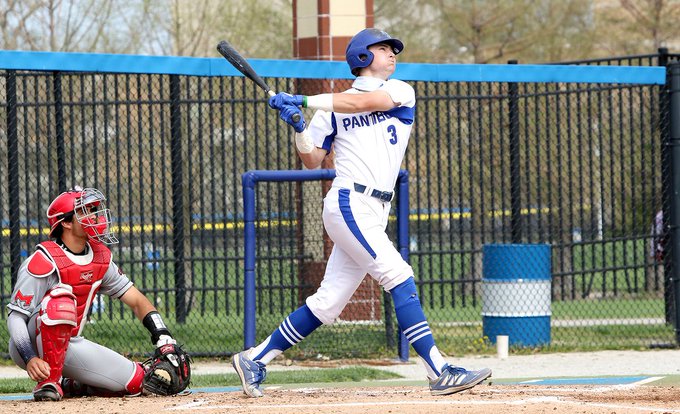 Offense
The bat is Sweeney's calling card, and it better play for him to reach the big leagues. By all accounts, Sweeney excels at both the physical and mental aspects of hitting. In the MLB report they say he has "good feel for the barrel, controls the strike zone, and makes hard contact to all fields against lefties and righties, good velocity, and tough offspeed pitches."
All of that is music to my ears because what more can a guy do beyond hit the ball hard all over against everyone? The concern with Sweeney is two-fold: 1. what is up with those mechanics and 2. can he hit against tough competition?
All scouts see a huge load and loopy swing that makes Sweeney susceptible to high velocity and tougher pitching, which connects to the second concern. Check this out:
That is…concerning. In a league where everyone seems to throw 100 mph nowadays, how Sweeney handles high velocity is a thing to watch. It is worth noting that Sweeney did excel in the Coastal Plain League where he likely saw faster pitching. Ryan Cusick, he of the 100 mph fastball, did play in that league for example.
So, although there are concerns about how Sweeney's performance from the OVC will translate in pro ball, Sweeney did dominate against whatever tough competition he faced in the Wood Bat league, Coastal Plain League, and against Kansas State this past season. The power increase this season (going from 2 hr to 14) is also intriguing and likely what led the Yankees to Sweeney.
Defense
There are conflicting reports on Sweeney's defense with MLB Pipeline, FanGraphs, and Keith Law all saying he is ticketed for the hot corner whereas Baseball America and Damon Oppenheimer believe he can stick at short. You don't need me to tell you that a shortstop is more valuable than a third baseman, and if you're going to spend a first round pick on a guy with some offensive concerns, you better believe Sweeney can stick at short longterm.
Concluding Thoughts
Sweeney is far from the first middle infielder or even college middle infielder the Yankees have picked lately. Josh Smith, Trevor Hauver, and Anthony Volpe all fit the mold of middle infield prospects drafted recently who have so far worked out well.
Volpe has rocketed up the Top 100 prospect lists hitting .309/.452/.635, which is better than anyone expected from him this season, and Smith has a fantastic .341/.461/1.135 line. You may know Hauver as the "Hauver Heat Check" in DoTF thanks to his .299/.460/.962 line.
All of that is to say, despite the Yankees miserable track record with first rounders, their recent infielder picks have appeared solid.
For now, let's give them the benefit of the doubt that they can help Sweeney clean up his swing and stick at short, and I look forward to him mashing in rookie ball shortly.