There are a few notable things going on in Yankee land worth mentioning as they prepare to face the A's this weekend.
Starting with this. The Yankees and Angels were the last two holdouts in MLB for holding a pride night, and it is great to see the Yankees show their public support for the LGBTQ+ community at a game and through their actions. Secondly, the stadium is open for full capacity starting tonight!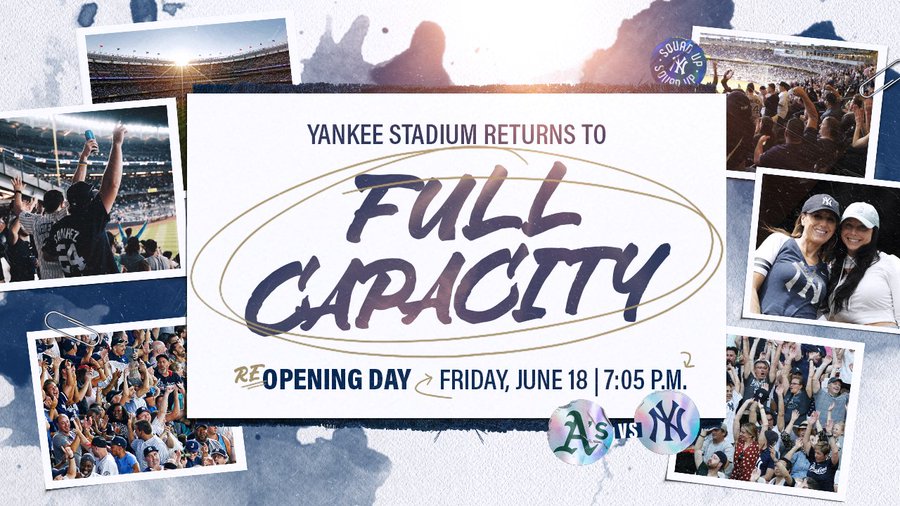 It is going to be great to hear the place rocking like it did before the pandemic. If you're planning to go, please be safe and remember that although we're in the home stretch thanks to vaccinations, we're not home safely yet and we all still have to do our part to get back to normal. And normal is worth getting back to for the Yankees, who are coming off a sweep of the Blue Jays! It is just their 3rd sweep in 10 tries this season, and according to STATS, it is the first time in franchise history they have swept a road series after trailing in the late innings of each game.
That's what's up in Yankee-land, now let's talk about their opponent for this weekend and what we can expect watching these games against the Oakland Athletics.
Their story so far
The A's are currently leading the AL West with a 43-27 record and they are coming in hot, winning 8 of their last 10 and 6 straight. They have a +30 run differently, and an expected W/L record of 38-32, meaning they have been lucky thus far.
As usual, nothing stands out about the A's and why they have been so successful. Their offense is solid to above average, ranking 7th in OBP, 11th in OPS, and 11th overall in runs scored. Matt Olson, Mark Canha, Ramon Laureano, and Tony Kemp all have wRC+ above 130 which is dribng hte offense.
On the pitching side, the A's do exactly one thing well, and this is limit walks. Their starters rank 2nd in BB/9 and the bullpen ranks 6th in that metric. They do not strike batters out, with the 20th overall K/9 for starters and worst K/9 for relievers. They are decent at limiting the home run ball, however, ranking 9th for starters and 8th for relievers. So, expect few walks, few home runs, and few strikeouts this weekend. Basically, the opposite of what we are accustomed to watching in modern baseball.
Injury Report
| Player | Position | Injury | Roster Status | Estimated Return |
| --- | --- | --- | --- | --- |
| Chad Pinder | LF | Head | Day-to-day | Tonight |
| J.B. Wendelken | RP | Oblique | 10-Day IL | Next week |
| Trevor Rosenthal | RP | Shoulder | 60-day IL | Mid-August |
| Mike Fiers | SP | Elbow | 10-Day IL | Mid-July |
Spotlight: Matt Olson
Along with 3B Matt Chapman, Olson is one half of the corner-infield Matt duo who has been integral for the A's success these past few seasons. Olson broke out in 2018 bashing 29 home runs playing in all 162 games and followed that up with 36 home runs in a down-ballot MVP year in 2019.
Pandemic ball was not kind to Olson, however. In the shortened season last year he slashed just .195/.310/.424 giving him a 103 wRC+ after his 135 wRC+ in 2019. The biggest culprit was a career-high strikeout rate of 31.4% last year after never being above a 25% K rate before. That led to career lows in average, obp, slugging, and hard hit%. So what happened?
In a great piece by Mike Axisa at CBS Sports, Olson describes how like several other hitters, he struggled with his swing last season. This year, Olson and several other A's hitters have worked on staying on top of the ball which is helping lead to a reduced strikeout rate, which in turn is leading to a career year for Olson. You can see the change in his Statcast metrics from last season to this season:
So far, Olson is mashing to a .297/.378/.603 line with 18 home runs and a 167 wRC+ – all of which represent career highs. Notably, he has a 51% had hit rate according to Statcast which is also the highest of his career. As a lefty hitter, Olson is mighty scary in Yankee Stadium and containing him will be key for the Yankees pitchers this series.
Projected Lineup
Mark Canha, LF (.251/.374/.457, 138 wRC+)…been an underrated offensive force the last 3 years.
Ramon Laureano, CF (.255/.329/.511, 134 wRC+)…strong power but does strikeout 27% of the time
Matt Olson, 1B (.297/.378/.603, 167 wRC+)…see above for spotlight
Jed Lowrie, 2B (.247/.329/.379, 103 wrC+)…only played in 9 games in 2019-2020 combined
Mitch Moreland, DH (.243/.298/.390, 94 wRC+)…his worst offensive season so far since 2016
Matt Chapman, 3B (.224/.327/.375, 101 wRC+)…career lows across the board after 2 MVP caliber seasons in 2018-2019
Seth Brown, RF (.187/.265/.417, 89 wRC+)…has accrued more value via baserunning than offense or defense
Sean Murphy, C (.219/.321/.421, 112 wRC+)…is having an incredible defensive year behind the plate
Elvis Andrus, SS (.221/.272/.290, 59 wRC+)…is the reason everyone is predicting Trevor Story will get traded to Oakland
Bench:
Aramis Garcia, C (.190/.227/.302, 50 wRC+)…stereotypical backup catcher who made his MLB debut at age 26
Chad Pinder, INF/OF (.261/.313/.455, 114 wRC+)…solid offfensive year in a utility role
Tony Kemp, 2B/OF (.275/.392/.417, 132 wRC+)…if he could play shortstop he would easily displace Andrus in the starting lineup
Stephen Piscotty, OF (.217/.284/.357, 83 wRC+)…a rare case of negative offensive, defensive, and baserunning WAR so far this year
Pitching Matchups
Tonight, 7:08pm eastern:
RHP James Kaprielian
The former Yankee first rounder made his MLB debut this year and has pitched to a 2.51 ERA thus far, though some regression is coming with a 4.89 xFIP (No stats vs. Yankees)
RHP Jameson Taillon
Taillon continues to be an enigma as he adapts to his new mechanics and repertoire. His 5.74 ERA does not match his 3.92 xERA. Hopefully that regression hits soon (Stats. vs. Oakland).
Saturday, 1:08pm eastern:
RHP Chris Bassitt
Having an excellent year with career highs in K/9 and BB/9 with ERA, xERA, FIP, and xFIP all in the 3's (Stats vs. Yankees).
RHP Domingo Germán
Germán had his first clunker since April last time out giving up 7 runs against the Phillies. Hopefully he can turn it around here despite Matt Olson's ownership of him (Stats vs. Oakland).
Sunday, 1:08pm eastern:
LHP Sean Manaea
The lefty is having a great year with a 2.99 ERA and recently threw a CGSO against the Mariners. He hasn't allowed more than 1 run in a start in over a month, let's change that here (Stats vs. Yankees).
LHP Jordan Montgomery
Monty's peripherals all look good and he is on his way to his best MLB season, hopefully with some better luck coming soon in this southpaw matchup (Stats vs. Oakland).
Bullpen Status
| Pitcher | Thursday (off) | Wednesday | Tuesday | Monday |
| --- | --- | --- | --- | --- |
| Lou Trivino | | 14 | | 12 |
| Jake Diekman | | | | 18 |
| Yusmeiro Petit | | | 11 | |
| Sergio Romo | | 19 | | 7 |
| Burch Smith | | 16 | | 22 |
| Cam Bedrosian | | | | |
| Jesús Luzardo | | | 21 | |
| Deolis Guerra | | | | |