Well, if this isn't rock bottom for the 2021 Yankees it's certainly close. After losing a series to the putrid Orioles, the Yankees got swept by the Blue Jays in truly embarrassing fashion. Bobby outlined just how poor they played in that series in last night's recap. Since the 13 game winning streak, the Yankees are 2-10, lost 6 straight, and dropped 3 straight series to teams that are currently not in a playoff position. The playoff win probability chart says it all: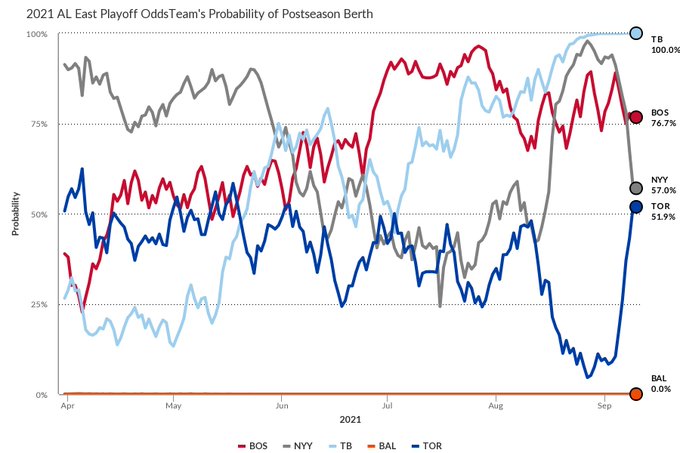 The Yankees playoff odds have dropped from over 95% to just over 57% with the Blue Jays nipping at their heels. The turnaround needs to start and it needs to start tonight. Luckily for the Yankees, they are not the most publicly embarrassing organization in the city and they start a 3 game series against that team – the crosstown rival Mets – tonight.
Setting baseball aside for a moment, this is a very important series because it's the 20th anniversary of 9/11 and I'm sure the ceremonies will respectfully honor the important occasion. Hopefully it is a weekend of healing for the people and the city who can never forget what happened.
Their Story So Far
The Mets come into this one with a 70-71 record finding themselves in 3rd place in the NL East and 5 games back of a Wild Card spot. They lost their last 2 and are 6-4 in their last 10. After starting the year off strong and having a playoff % above 75% through the end of July, the Mets now have just a 4.5% chance of playing in October. That's likely a disappointing outcome for Steve Cohen's first year of ownership and how well the team was playing earlier in the season. The playoff odds graph does a nice job of representing fans' mood this year:
Offensively the team has struggled. They are in the bottom half of all the meaningful offensive categories and are bottom 5 in runs and homeruns. Brandon Nimmo has been their best position player accruing 3.0 fWAR with a 139 wRC+. Pete Alonso (135 wRC+) and Jonathan Villar (118 wRC+) have also hit well. Big offseason acquisition Francisco Lindor has struggled (93 wRC+). Humorously, Jacob deGrom ranks 12th on the team in offensive WAR with 0.6 to give you a sense of how poorly the offense has been.
Pitching, especially the rotation, has been much better. They are 3rd in WHIP and BB/9, 6th in ERA and H/9, 9th in HR/9 and 10th in K/9. Despite missing half the year, deGrom still leads the team with 4.9 fWAR in just 15 starts. If not for his elbow troubles, he was on track for a historic season. Marcus Stroman has also been incredible with a 2.87 ERA and 3.4 fWAR.
The bullpen has been slightly above average ranking top 10 in K/9 and ERA, 12th in WHIP, 14th in BB/9 and HR/9, and 16th in H/9. Edwin Diaz and Aaron Loup have both accumulated above 1 WAR out of the pen. Struggling offense, great rotation, some bullpen concern – sounds a lot like the Yankees.
Injury Report
It wouldn't be the Mets without a looooooooong injury report:
| Player Name | Position | Injury | Roster Status | Return Date |
| --- | --- | --- | --- | --- |
| José Peraza | INF/OF | Fractured Finger | 10-Day IL | After 9/13 |
| Drew Smith | RP | Shoulder | 10-Day IL | After 9/18 |
| Jake Reed | RP | Forearm | 10-Day IL | After 9/13 |
| Tomás Nido | C | Thumb | 10-Day IL | After 9/13 |
| Brandon Nimmo | OF | Hamstring | 10-Day IL | After 9/17 |
| Noah Syndergaard | SP | Tommy John | 60-Day IL | After 9/21 |
| José Martínez | OF/1B | Torn Meniscus | 60-Day IL | After 9/10 |
| Jordan Yamamoto | SP | Shoulder | 60-Day IL | After 9/12 |
| Robert Gsellman | RP | Torn Lat | 60-Day IL | After 9/14 |
| Joey Lucchesi | SP | Tommy John | 60-Day IL | Out for season |
| Sean Reid-Foley | RP | Elbow | 60-Day IL | After 9/10 |
| Dellin Betances | RP | Shoulder | 60-Day IL | Out for season |
| Corey Oswalt | RP | Knee | 60-Day IL | After 9/22 |
| Jacob deGrom | SP | Elbow | 60-Day IL | After 9/25 |
| Robert Stock | SP | Hamstring | 60-Day IL | After 9/21 |
| David Peterson | SP | Foot surgery | 60-Day IL | After 9/15 |
Player Spotlight: Marcus Stroman
Although he isn't scheduled to start this series, Stroman is worth highlighting. After sitting out the 2020 season, Stro is having a fine year with a 2.87 ERA and 3.4 fWAR. He has a career high 7.90 K/9 and a career low 2.15 BB/9. What is interesting is he is achieving this success with a career low ground-ball rate for the sinker baller. Typically that spells trouble, but not for Stroman this year.
The main way Stroman has done this is by continuously evolving. Take a look at his pitch % by season:
He went from a four-seam fastball pitching to a sinker-baller to throwing his sinker, slider, and cutter nearly 1/3 of the time each, to now back to primarily a sinkerballer. And, according to Stroman, the sinker is actually two pitches!
All of that has led to a season in which Stroman has 5 above average pitches. His fastball and slider are both worth over 7 runs per FanGraphs, his cutter is worth 3 runs, and his curve and change are both positive. I'm glad the Yankees miss Stroman because they need to hit better, but he is always enjoyable to watch on the mound.
Projected Lineup
Jonathan Villar, 3B (.262/.337/.457, 118 wRC+)
Francisco Lindor, SS (.223/.315/.376, 93 wRC+)
Pete Alonso, 1B (.269/.346/.528, 135 wRC+)
Michael Conforto, RF (.220/.340/.377, 103 wRC+)
Javier Báez, 2B (.253/.301/.498, 112 wRC+) – has a 138 wRC+ with the Mets…that'll make the fans forget all about the thumbs down drama
Jeff McNeil, LF (.243/.313/.345, 86 wRC+)
Kevin Pillar, CF (.222/.369/.412, 87 wRC+)
James McCann, C (.237/.299/.349, 82 wRC+)
Pitcher
Bench
Patrick Mazeika, C (.197/.262/.276, 50 wRC+)
J.D. Davis, 3B/1B (.293/.392/.451, 134 wRC+)
Luis Guillorme, INF (.283/.399/.333, 111 wRC+)
Albert Almora Jr., OF (.118/.151/.176, -9 wRC+)
Dominic Smith, OF/1B (.243/.305/.359, 85 wRC+)
Pitching Matchups
Tonight, 7:10pm eastern
RHP Tylor Megill (2-4, 4.20 ERA)
Brought up halfway through the year, Megill has good K and BB rates. After a disastrous outing against the Giants (7 runs in less than 4innings), he rebounded nicely against the Nats in his past 2 starts (No stats vs. NYY).
LHP Jordan Montgomery (5-5, 3.47 ERA)
Monty has given up 1 run in each of his past 3 starts but hasn't gone more than 5 innings in two of those. Let's hope he can keep the walks down and pitch deep into the New York night (Stats vs. NYM).
Saturday, 7:45 pm eastern
RHP Taijuan Walker (7-9, 4.15 ERA)
After a strong start to the year, it was a rough summer for Walker though things are looking up as he's thrown 6+ innings in 4 of his last 5 starts. He pitched well (5.2 IP, 2 R) in a win against the Yanks earlier this year (Stats vs. NYY).
RHP Corey Kluber (4-3, 3.69 ERA)
The Klubot is yet to last past 4 innings in his return from the IL and he's struggled with walks in both outings. Hopefully his software was just updating and he's good to go now (Stats vs. NYM).
Sunday, 8:08 pm eastern
RHP Carlos Carrasco (1-2, 5.88 ERA)
Carrasco has only made 8 starts this year after recovering from injury and the results are still to come, though he has gone 5+ innings in each of his last 4 starts (Stats vs. NYY).
TBD
The Yankees have yet to announce a starter for Sunday after Jameson Taillon and Gerrit Cole both left their last starts injured. They may go with a bullpen game or call someone up for a spot start in the Sunday night game.
Bullpen Status
| Pitcher | Thursday | Wednesday | Tuesday |
| --- | --- | --- | --- |
| Edwin Díaz | | 9 | |
| Seth Lugo | | 25 | |
| Trevor May | | | 23 |
| Jeurys Familia | 9 | 15 | |
| Aaron Loup | | 9 | 10 |
| Heath Hembree | | | |
| Brad Hand | 13 | | 28 |
| Miguel Castro | | | 9 |
| Yennsy Díaz | | | |
| Trevor Williams | | | |