Embed from Getty Images
Happy Friday, everyone. It will be nice to have some Yankee baseball after yesterday's off-day, won't it? Okay, let's be serious for a second: the Yankees got destroyed last night at home by Cleveland. I'm okay with it, though, because it brings up some memories of the last really good baseball year. Hopefully, last night's drubbing is just another footnote in the championship video.
Anyway, on to the mailbag. We've got four questions to tackle this week. As always, send your questions to viewsfrom314 [at] gmail [dot] com. We'll answer our favorites each week.
Dmitry Asks: How would you align the infield lineup in the playoffs? As of right now, how can you sit Gio? I think Didi would be the odd man out, with Gleyber shifting to short. Do you agree?
This is one of those questions that remind me why I'm glad I don't actually make the decisions for the Yankees. It becomes even more difficult if we assume that Edwin Encarnación and Luke Voit return full strength before the postseason. That is a lot of good players for not as many positions. What a good problem to have, though.
Anyway, for right now, I think we have to go with currently active players, because we all know what happens when we assume. That means we're choosing from:
Thairo Estrada
Mike Ford
Didi Gregorius
DJ LeMahieu
Gleyber Torres
Gio Urshela
Not so bad when you spell it out like this, is it? If Game 1 of the ALDS were tonight, I'm pretty confident we'd see Gio at third, Didi at short, Gleyber at second, and DJLM at first. That's the easy part.
But let's make things a little more interesting. Assuming Voit/EE come back, you could keep this same infield alignment–if you're comfortable with DJLM defensively at first, and I don't know why you wouldn't be–and then DH one of EE or Voit depending on the matchup. In theory, I think we'd all have expected Gio to be the odd man out, but you're right to say that you just can't sit him right now. He's been out of this world.
In all honesty, though, there isn't a wrong answer here. The reality is that the Yankees have a whole hell of a lot of super talented players, many of whom are having the best seasons of their careers. If the Yanks have the October we all want them to have, each of these guys will get significant playing time. That's a recipe for success, even if it makes for some difficult decisions.
Eric Asks: What do you think about Gardner's comeback this season after a lot of people labeled him done? Do you see him resigning with the Yankees next season?
I love it. I absolutely, positively love it. All season, we've been reminded that the Twitter/WFAN GMs have been embarrassed by DJ LeMahieu following the endless criticism that signing took, and it's right. But let's not overlook the absolutely over-the-top, absurd criticism that the Brett Gardner signing took when the Yanks signed him for [checks notes] a one-year deal worth $7.5 million on Halloween. Yes, that's right: people flipped out because the Yankees signed their longest-tenured player and clear clubhouse leader to that deal.
Even if Gardner was bad this year–which could have happened!–it wouldn't have really mattered at that salary, but thankfully, Gardner has been anything but bad. Remarkably, he's been good even though he has played in 106 of the Yanks' 123 games so far, which was decidedly not the plan. Our guy is now hitting .253/.337/.482 (112 wRC+) with a 10.6% walk rate and 17 home runs. Of course, he's maintained his trademark speed (92nd percentile) and patience (his 4.27 pitches per plate appearance ranks 5th). He's been regular old Brett Gardner.
There are a few other interesting things to point out, too. First, remember when Gardner whipped his helmet into the dugout and smashed himself in the face? If you need a reminder:
That was on June 8, and Gardy was hitting .217/.293/.406 (80 wRC+) after that game. He was mired in a brutal slump, looked done and overplayed, and hadn't had success at the plate since before the 2018 All-Star break. Since then, though, our man is hitting .303/.394/.586 (154 wRC+) with a 12% walk rate against a 16% K rate in 175 plate appearances. Amazing. It really is. So much for his typical second-half slide, huh?
Anyway, now that you've indulged another "Brett Gardner absolutely rules" rant from me, I think it's pretty clear where I stand on Brett. He's been a Yankee his whole career, he's a clear clubhouse leader, and he's having success again. Brett Gardner should be a Yankee for life, in my opinion. Give him a one-year contract until he hangs up the cleats. The man has earned it.
Andy Asks: With the emergence of Gio Urshela and his own serious injury, Miguel Andujar's Yankee future is cloudy. He could be traded, but that would mean selling low since his injury recovery isn't complete or certain. His fielding was shaky before he got hurt; Urshela seems to have a better glove. The Yankees now value position versatility, too, so he might be asked to play in the outfield or at first base. So, a two-part question: (1) what do you think the Yankees will do with Andujar going forward and (2) if you were making the decision, what would you do?
This is a common question these days, it seems, and there's good reason for that. The emergence of Gio, who has been one of the best players in baseball over the last several weeks, sure does make it seem like Andújar is expendable, doesn't it? And I get it. I do. I happen to think that Gio is a legitimately improved hitter (he's not a true talent .350 hitter, but it does seem like he's made a real change) so I wouldn't be upset if the Yankees continued to roll with him beyond 2019. And, regardless of what FanGraphs' defensive metrics say, there is no doubt at all that Gio is a fantastic defender. It is the defensive metrics that are bad, folks, not Gio's glove.
As you noted, though, selling Andújar now would be trading him at the absolute nadir of his value. It cannot possibly get any lower. The Yankees are analytical, and for that reason alone, I don't think that they'll look to move Andújar unless he somehow becomes the vital piece in a move for a legitimate ace-caliber pitcher, which ain't happenin'.
And that's also what I'd do. Hang on to Andújar, see how he returns, and hope he forces himself into playing time again. The kid is young and extremely talented. You want players like that on your roster, and if the 2019 season hasn't proven the old "you can't have too many good players, this stuff sorts itself out" mantra true, I don't know what season you've been watching.
Daniel Asks: In the spirit of the Yankees accidentally putting Didi in their lineup at SS and CF tonight, I have a quick thought experiment for you. Is there any current MLB player good enough at the plate that they could be put in the lineup twice at two different positions and offset the fact that one of those positions would be empty? Think Mike Trout hitting 3rd and 7th and playing left and center field. Thanks!
So, a few days ago, the Yanks accidentally posted a lineup with Didi in it twice. Here's the photo evidence: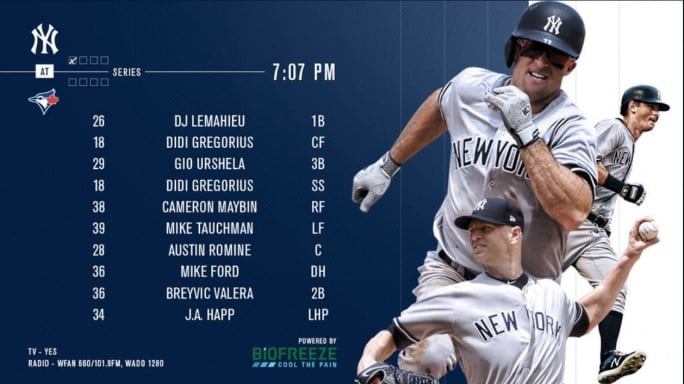 More Didis is okay with me! But seriously, this is a fun little thought experiment that I am absolutely going to take the easy way out to answer. It's definitely Mike Trout. There are other outrageously good baseball players out there but the thing about them is that their outrageously good years are typically as good, if a little worse, than Trout's entire career. It's insane.
I don't need to harp on how good Trout is because I think a lot of people get sick of it, but he's the obvious answer here. He's a good defender (his outs-above-average metric ranks in the 72nd percentile) and if you paired him with a speedy outfielder who gets great jumps, I think you'd be happy with a .306/.419/.582 (173 wRC+) lifetime hitter batting 2nd and 8th in your lineup, no? (I say those two because it would be impossible for Trout to hit with himself on the base in that scenario). Fun question!