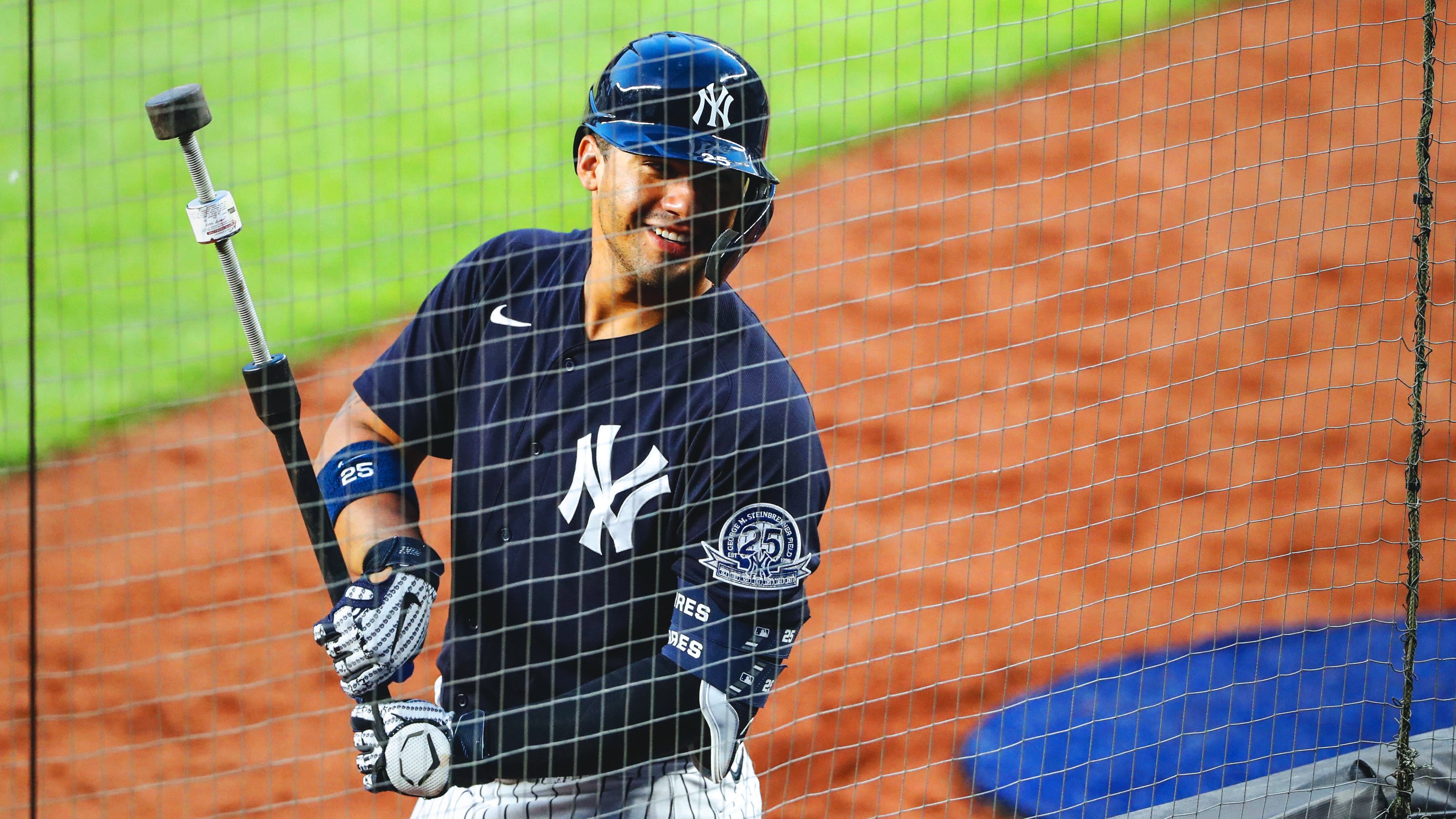 Happy Wednesday. The Yankees have now played back-to-back intrasquad games and it's starting to feel like a rhythm again. My favorite moment of camp so far isn't a home run or strike out pitch but instead Brett Gardner being hilarious. Check this out:
I love that despite the fact it is extremely dystopian, but hey: this is the new normal. We might as well have fun with it, if we can. I wonder if the Yankees will do this all summer. We won't find out for a while, as I'm not sure when the next televised Yankee event will be (they are airing some workouts, FYI), but we do know there are three exhibition games starting on July 18. That will be cool.
Before we get to today's news, though, check out this new commercial from the Yankees:
Not that there was ever a doubt – it's been obvious for a while now – but the Yankees are really Judge's team now. With CC gone, Judge is the undisputed face of the franchise. Now let's just keep him healthy.
The Big Story: Miguel Andújar, Back in Action
Everyone, myself included, got in front of their TV last night to watch Gerrit Cole take the mound in the Bronx. Meaningless game or not, we've been waiting a very long time to see exactly that. And then, in the "top of the first", Miguel Andújar came to the plate and did this:
Everyone, including Ryan Ruocco and Ken Singleton – an incredible booth, by the way – was focused on Cole, and Andújar immediately stole the show. It was pretty funny, but it was also a reminder that Andújar is healthy once again. I'm looking forward to getting his bat back in the order regularly. It's easy to forget, but our man was a straight up stud in 2018. He hit .297/.328/.527 (130 wRC+)! Bad defense, an injury, and persistent trade rumors seem to obscure this in many fans' minds. I mean, check out his 2018 stats, with rankings among qualified rookies in parentheses:
Home Runs: 27 (1st)
Batting Average: .297 (3rd)
wRC+: 130 (4th, behind Ohtani, Juan Soto, and Ronald Acuña, Jr.)
Contact Rate: 81.9% (4th)
Strikeout Rate: 16% (4th lowest)
Isolated Power: .230 (4th)
fWAR: 2.8 (t-7th with Shohei Ohtani)
He was damn, damn good and very fun to watch. He's a different kind of hitter than the Yankees are used to – he's a free swinger who makes a ton of contact and doesn't strikeout or walk – and I think they missed him last year. I'm not a Three True Outcome™ crank by any means, but it's nice to have some variety. (I do think this played a role in why Yankee fans fell in love with DJ LeMahieu last year, as well.) He adds another level of dynamism to the Yankee lineup, and let's hope he's a regular fixture in it.
There are still questions about his defense – remember, the Yankees pulled him early in every playoff game in 2018 – but he absolutely should play a major role on this team either as a rotating infielder, outfielder, or DH. The point is that it's good that he's back and healthy. The Yanks are better with Andújar in the lineup, and, hopefully, yesterday was just the first in a series of reminders of that.
Leftovers
Gerrit Cole is Intense as Hell: Gerrit Cole has been a Yankee heartthrob for years and his performance and disgusting stuff is obviously why. But the Yankees have been gushing about Cole's makeup and personality since signing him in December. We got an example of that yesterday, when he was intense as hell during a completely meaningless intrasquad scrimmage game. "I was trying to win. Unfortunately, we lost," Cole told Lindsey Adler. The dude is capital-I Intense. I mean, David Hale got 5 outs in one inning and Cole still did this when he missed a spot (and still got an out!):
Michael King Looked Sharp: Continuing a trend of pitchers being ahead of batters, Michael King looked very good yesterday. He's been a darling of prospect watchers for a while now and I'm really rooting for him. He and Schmidt will hopefully make it very difficult on the Yankees for playing time this summer. Anyway, King was asked about his pitch selection and went into some depth about it. Good stuff. Check it out:
Being Black in Baseball: Howard Bryant has a very, very good story over at ESPN today that is worth your time. The Yankees factor into it a bit, with Bryant noting that the Yankees are "subtly discouraging their new superstar, Aaron Judge, from being publicly vocal on racial issues." I touched on this a bit here, and I'd really like to hear more about this specific issue. It feels like there's a whole story there. Anyway, as always, Bryant covers a the intersection of race and sports with the care and perspective it deserves. Check it out.
World Series Odds: SportsLine gives the Yankees a 20.8% chance of winning the World Series in 2020. That's second only to the Dodgers, who are given a 25.1% chance. These are clearly the two best teams in baseball, so it makes sense on a basic level. At the same time, though, color me extremely skeptical that there is essentially a one-in-two chance that the Dodgers or Yankees win the World Series this year. It's a 60-game season with expanded playoffs. Way, way too much can happen for me to be comfortable with these odds. Still, it'd be nice.
---
There is no "game" to watch tonight, but that's okay. Opening Day is now just 15 days away (apparently) and will be here before we know it. I look forward to that. Enjoy the rest of your night, everyone. I leave you with this:
That Gary sure is scary.