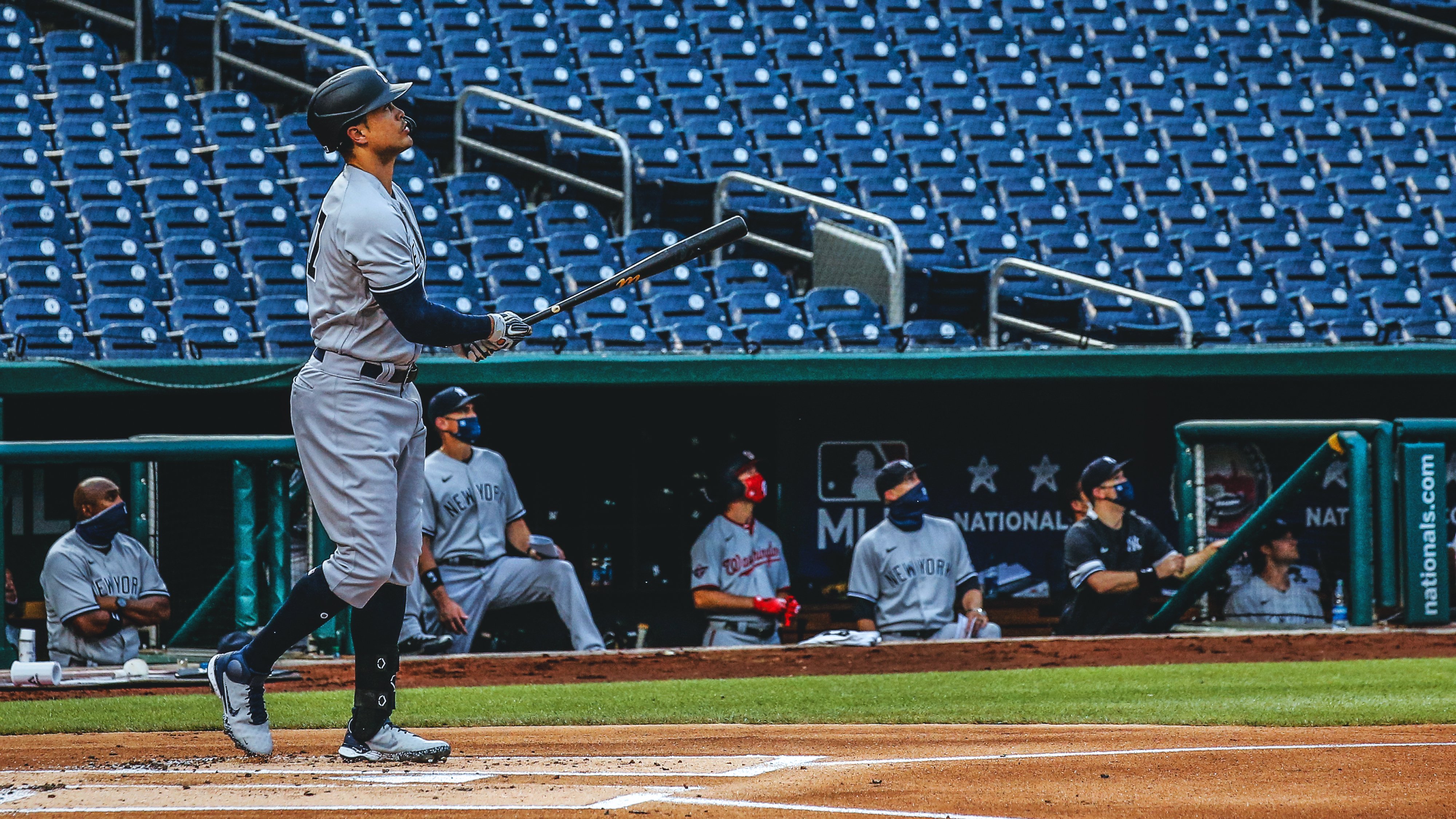 It is a late July Friday and the Yankees are undefeated. Just like we drew it all up back in February, eh? In all seriousness, it was a good start for the Yankees last night. Give me a full season of Aaron Judge and Giancarlo Stanton mashing the baseball and I'll be happy. Another thing that made me laugh is this tweet from Lindsey Adler:
Friends, it is very important to laugh at the Rays. Now, always, and forever. Anyway, it was a predictably quiet day in Yankee-land, so there's not much by way of news today. But here's what we've got on this dumb, mandatory off-day after Opening Day.
The Big Story: The Yankees Sign Fernando Abad
Embed from Getty Images
Jon Heyman reported earlier today that the Yankees signed 34-year-old lefty reliever Fernando Abad to what I assume is a minor league deal. Abad, who has played for the Astros, Nationals, Athletics, Red Sox, and Giants, was recently cut by the Nationals last week after he tested positive for COVID-19.
The lefty has a career 3.67 ERA (4.24 FIP) in 330.2 innings of MLB work. Abad uses four pitches – a sinker, curve, change, and fastball – but barely features the straight stuff. His 20% strikeout rate is a bit below league average, while he walks fewer batters than your average pitcher. He features middling spin rates and velocity and, as expected, has more success against lefties (.289 wOBA against) than righties (.325 wOBA against).
It's a depth signing, to be sure, but we may see Abad up in the Bronx every now and then throughout the season to soak up innings or serve as an extra pitcher when the Yanks deploy an opener. If there's anything worth especially noting here, it's a jump in Abad's ground ball rate in 2019.
It was a very limited sample (he threw just 13 innings for the Giants) but it's worth noting at the very least. He posted a 62.5% grounder rate, which is considerably higher than his career average of 41%. The spike came after he featured his sinker a lot more than usual (56.7% of the time compared to previous career high of 38%), so there could be something to the increased rate.
Given the sample, I'm not betting on it, but there are worse depth signings out there. If the increased sinker usage and ground ball rates are legit, then perhaps Abad could turn into a decent depth option for the Yankees down the stretch.
Leftovers
The Blue Jays finally have a home, and it means that the Yanks have some additional New York competition: the Jays will be playing in Buffalo for the 2020 season.
The situation with Juan Soto and the Nationals was the source of some controversy today. There was an initial report that said several other Nationals tested positive since Soto, which has since been debunked. If there was an outbreak stemming from Soto's positive case, we don't know about it yet.
Yoenis Céspedes hit a home run for the Mets en route to a 1-0 victory for the crosstown rival tonight. Why am I including this? Because Yo was slotted in as a DH and, unlike a pitcher, did not meekly strike out on 3 pitches. Imagine that!
Adam Ottavino is partnering with Sesame Street to help deliver resources to families in need. That's pretty cool. See more about that here.
The Yanks were involved in a mini-spat with Rudy Guiliani last night, who was mad over the Yankees' "display of unity" before the game. Even team president Randy Levine, who once worked for Guiliani back in his mayoral days, got in on the fun.
Finally, there's one thing you can say about Gerrit Cole, it's definitely that he's genuinely happy to be a Yankee. He is practically glowing in this postgame interview last night. Check out the video for yourself:
---
No Yanks tonight, obviously. They'll resume their undefeated campaign tomorrow night in Washington, D.C. with James Paxton making his season debut. We'll be here covering anything that happens between now and then and will obviously be covering the game itself. Have a good night, everyone.