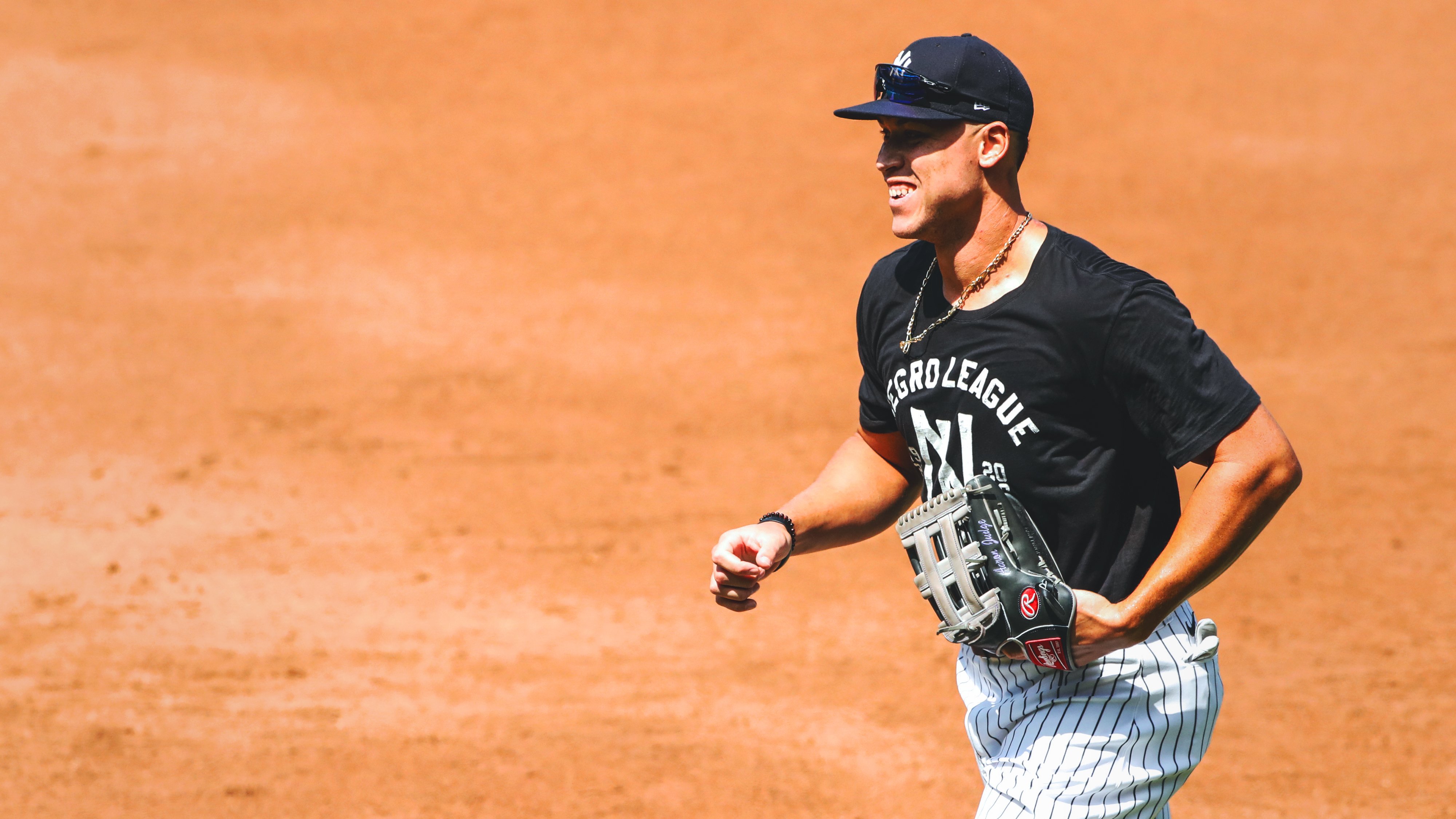 Tonight is the last intrasquad game before the Yankees start taking on the Mets and Phillies in exhibition matchups this weekend. Those will be on Saturday, Sunday, and Monday, respectively. After that, it's two days off and then Opening Night against the Nationals in the capital. Real baseball is (almost) back and it's (maybe) here to stay.
Notes from around Yankees camp are below, but let's start with an update from yesterday: it turns out I was right for once. Yesterday's Washington Post story was indeed just a negotiating tactic. Per Jeff Passan, the Yanks and Nationals will open up the season in Washington as planned, as D.C. gave the Nats the exemption they wanted. Just like we all expected.
Also, Clint Frazier still rules:
Anyway, onto today's news and notes.
The Big Story: Gerrit Cole's Final Tuneup
Gerrit Cole is on the bump for the Yankees tonight. It will be his final tuneup appearance before Opening Day. After tonight, we won't see him until he squares off against Max Scherzer, so so it's an important one. Not important in terms of results, of course, but in terms of getting reps and staying healthy. He is supposed to throw about 85 pitches tonight, which would put him on track to be fully stretched out by Thursday.
That's the most important storyline of the night, in my opinion. Getting Cole up to his maximum pitch count and getting him through the night healthy. (That's never something to take for granted around these parts.) There's nothing fancy to say about this, really. Cole has reportedly been hitting 99+ mph and has looked every bit as dominant as the Yankees can hope so far. Everything is moving along as expected. Now we just have to keep it that way.
"Gerrit Cole is ahead of everybody", Mike Tauchman told reporters last week. That's why the Yankees gave him a $324 million contract in December – and tonight is the final step before we get to see that investment start to pay off next week. I'm looking forward to it.
Leftovers
Tanaka Time: A day after throwing his first bullpen since getting smacked in the temple, Masahiro Tanaka was out on the field throwing again. That's good news, and hopefully, it portends good things about a quick recovery. Tanaka himself says he feels good.
Exhibition Games: We have some clarity on the weekend's exhibition games. Mike King will start tomorrow, and Jordan Montgomery and Jonathan Loáisiga will pitch on Sunday against the crosstown Mets.
The Importance of a Good Start: Ben Clemens over at FanGraphs had an interesting read about the importance of a fast start in the 2020 season. It's something we've talked about before here, and it's worth noting. Personally, I think starting 10-10 should have higher than a 14% playoff expectancy, but maybe I'm missing something. The point is the Yanks should start out hot so it becomes irrelevant. Anyway, check out the post. It's a good one.
COVID Testing Update: MLB and MLBPA released their latest testing data. The numbers are all low, which is good, and it seems like some of the potential spreader incidents over the last week didn't materialize (unless testing hasn't caught up yet). As the Daily News' Bradford Davis notes, though, their data is selectively chosen.
Luis Gil, Represented: It's easy to forget in the crazy times, but the Yankees have prospects! One of the better ones, Luis Gil, just hired REP 1 to represent him. They also rep Gio Urshela, Luis Severino, and Domingo Germán.
Fake Crowd Noise: The Yanks tested out their fake crowd noise today. Check it out in all of its "glory" here:
---
The final intrasquad game is at 7 pm tonight, and I'm glad they're over. They have been fun, but if we're going to go ahead with this thing, we might as well get some games going that count. Or, at the very least, against another team. That will happen tomorrow, thankfully. Until then, here's the final lineup:
We'll keep you posted if anything significant happens. Until then, have a great night, everyone.