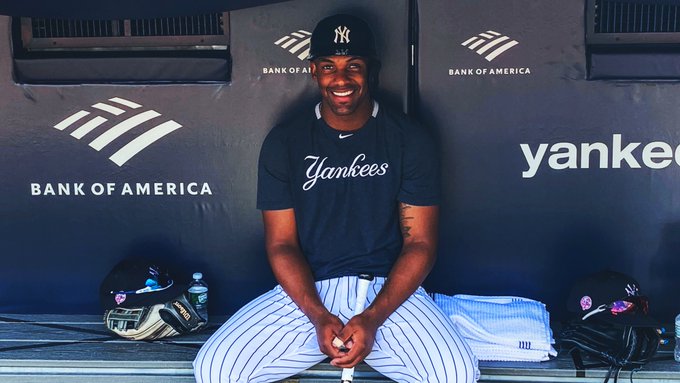 There was no intrasquad game today, but the Yankees did practice. J.A. Happ pitched and Aaron Judge hit a home run. There are notes on that below, but this feels like an important development to tackle first: next Thursday's Opening Day may not take place in D.C. At least, that's what the Nationals are saying. There is a predictable hiccup involving local regulations, quarantine, and the pandemic.
Here's the key part: "The main reason for the uncertainty is that players, coaches and staff have to quarantine for 14 days if they are exposed to the novel coronavirus, per the city's health protocols. D.C. is unwilling to bend that requirement for the Nationals, according to a person with direct knowledge of the situation, and the team is now wary of its ability to compete under those guidelines." As a result, the Nats are exploring alternative sites.
I'm not sure what will happen yet, but this feels like a classic negotiating tactic. The Nats (and league) are not happy with their negotiations with the City, so they went to the Post to exert pressure, or vice versa. The thing is that both sides are being reasonable toward working toward their goals here. The City is right to want to enforce a mandated quarantine, while that quarantine would make it completely impossible for this season to proceed as planned. Just one of many challenges facing the league. My guess? This is all a big nothing and the Nats get their exemption.
While that gets sorted out, here's what's going on in Yankeeland.
The Big Story: Gary Sánchez's Pitch Framing
The Yankees hired Tanner Swanson away from Minnesota last offseason to be the team's new catching and quality control coach. Swanson has a reputation for improving catcher framing success and Derek immediately wondered how that would impact Gary Sánchez, particularly low in the zone.
On the first day of camp, we got word that Swanson and Sánchez were trying out the same program that worked so well for Twins backstop Mitch Garver. (He jumped from 110th to 24th overall by Baseball-Prospectus' catcher FRAA after working with Swanson.) Swanson emphasizes a one-kneed stance behind the plate to better frame low pitches. He believes that maximizes framing while maintaining the flexibility needed to block balls.
That, obviously, is of interest to Sánchez. He has a reputation for being a good framer but a poor blocker, but last year that relationship flipped. Even still, Sánchez has always struggled toward the bottom of the zone. Thanks to Statcast, we can compare the rate of strikes called on pitches on the lower edge of the strike zone to other catchers. It's a useful way to measure framing. Here are Sánchez's called-strike rate with league rank in parentheses:
2019: 43.2% (56th out of 64 qualified catchers)
2018: 47.3% (34th out of 60)
2017: 38.1% (57th out of 62)
He clearly has some work to do in this area, and that's where the new stance comes in. You can see that in the photo above and of it in action here:
Look at the difference between that and this screengrab from opening weekend 2019:
It's a marked difference for Gary. It was one of the storylines I was following closely before the pandemic. We hadn't heard much about it before yesterday, though, and I hadn't noticed it in action in any games (though I probably was just paying attention to other stuff).
Swanson and Gary both talked to Bryan Hoch about it. The two had weekly video conferences during the shutdown where they talked about video of Gary experimenting with the stance. According to Gary, it's paid off, as he told Hoch that he "definitely [has] gotten better, especially with pitches low in the zone."
Let's hope so. This could finally put to bed the absurd focus on Gary's blocking while also helping the Yankees get better at the margins. This is definitely something to keep an eye on during the exhibitions and beyond.
Leftovers
---
There shouldn't be any major Yanks news tonight, since it seems like they're all wrapped up for the day. If anything big happens, we've got you covered, of course. Enjoy your night, everyone.