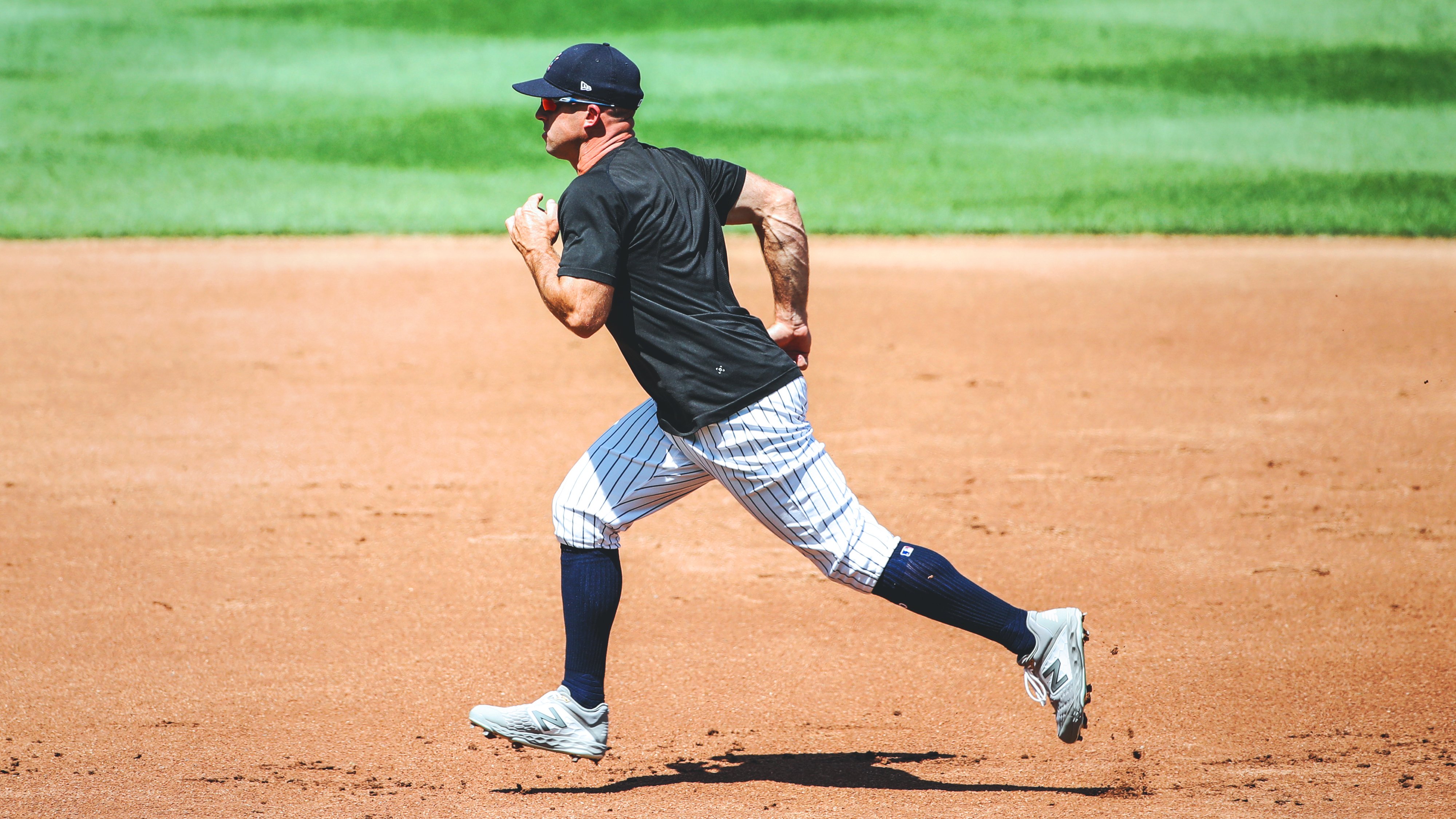 It is Tuesday, and we are now four days away from the Yankees' first exhibition game. That'll be on Saturday against the crosstown rival Mets. It'll be interesting to see if the Yankees deploy a five-man infield with Zack Britton on the mound and how the pitching lines up generally. We are getting really close to real game action, so all of this stuff is starting to get more relevant.
That's all good news. More good news: the Yankees released a new commercial, this time featuring everybody's favorite fourth outfielder, Mike Tauchman:
Good stuff. The Yanks are getting good at these commercials. Anyway, let's get to today's news.
The Big Story: J.A. Happ's Option
Last week, both Derek and I confidently told you that J.A. Happ's vesting option would be prorated under the terms of the March 26 agreement between MLB and MLBPA. There was no reason to assume otherwise. Then, last night, Joel Sherman of the New York Post introduced a new wrinkle into the conversation. Apparently, Happ is one of a few players not covered under the terms of that agreement. Weird!
That means that Happ's option will not be strictly prorated. If it was, Happ would need to start 10 games or throw 60 innings for his full $17 million option to vest for 2021, but now that's not necessarily the case. Now those terms will need to be completely renegotiated. If the two parties can't reach an agreement, it'll go to arbitration.
This is all very strange. Andy Martino of SNY reported that the clause was intended for players who "weren't expected to be available from day one of the season were carved out a bit." I'm not sure why that would mention Happ. He was pitching in Spring Training and he appeared to be healthy. It's always possible – perhaps even likely, given Yankee injury tomfoolery these days – that there was some weird injury we didn't know about, but it doesn't really add up. Anyway, Martino says the Yankees and Happ are working to resolve this "confusion."
I'd guess that both parties want to get this sorted out as quickly as possible. There's no use in waiting around. It's definitely a "win" for the Yankees, though. The Happ contract was already a bit questionable even before his lackluster 2019 performance. Factor that in, coupled with the fact that both James Paxton and Masahiro Tanaka are free agents following this season, and it becomes clear that the Yankees would prefer not to pay Happ $17 million for 2021. (Here's an updated primer on the Yankees payroll situation from a few months ago, which should still be relevant.)
I actually happen to think Happ got especially screwed by last year's rocketball – he gave up a disproportionate amount of HR – but even still, it's not a contract the team wants. There's no way Happ would get $17 million on the open market right now. He's 37-years-old with declining velocity and spin rates on top of generally declining performance.
As for Happ, it's a tough blow obviously. He negotiated a great contract for himself only to seemingly get screwed out of the option due to the pandemic. It is unfortunate, and I hope for his sake that whatever terms he get are achievable and can't be easily fudged by the Yankees by using an opener or whatever. Hopefully, he and the Yanks can reach a fair agreement without an arbiter, which will give everyone peace of mind. More to come on this.
Leftovers
Daily Aaron Judge Update: Aaron Judge was on the field today, so hooray for that. He apparently even took batting practice. Still, it's not all good news. He was undergoing treatment earlier in the day. Despite that, Judge was questionable for tonight's game a few hours ago. It wasn't meant to be. For what it's worth, there have been no tests so far, just treatment. That's allegedly good news, but given the last 16 months, it makes my skin crawl anyway. I'm sure I'm not alone.
Giancarlo Stanton is Still Healthy: Am I the only one who thinks it's weird how we are constantly getting Giancarlo Stanton injury updates? He had a quad strain in Spring Training that meant he should only miss a few weeks of the season. It should be a distant memory by now. Makes me think there was some setback or additional injury. Oh well. In any case, he is healthy. That, despite anything else, is good news.
Masahiro Continues to Get Better: Look, I'm going to level with you. If a 112 mph rocket off Giancarlo Stanton's bat drilled me square in the face, I would not watch the video "many times." I assumed that to be standard operating procedure, but I guess that's what makes me different than our friend Masahiro Tanaka. He feels good despite the concussion and hopes begin preliminary bullpen sessions soon. That's good news. Less good is Masahiro's update regardinghis decision to move his family from Florida – I don't want to assume, but it doesn't sound good. Be better, people.
Gio Urshela at Second Base Alert: I'm definitely going to chalk this one up to camp weirdness, but Gio Urshela was playing second base today. I guess that opens up a possibility that Miguel Andújar plays 3rd with Gleyber at short and Gio at 2nd while DJLM is out. I'm not really sure how I feel about that, but it's change, and change is exciting!
Bern, Baby, Bern: Neil Payne over at FiveThirtyEight has a good read today appreciating Bernie Williams. Anyone reading this blog surely already adores Bernie – if you don't, what the hell is wrong with you? – but it's always good to remember just how dominant he really was. I don't think any Yankee fan with memories of the era undervalues him, but it's absolutely true that the Core Four stuff has diminished his legacy. That's a damn shame.
Yanks Sign Draft Picks: The Yankees have now signed all three of their 2020 Amateur Draft selections. In addition to Austin Wells, they've signed fourth rounder Beck Way to a $600,000 deal and third-rounder Trevor Hauver to a $587,000 deal. Learn more about Beck here and Hauver here.
---
There is a game tonight, remember. Chad Green is taking on Jordan Montgomery. Here are the lineups:
We're closer and closer to real action and that's exciting. Enjoy tonight's game, but before you do, check out this old Bernie walkoff from the 1999 ALCS. Love that dude.