Happy Monday, everyone. The Yankees are just practicing today – they're not doing another intrasquad game. That will come tomorrow, and hopefully Aaron Judge will be in it. I haven't done one of these since Friday (sorry about that), so this one might get a little long. Let's get right into this one today, as there's quite a bit to cover.
The Big Story: Aroldis Chapman, COVID-19, and the Season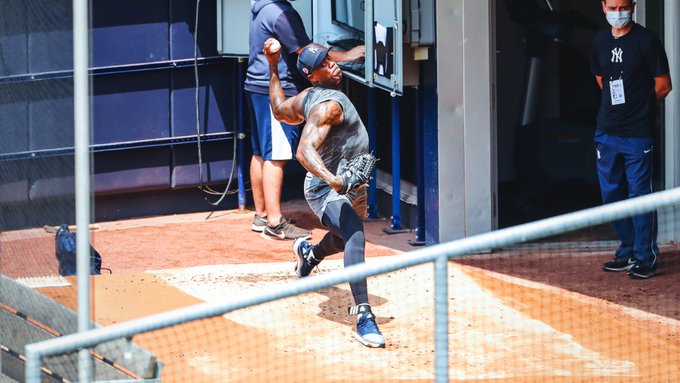 I would like for there to be a baseball season. My life is better with baseball in it, and, given the fact you're reading this blog, my guess is that yours is, too. It's been cathartic to think about on-field stuff over the last two weeks and I am looking forward to the games counting. However, with that said, this weekend's Aroldis Chapman news really underscores how challenging and risky this entire exercise really is.
Chapman tested positive for COVID, of course. He is the third Yankee, after DJ LeMahieu and Luis Cessa, to do so – but he is the first to do so after arriving at camp. Chapman has been working out with the team and has presumably been in close contact with his teammates. That doesn't necessarily mean that Chapman unwittingly spread it to other Yankees (and their families) but it does mean it's a real possibility. That's just how it is.
The news came on Saturday, just a few hours after Royals catcher Cam Gallagher also tested positive. Gallagher was asymptomatic and even played in Friday night's intrasquad game, saying he "felt great" and then he learned that his "most recent test had come back positive." Like with Chapman, that means the entire Royals team has been exposed.
That news came just a few hours after the Astros cancelled their Saturday workout because a staff member tested positive. Another team, in a third state, all exposed within 24 hours of one another. It is worth remembering that this also includes the players' families, ballpark workers, taxi drivers, and countless others.
This all brings us to today. Like last weekend, the weekend proved problematic for MLB's testing infrastructure. The Astros and Cubs, potentially among others, have delayed or cancelled workouts today due to delays in test results. Different teams, in different states, all have different local protocols guiding their workouts. (subs req'd.) It is all going to be tremendously, tremendously challenging.
And, frankly, challenging is the kindest way to put it. It's only been 13 days since MLB teams have reported to camp and the cracks in the league's COVID infrastructure is already showing. Once we inject travel, broadcast teams, and other factors in a few weeks, it may only get worse – and more dangerous. I really, really want it to work. I really hope it can work. If it's going to, though, MLB is going to have to clean this up, and fast.
Leftovers
Saturday's Starters: J.A. Happ and Clarke Schmidt went at it again on Saturday and both of them looked pretty good. Schmidt was a bit more wild than I'd like – 3 walks in 2.2 innings – but both only gave up 1 run. I'm not going to get too tied up in any results these days, at least not until exhibition games, but it's nice to see both of these guys looking good so far.
Mike King and Gerrit Cole: Mike King was yesterday's other pitcher he is apparently learning from the new ace. This is yet another example of Cole's impacting extending even beyond the on-field stuff. Check it out:
Young Arms on the Bump: A bunch of prospects threw BP today according to the Yanks, including Albert Abreu, Domingo Acevedo, Brooks Kriske, and Nick Nelson. Pretty cool. Relatedly, Boone said over the weekend that the Yanks' secondary training site (in Moosic, PA) will be operational this week.
Rosell Herrera is Banged Up: Boone said today that former Spring Training darling Rosell Herrera is dealing with some "heel issues" that have prevented him from going at full speed so far. That's too bad for him, honestly, as he looked like he had won the job a few months ago. We'll see what it means for him.
---
Believe it or not, Opening Day is a week from Thursday. Remember, the Yanks have exhibition games against the Mets on Saturday and Sunday and against the Phillies on Monday. Today's "off" day will be one of their only remaining such days until October, if all goes well. They'll take the diamond again tomorrow, with Jordan Montgomery and Chad Green starting that one.
Enjoy your night, everyone.