That was a no good, very bad, frustrating baseball game. It felt like nothing went right, and then when it did start going right, the Yankees literally threw the game away. Oh well. They are now 3-3, so we'll have all forgotten about this in about three weeks and that's the best thing we can say about this game. That and the pitching continues to dominate. That's a very real thing that we can say about the Yankees, which is pretty damn cool.
The opposite of cool, however, is the god-awful, completely inexcusable extra innings rule. I cannot put into words how much I hate the rule. It changes the entire feeling of the baseball game, and not for the better. I hate it and it sucks. It can't go away fast enough.
Anyway, if you're brave, there are takeaways from a gross 4-3 loss after the jump.
1. Jameson Taillon's Good Debut: All things considered, that was a great debut from Jameson Taillon. He hadn't pitched in a real big league game in over 700 days and you wouldn't have really known it. In 4.2 innings – he was obviously going to be on a short leash – he allowed just 3 hits, 2 runs (both on homers), and zero walks while striking out 7. He even snapped off some benders that looked really pretty:
That'll do. Before the game, I noted three things to watch: his new delivery, his fastball location, and his change-up usage. Let's go through those point-by-point to quickly break down his performance.
First, his short-armed delivery is apparent from the above GIF. It's just how he throws now, and it was the subject of much conversation between Michael Kay and David Cone on the broadcast. Better yet, his spin rates were all consistent with his improved spin this spring. Taillon, remember, said that his new delivery was leading to better spin. Tonight provided more evidence that he is correct.
Second, he has definitely abandoned the sinker-heavy approach he had with the Pirates. No question. Of his 74 pitches, 31 (42%) were fastballs, and he mixed in 11 sliders, 6 curves, and 1 changeup (more on that in a second). The locations speak for themselves, too:
That is an up-in-the-zone approach alright. I love it. If there is one takeaway from this game, it should be that Taillon's new approach is certainly here to stay. That's a good thing – we saw a ton of strikeouts as a result.
Unfortunately, I was not as spot-on regarding the changeup. He threw one of them, in this location:
And it resulted in a home run. A no-doubter, too. Whoops! Two batters later, Taillon served up another absolute meatball. This time, it was a fastball: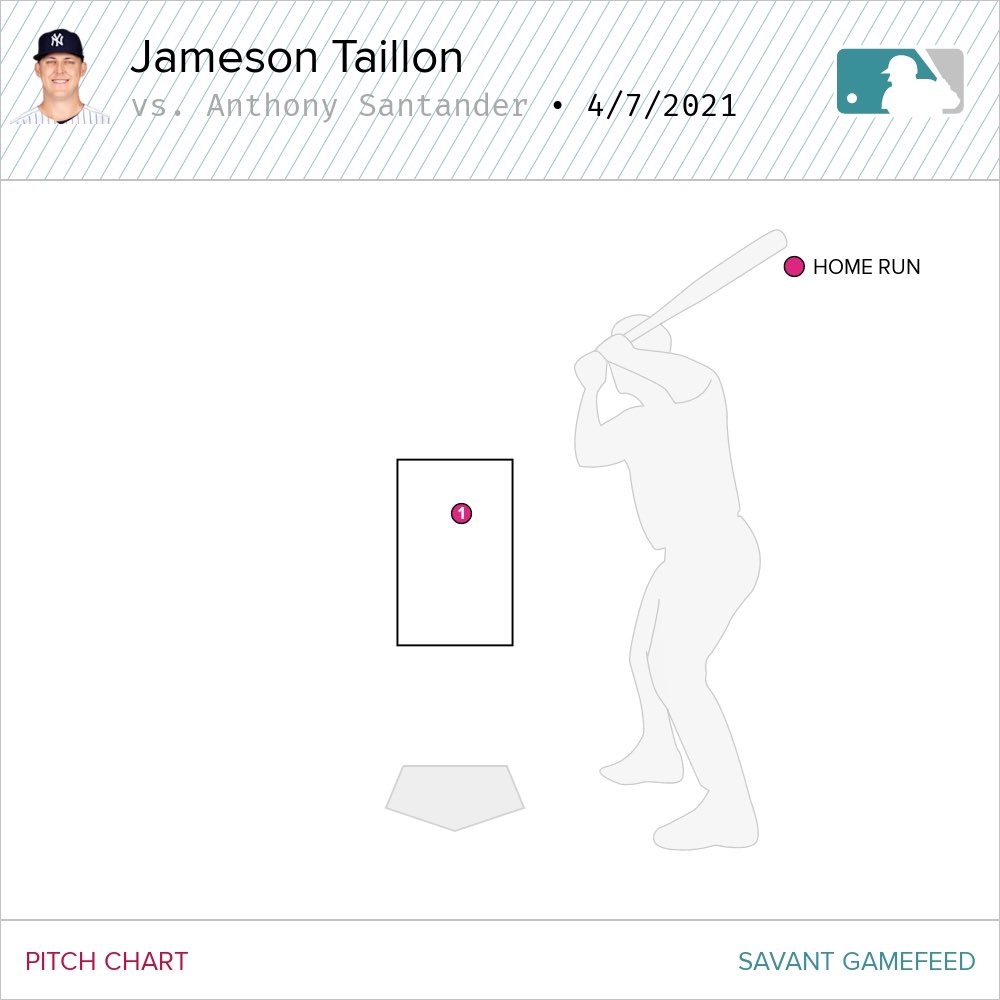 That's the downside with an up-in-the-zone approach. When you miss, you sometimes miss down and put in in the sweet spot. Those two homers, though, were his only blemishes, and they were solo shots. You'll live with that all year.
All told, this was a great game from Taillon. I think we should all be very encouraged by this start tonight.
2. The Yanks Speed Pays Off, Until It Doesn't: Despite our twitter mentions, the Yankee offense was really great tonight – it really was! The team hit 10 (10!) balls harder than 95 miles-per-hour off Orioles starter John Means, 9 of which were harder than 100 miles-per-hour. They touched him up to the tune of 7 hits in just 4.1 innings, but had just 1 run to show for it.
That was the tone of the entire evening, really. The Yanks kept absolutely scorching the ball but it did not matter. (The Orioles, by contrast, had just 3 hits through regulation, but two of them just happened to leave the yard.) I know they left a ton of men on base tonight, but they also hit the ball really hard. It happens. It's not like they were going up there with terrible at-bats. Still, they were just 3-14 with RISP all night, struck out 10 times, and left 12 men on base. That does not get the job done, even if they scorched the ball otherwise.
That said, the 8th inning sure was a ton of fun – and it was salvaged by some unexpected speed. Down 2-1 with two outs and nobody on base, the Yankees showed that the offense, in fact, may not be as one-dimensional as some claim they are. First, Sánchez ripped what should have been an out to left field, but Mountcastle whiffed. The Yanks used Tauchman as a pinch runner on first, and he put his wheels on display as Gio lined a two-out double into the gap. Check it out:
Originally tweeted by New York Yankees (@Yankees) on April 8, 2021.
That's about as exciting as baseball can get. A late game, first-to-home play with two outs and a close play at the plate? With fans in the stands? Just can't beat it.
Now let's fast-forward to the 10th inning, with Kyle Higashioka hitting with two outs and Tyler Wade on second:
That's more great base running. Great slide, great speed, great send. The slugging Yanks tattooed the ball all night, but they stayed alive not once but twice because of the speed of their bench. Baseball, folks. You gotta love it…
…Until you don't gotta love it. In the bottom of the 11th, after a sacrifice bunt to open the frame from Brett Gardner, DJ hit a shallow fly ball to right. Phil Nevin, who was aggressive all night, sent Gio Urshela home, and he was out by a mile. A mile. It didn't matter if the throw was off-line, bad, or imperfect. There is no universe in which he was going to be safe, and he was not. That ended the game. It sucked!
3. Gleyber's No Good, Very Bad Defense: The story of this game could have been much, much different with a good throw by Gleyber Torres in the top of the 10th. Chad Green was dealing and seemingly got out of the 10th without surrendering a run, despite the indefensibly bad runner on second extra innings rule. That is, until Gleyber made yet another inexcusable play at short:
Listen, I am a Gleyber defender, and I think he can improve. I really do believe that. He's 24-years-old, after all. But let me just say it: that is an indefensible error. It really is. You just cannot make that error in that situation. (Or any, but especially in that one.) It's a terrible throw and it almost seems like he has the yips. All I know is that I am not confident when the ball gets hit to Gleyber right now. Not at all.
I'd also like to give a secondary shoutout to Jay Bruce for abysmal fielding, too. He did bail them out on the previous throw from Chad Green, which was also in the dirt, but that's a ball he can catch. It was clearly a terrible throw, and that was the main culprit, but Bruce could have caught it. Gah. It's just so frustrating.
Leftovers
Stanton Mashes: Stanton was 2-5 today and hit the ball over 95 miles-per-hour three times. He is absolutely mashing the ball to start the season, and it rules to see. The fans are still booing him, of course, but that will stop if he continues to put the bat on the ball the way he is so far.
So is Gary: Gary Sánchez is also crushing the baseball. He was 2-3 tonight and had two balls over 95 miles-per-hour. He also tagged up from second on a medium-deep fly ball to right and made it. It's the Summer of Gary. I can feel it.
The Bullpen Rolls: This should be a bigger component of this takeaways, but I'm tired. The Yankees pitching continues to be dazzling this season, from everyone to Darren O'Day to Aroldis Chapman to Chad Green to Jonathan Loasiga and everyone in between. It is fantastic and I think we should be paying more attention to it. That was especially true tonight, too.
---
The Yanks are off tomorrow, as you probably already know from the incessant Aaron Judge talk today. They'll resume the action on Friday at 3:10 pm ET in Tampa, where Corey Kluber (0-0, 2.25 ERA) will take on Rich Hill (0-0, 9.00 ERA) in the first matchup of the season against the Rays. Enjoy your night, everyone.