The Yankees are 18-7 against every other team but the Tampa Bay Rays, against whom they are just 2-8. On the season series, they were 6-58 with runners in scoring position, which is just yikes. Anyway, after all of last night's drama, the Yankees just decided not to show up. They lost 5-2 (box score) and it felt like the score could have been 15-0.
Anyway, let's get right to the takeaways. For some reason.
1. Disaster Start for Jordan Montgomery: I am a big believer in Jordan Montgomery as a dependable mid-rotation piece, but woof was tonight an absolute dud of a start. We all knew that the Rays would come into tonight's game fired up and ready to play, but Montgomery was unable to match their intensity. In fact, he let the Rays kick the Yankees directly in the mouth.
He lasted just 0.2 innings and gave up 4 runs on 5 hits. He walked another Ray and exited the game with the bases loaded. It was not pretty. I mean, he was just serving it up to the Rays on a silver platter. Check it out:
Montgomery had two locations tonight: down the middle or not even close – and the Rays, to their credit, made him pay. Here is how the game started:
Manuel Margot double
Randy Arozarena HR
Austin Meadows single
Mike Brosseau HR
Willy Adames double
Woof. Just like that, it was 4-0 Rays with a guy on second and nobody out to open up the game. The Rays made no secret to celebrate in the dugout, either. They were fired up after last night's display. I guess, if there's one positive at all, it's that Montgomery "settled" down after that. He did strike two Rays out in a row, after all. Unfortunately, he loaded the bases after a catcher's interference and a walk before being removed. All in all, it was a terrible performance from Montgomery. Let's hope he can wipe the slate clean with a better start next time out.
2. The Yankee Bullpen Does the Thing: It will absolutely get lost in this boring ass baseball game, but the Yankee bullpen was impressive. They basically imitated their 2017 AL Wild Card performance, actually, throwing 8.1 innings of three-hit, one-run ball. It was impressive. Here are all of the lines, since it was basically everyone:
Nick Nelson: 2.0 IP, 0 H, 0 R, 3 BB, 2 K
Jonathan Holder: 1.1. IP, 1 H, 1 R 0 BB, 2 K
Ben Heller: 0.1 IP, 1 HBP, 1 ejection
Luis Cessa: 2.2 IP, 1 BB, 1 K
Adam Ottavino: 1.0 IP, 1 H, 1 K
Chad Green: 1.0 IP, 1 H, zeros
It was disappointing to see Green and Ottavino both pitch in this game, but that was largely because Ben Heller got ejected for this:
I mean, I get it. It obviously wasn't intentional but the umpires have to have a short leash after last night. What can you do except shake your head? It had unfortunate ramifications for the Yankee pen usage, but whatever. There were worse problems tonight. At least these guys pitched well.
3. "Rallies" Wasted: You can't say the Yankees didn't have their chances to get back in this. They certainly did, actually. They didn't muster much offensive firepower at all – surprise surprise – but they did have some traffic on the bases. I don't really have it in me to go through each one in detail because this game was life-sucking. So I'll summarize them here:
1st Inning, 1st and 2nd w/ 2 outs: Gio Urshela lined out
3rd Inning, Runner on 1st to Lead Off: Tyler Wade inexplicably doubled off with terrible base running
4th Inning, 2nd and 3rd w/ 1 Out: Mike Tauchman and Gary Sánchez struck out
6th Inning, 1st and 2nd w/ 2 Out: Brett Gardner grounded out
To all of this I say: woof. It's just horrible. The bullpen actually did a fantastic job keeping the team in the game but the offense did absolutely nothing to even make it close. I know that half of the lineup is out, but it would be nice if even one currently struggling Yankee looked like a MLB-caliber hitter out there.
The 3rd and 4th inning were especially bad. I'll get to the 4th below when I rant about Mike Tauchman, so let's just focus on Wade for a second. Look at this play:
What is Wade doing there? I know that he's stealing and that this ball was hit hard, but it was also hit right at Arozarena. He just has to be smarter than that. Instead of giving Luke Voit – who is one of just three Yankees who can actually hit right now – a chance with a guy on base to cut the lead in half, Wade ran into an out. Awful.
4. It is Time to Play Miguel Andújar: So now let's get to Tauchman, shall we? I think he can be a fine extra outfielder on a good team, but right now, Tauchman is capital-E Exposed. The dude just cannot hit even a middling fastball. I pointed this out on Twitter, but look at this absolutely incredible chart. Here all of the fastballs down the middle of the plate thrown to Tauchman in 2020:
And here is his batting average against those pitches:
All I can say to that is LOL. It appears that the Rays figured this out as well, because all he saw today was 90-93 mph fastballs right down Broadway –including during the 4th inning rally. Here was the plot on that at-bat: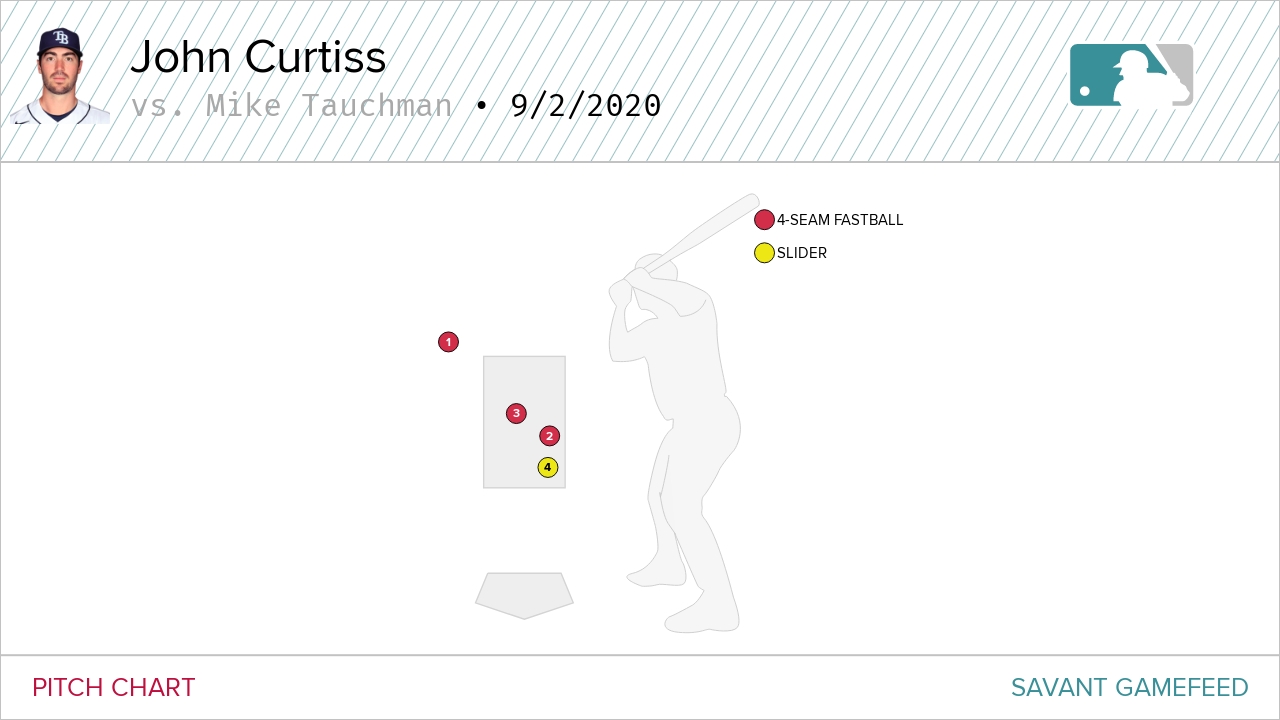 Which, of course, ended on a strikeout. Here is what the Rays threw him all day:
And he still went 0-4 with 3 strikeouts and a popup. I liked seeing Tauchman have the success he had last year as much as the next guy, but I'm starting to wonder why he is getting at-bats over Miguel Andújar. I'd at least rather see him try to shake the rust off. It's not like he can be worse. I'll leave you with this forgotten fact about Andújar:
5. Some 9th Inning Drama: The Yankees did bring the tying run to the plate in the 9th inning, which makes all of those wasted opportunities even more frustrating earlier in the game. It felt like a blowout throughout, but it really was not. Anyway, DJ LeMahieu came to the plate with 2 outs in the 9th with guys on 1st and 2nd (Gary got a single and Ford walked with two outs). As he does, he smacked a single up the middle to make the score 5-2 Rays.
Luke Voit represented the tying run and worked a 2-1 count, but he smacked a grounder to short to end the game. That the Yanks even got the tying run up in this one is a testament to how well the pen pitched. Alas, it just wasn't to be.
Leftovers
Drone Delay: This one got delayed in the bottom of the first because a drone was flying over Yankee Stadium. Yes, you read that correctly. Both teams left the field for a minute while they got rid of the drone. Hilarious.
Clint Frazier Goes Yard: Hey, at least Clint Frazier is cool. He hit a towering home run off the left-field foul pole to provide the Yankees first run. That was cool. Here's some video:
Ken Singleton in Booth: This weekend's series in Baltimore will feature Ken Singleton in the YES booth, which is just great. Love me some Ken Singleton.
---
The Yankees play the Mets tomorrow at 4:05. Tampa Bay, mercifully, is leaving town. J.A. Happ (1-1, 4.05 ERA) will take the hill for the Yanks against Robert Gsellman (0-0, 5.19 ERA) in Citi Field. Enjoy your night, everyone.