Don't look now, but the Yankees have won 4 of their last 6 games. Their record still isn't where it needs to be – I would have hoped for much better than 10-13 – but there is no doubt that things are trending up now. In fact, I'd wager that tonight was the most encouraging win of the season so far because of how good Corey Kluber looked. The Yanks dispatched the Orioles 5-1 in a game that did not feel that close.
Let's get right to the takeaways.
1. Corey Kluber Turns a Corner: That was a hell of a start for Corey Kluber. He looked sharp from the very beginning of the game, particularly with his cutter and changeup. I mean, look at this beauty of a change:
Pretty easy to have success when you drop pitches like that. Kluber started off the game extremely sharp, throwing just 35 pitches in the first inning, with command. Check out his pitch locations through the first three innings of work: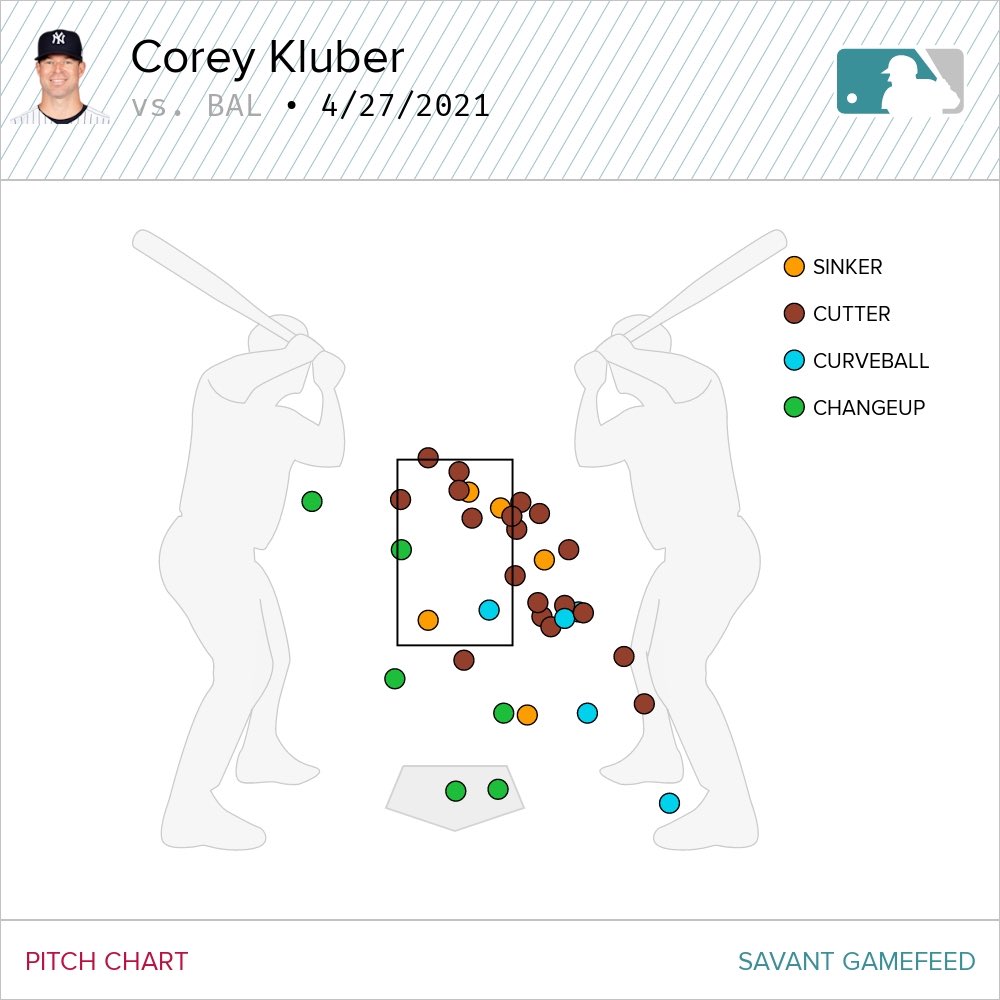 Almost nothing out over the heart of the plate, and that cutter was really moving – it almost looked like a slider at times. It was easily the best that Kluber has looked so far in 2021, and it was extremely encouraging. He managed to throw 6.2 innings of solid ball, allowing 6 hits and 1 run with 2 walks and 5 strikeouts. It was easily his best start of the season. His stuff was sharp and crisp, with spin rates way higher than his average. The fact that his changeup spin was not up was probably was it was so effective, too. It played off the other pitches very well. Check it out:
Without a doubt, though, the most encouraging part of the start was the fact that Kluber was able to maintain his effectiveness even as he worked deeper into the game. We've heard time and time again that the Yankees have not gotten length from their starters, but it's also true that pitchers like Taillon and Kluber were going to need to be built up. I was glad to see the Yankees push Kluber on his most effective night of the season. I was sure that Boone was going to pull him after the 6th – Kluber was looking a little less sharp in the 6th – so I was surprised to see him go back out there.
That said, I think it was absolutely the right decision. Kluber spun off some good pitches in the 7th, even though he left a few out over the plate and allowed some loud contact. He's a veteran pitcher and he worked through it regardless (thanks in part to a great play in right from Judge).
Overall, this was an important step in the right direction for Kluber, and it would have been even if he allowed a home run in 7th. All in all, this heatmap shows why Kluber was effective. If he can live off the corner like this all year, the Yankees will be very happy.
Here are some highlights:
2. The Offense Breaks Out: That's more like it from the Yankees. The team had TK hits overall and they really stung it the entire time. Every player in the lineup hit at least one ball over 95 miles-per-hour and there were three incredibly hard-hit home runs. Here's one from Judge:
New hitting sensation Kyle Higashioka:
And Giancarlo Stanton:
Unfortunately, each of these home runs were solo shots, limiting the damage. Honestly, the entire night this felt like the Yankees were winning by 10 runs, not 2, 3, or 4. I was routinely surprised to see that the game was close or that the Orioles had the tying run up at the plate.
In large part, that was due to the Yankee offense. It had something for everyone: the first sac fly of the season in the first inning, the power I noted above, and multiple hits from DJ LeMahieu, Giancarlo Stanton, and Aaron Judge. (It was the first game of the season in which the Yankees' 1-2-3 hitters each had multiple hits.) Love to see it.
The Yanks had traffic on the bases and they drove the ball with authority. I just hope that they continue to build on this and break out of their slumps. They were close this weekend, then regressed hard last night. This gets them back on right track. Now to build on it.
Leftovers
Stupid Baserunning: There was more stupid baserunning tonight. It wouldn't be a 2021 Yankees game without a few dumb baserunning decisions, would it? First, Phil Nevin had an absolutely BAFFLING decision to send Giancarlo Stanton home, where he was thrown out by a mile and a half. It was a dumb decision in real-time, dumb enough that I originally assumed that Stanton blew through the sign. (There's no video so you have to trust me.) Alas, he did not – it was just an awful send. And then Gleyber was thrown out trying to steal second later in the game. That's two more outs on the basepaths. Infuriating.
The Bullpen Thrives: I am so proud of my son Jonathan Loaisiga. He was pumping 100 with ease tonight, striking out 3 batters in 1.1 innings of work. Sure, he allowed a single and a walk, but nobody's perfect. Loaisiga has been about as good as you could possibly hope in 2021 so far. Lucas Luetge was also sharp, pitching a perfect 9th. It's hard to ask for more from the Yankee bullpen this year. They've just been utterly dominant.
It's Kyle's Show Now: Man, what can you say about Kyle Higashioka? I said last week that the Yankees needed to get him more at-bats, and well, he's earned them. I'm as big of a Gary fan as it gets. It is tough to see how you sit Higgy, at least for now. I'm still confident Gary will turn it around, but Higgy has been a wonder so far.
Rough Night for Odor: Rougned Odor absolutely stung the ball, but he just had one hit to show for it. Sometimes this game is tough. Look at this:
---
The Yankees and Orioles will play the third game of the four-game set tomorrow at 7:05 pm. Domingo Germán (1-2, 6.35 ERA) will try to build on his start last week against Cleveland. Baltimore hasn't yet announced their starter. Enjoy the rest of your night, everyone.