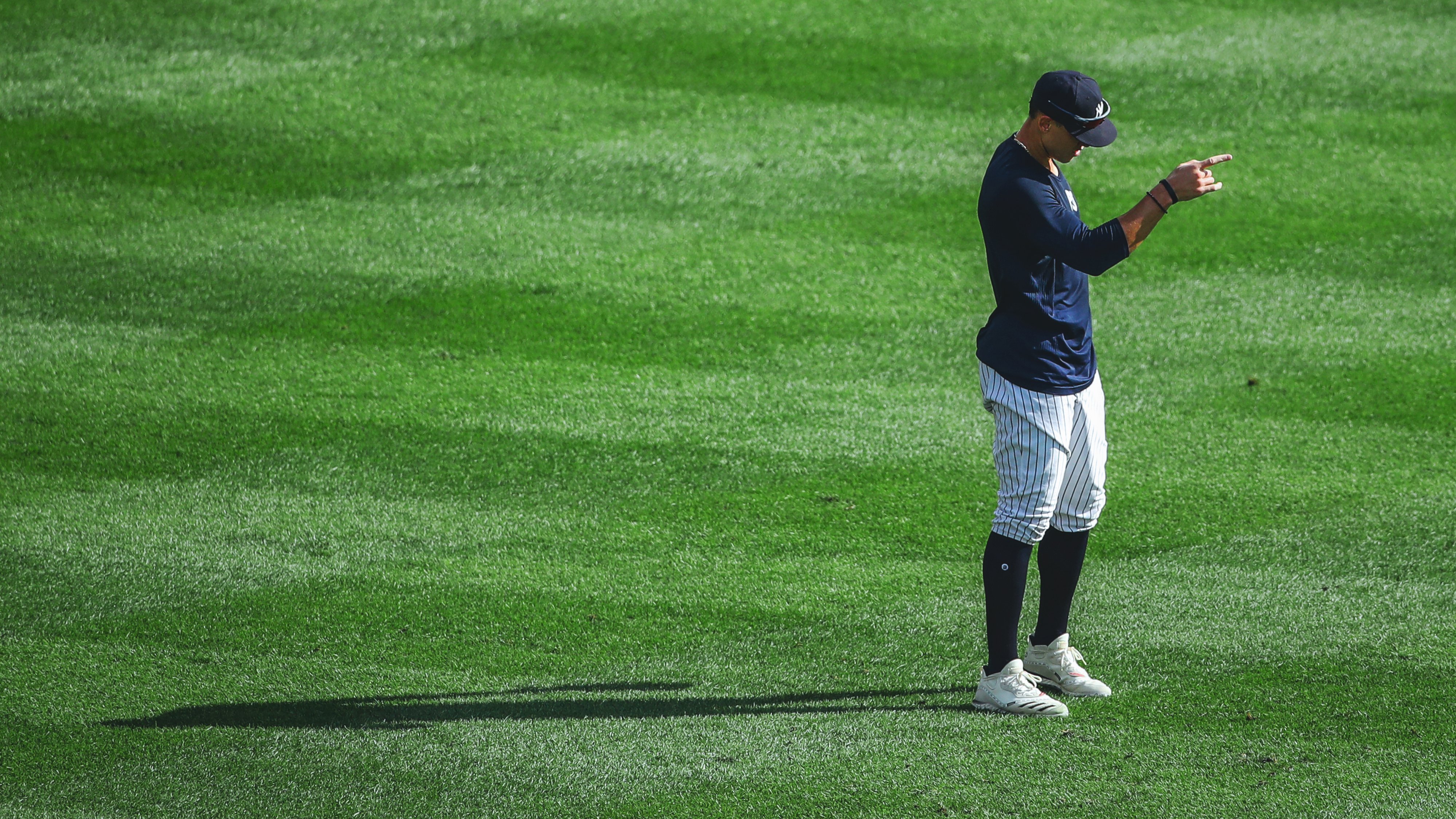 That was an interesting baseball game. By interesting, I mean probably the most frustrating 9-6 win (box score) you could imagine. The Yankees led 8-0 as late as the 6th inning, but the B-tier relievers and some sloppy defense allowed the Braves to get right back into it. Aaron Boone even had to turn to Chad Green and Zack Britton to close it out. Alas, a win is a win, so I'm not going to complain. The Yanks improve to 11-6 on the season and started out this homestand with a victory. Good stuff.
Let's get right to the takeaways.
1. Jordan Montgomery Does the Job: That was a very nice performance out of Jordan Montgomery tonight. He threw 78 pitches, 52 of which (66%) went for strikes. Gumby really attacked the zone all night:
And the result was a really efficient, effective outing for the Yankees' lefty starter. All in all, he lasted 6 innings and surrendered just 4 hits, 1 walk, and 4 strikeouts. He cruised in the 4th and 5th in particular, but I was most impressed with the 3rd inning.
The inning started off with a "walk" to Tyler Flowers, though it was really a strikeout. I mean, look at this:
That is a horrendous call (the obvious strike was a 1-2 curve) and even ball 4 (the other close one) was borderline. Monty really got squeezed on that. He then induced a ground ball from Ender Inciarte to Gio Urshela, but neither Gleyber Torres nor DJ LeMahieu decided to cover second base. Gio double-clutched and threw it to DJLM anyway, who was standing in his normal 2B position. It was weird and sloppy. Montgomery then threw a wild pitch to move runners to 2nd and 3rd with no outs. Remember, it was just 3-0 at this point.
But he worked through it. He got Dansby Swanson to pop up and struck out 2019 Yankee nemesis Travis d'Arnaud to strike out. Hilariously, Atlanta challenged this:
That was followed up by a Freddie Freeman ground out. Monty got 5 outs in that inning, worked against the umpire and his defense, and surrendered zero runs. It was an impressive inning.
He only really struggled in the 6th, when it looked like he ran out of gas. His changeup got 5 whiffs on 13 swings (38%) all night, but this was a bad one to Marcell Ozuna:
All in all, it was a great night for Gumby who pitched even better than his line would indicate. Good start, would watch again.
2. Luke Voit Fan Club: I am sure I sound like a broken record at this point, but man oh man does Luke Voit just continue to impress. Coming into tonight's game, Voit was hitting .278/.380/.518 (141 wRC+) with 39 HR and a 12+% walk rate in just over 700 plate appearances with New York since 2018. That he is a legitimate middle-of-the-force in this lineup will probably always amaze me. (Let alone that he was just the first of a series of diamond in the rough finds for the Yankees.)
Anyway, he kept that display up tonight. Voit came up to the plate with two-on and one out in the first inning and immediately did this:
It was an absolute no-doubter that traveled 422 feet and came off the bat at 104 miles-per-hour. Just ridiculous. He also hit a screamer in the 3rd with the bases loaded that resulted in a run. It was a few inches away from being a double, but he hit it right at Austin Riley. In any case, Voit was responsible for the first 4 Yankee runs tonight.
In a scarier moment, Voit got hit by a pitch in the bottom of the 5th – it sure feels like a ton of Yankees are getting hit this year, right? – and it looked like it got him right on the pinky. He stayed in the game, though, so exhale. Watching it live, I couldn't help but think he'd broken a bone. Seems like that didn't happen, and Voit went 1-4 tonight to improve to .261/.333/.587 (155 wRC+) on the season. Not bad.
3. DJ LeMahieu Does DJ LeMahieu Things: Aside from the weird defensive mishap I referenced above and another weird one in the 7th, this was just another night from DJLM that underscores how valuable he is. He led off the game with a single and went 1-2 with two walks, a HBP and 2 runs scored on the day. His season line is now .400/.455/.517 (179 wRC+), which is just ridiculous.
But it was a baserunning play in the 3rd that I really wanted to highlight from our man tonight. After Voit rocketed a liner to 3rd, Braves third baseman Austin Riley tried to double Aaron Hicks off 1st – and probably would have, had his throw not been errant. It got by Freeman and DJLM took off for home the instant it was obvious Freeman couldn't get to it. He scored easily. It was another example of how DJLM creates value nearly every single night. He will make you pay for each and every mistake. What a player.
4. Aaron Judge is Ridiculous: We all know this one by now, but let's say it a bit louder for those in the back: Aaron Judge is ridiculous. Let's break down his ridiculousness in chronological order. First, in the top of the second with a man on third, Judge made this (unnecessary but awesome) throw:
Judge has a reputation for being just a slugger, I think, but those of us that watch him closely every night know that is not the case. He has a cannon of an arm and it was truly on display there. He threw a strike from right field.
But we don't watch Aaron Judge for his arm or his defensive prowess, great though it may be. We watch him for his superhuman power, and he did treat us to that tonight. Just look at this thing:
He is superhuman. I don't even know how that is possible. He hit that to the opposite field at 113 miles-per-hour and it traveled 432 feet. And it's the easiest swing imaginable. The dude is an absolute freak and I am so, so glad he is healthy again. (We think. Aaron Bone lifted him in the bottom of the 6th inning, but he was on the bench the whole time. I'm not worried yet.)
With his HR and a walk tonight, Judge improved his season line to .290/.343/.758 (200 wRC+) with 9 homers. Good stuff. And, given his production at home, I bet it will just continue to rise in the next week:
5. Bullpen Hangs On: After relieving Jordan Montgomery after the 6th, the Yankees did everything they could to make this a game for Atlanta. David Hale immediately put 2 guys on and retired just one batter, after which point Aaron Boone went to Adam Ottavino. The game went from standard blowout to ridiculous very fast. An error (the result of another miscommunication between Gleyber Torres and DJLM up the middle), a passed ball/wild pitch, and a walk from Ottavino brought up the tying run to the plate. Ottavino got out of it, but still. It was inexcusably sloppy and it shouldn't happen. Luckily, it didn't hurt the Yanks this time.
The 8th inning was more of the same. Gleyber Torres made another error, and Luis Cessa immediately gave up a double to plate that runner. Another hit later and it was a 9-6 game. Aaron Boone had to turn to Chad Green and then Zack Britton to close out a game that was 8-0 as late as the 6th inning. Gross. (I did see some people slamming Boone for not using Green right away, which is dumb. This was a 5-run game in the 8th inning. It's ok to use mop-up guys sometimes. They, and the defense, just have to be better.)
Zack Britton, fortunately, made easy work of the Braves in the 9th. Here are the lines for all of the relievers:
David Hale: 0.1 IP, 2 H, 1 R, 1 K
Adam Ottavino: 0.2 IP, zeros, 1 BB, 1 K
Luis Cessa: 0.1 IP, 2 H, 2 R (1 ER)
Chad Green: 0.2 IP, zeros, 1 K
Zack Britton: zeros across the board
Leftovers
August is Truck Month: In case you were wondering, it is Truck Month in the Bronx. Mike Ford, who continues to hit the ball hard, hammered a two-run double to make it 6-0 Yankees in the 3rd and another RBI double in the 7th. Here's the video of the first one:
Gary Looks Better, I guess: Sánchez had another disappointing night at the dish, but I actually thought the under-the-hood stuff was better than it appeared. He saw a ton of pitches, worked some good at-bats, hit a screamer up the middle (it hit Toussaint and resulted in an out), and had a few hard-hit foul balls. Maybe I'm trying too hard to make the most of a 0-4 night with 2 Ks, but I'm encouraged anyway. This plot indicates he was more comfortable than the box score indicates, at least. Now he just needs to keep those fouls on hittable pitches fair.
Aaron Hicks Weird Season: Aaron Hicks continued a very strange season tonight and keeps pounding the ball into the ground. He does, however, keep racking up walks and his plate discipline is as good as it ever was. He was 1-3 with a walk and 3 runs scored, but his one hit was a swinging bunt. Hopefully, he will start driving the ball again soon. Until then, pitch plots like this are A-OK with me:
Gleyber's Struggles Continue: Gleyber was in the center of two weird defensive miscues up the middle tonight, an error in the 8th, and is still mired in a deep slump. He went 0-2, but at least he worked two walks. It's a start, especially after adding a few hits over the weekend. He should improve the defense, though.
---
The Braves and Yanks will hit the field again tomorrow to wrap up this quick two-game series. That game will take place at 7:05 pm EDT. Masahiro Tanaka (0-0, 1.17 ERA) will take on a to-be-announced pitcher from Atlanta. Have a good night, everyone.