Embed from Getty Images
Now THAT is more like it. The Yankees defeated the Red Sox 5-1 (box score) on Saturday afternoon, improving to 93-50 on the season. Their magic number is now 11. Today was all about Edwin Encarnación and J.A. Happ as the Yankees cruised to an easy victory. Most of the action in this one occurred in the big 4th inning, but, being a Yankee-Red Sox game, it still took over 3 and a half hours.
Let's get right to the takeaways.
1. J.A. Happ Is Looking So, So Much Better: J.A. Happ is a fastball pitcher in a breaking ball pitcher's world. His reliance on the straight stuff has, in my mind, played a significant role in his struggles with the long ball this year. Well, suffice to say, that dynamic was not at play today. Happ was in complete control from the very first pitch.
Happ threw 55 fastballs, per BrooksBaseball, and generated 12 (!) swings and misses. All of those swings and misses came on his straight 4-seamer, meaning he had a pretty 38% whiff-per-swing rate on the pitch. And here is where those were located: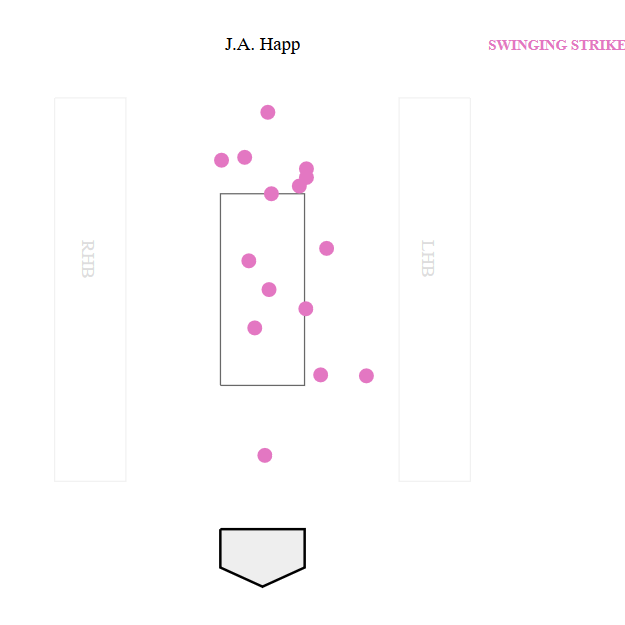 Beautiful. Up in the zone, which meant he was aggressive and getting results. Here was his entire strike zone plot for the day, which bears this out:
Really, this has been the story of the last few starts for Happ. As YES' stats guru James Smyth noted, batters have been struggling to catch up with Happ's fastball throughout his last 5 starts. Check it out:
I doubt you've forgotten this, but today's 6.1 scoreless innings now raise Happ's scoreless innings streak to 15.1 after last start's 6 scoreless. How about that? His ERA has plummetted to 5.12. Good for him. Hopefully, he builds on the recent successes (today's final line: 6.1 IP, 2 H, 0 R, 1 BB, 7 K) and keeps it rolling. Maybe he'll even get his ERA under 5.00, which would be nice for vanity reasons.
I'll leave you with this incredible nugget from the indispensable Katie Sharp:
2. The 4th Inning Was Very Fun: Let's just say it again: the 4th inning of this one was very, very fun. It's probably worth putting it in context, though. The Yankees mustered just three hits against 7 Boston pitchers last night and looked generally lifeless. That's exactly how today started, too: through 3 innings against 2 pitchers, the Bombers had 0 hits and 0 walks. That all changed fast.
It began with a DJ LeMahieu single up the middle (obviously), and 8 more men would come to bat. Let's break this one down:
DJ LeMahieu: Single
Aaron Judge: Strikeout
Didi Gregorius: Double
Gary Sánchez: 2-RBI Ground Rule Double
Edwin Encarnación: 2-Run Home Run
Gleyber Torres: Lineout
Brett Gardner: Single (he then stole 2nd base)
Luke Voit: Walk
Mike Tauchman: Lineout
Of course, it's never quite that simple. Let's start with the Didi Gregorius "double." That one easily could have been ruled an error, and either way, it wouldn't have happened without the fact that the sun decided to wear pinstripes today. Now, he did hit it hard–really hard, actually, at over 107 mph. It had an expected batting average, per StatCast, of .660. This is an example of where the analytics can be misleading, though.
For unclear reasons, this highlight contains both Didi's double and Gary's, but whatever. As you can clearly see, the ball was hit hard but also hit right at J.D. Martinez…who promptly lost the ball in the sun, allowing Didi to reach 2nd and the Yankees to have 2nd and 3rd with one out in the inning. Just great stuff, really.
Now, onto Gary Sánchez's double. This one, unlike Gregorius', was hit neither hard nor was it expected to be a hit. In fact, it was hit just 87 mph and carried an expected batting average of .010. .010! Wild. Luckily for us, it was perfectly placed and also may have been sun-aided as well. Either way, that made it 2-0 Yankees. It wasn't pretty per se, but they capitalized on J.D.'s misplay and took the lead. Good stuff.
That left Sánchez on 2nd for Encarnación, who absolutely unloaded on Colten Brewer's pitch. On the first pitch of the at-bat, no less, and it's easy to see why:
That was a curveball, too. That is a ball Encarnación should absolutely demolish and, well, he did this:
106+ mph and an absolute blast over the Monster. (As you'll see later, this was especially satisfying given the fact that Boston made 2 great plays on other balls Edwin hit. He also added an RBI double in the 9th, which he absolutely smashed off the left-center-field wall)) You just love to see it. In the blink of an eye, the Yankees had gone from hapless on offense to up 4-0 in the span of 4 batters. This offense is dangerous. Even though they didn't plate any runs after this, every ball put in play was absolutely smashed. I told you this was a fun inning.
3. The Success of The Formula™ (Mostly): After Happ's masterful performance, the Yankees turned it over to their bullpen, which did exactly what it was supposed to do (mostly). Here were their lines:
Adam Ottavino: 0.2 IP, zeros, 1 K
Tommy Kahnle: 0.1 IP, 2 H, 0 R, 0 BB, 0 K
Zack Britton: 0.2 IP, zeros, 1 K
Aroldis Chapman: 1.0 IP, 1 H, 1 R
Now, Kahle struggled a bit (he surrendered back-t0-back hits after retiring his first man) but Britton was there to pick him up. The final out he recorded was struck hard–a 101 mph lineout to Judge in right–but he got the job done. No harm, no foul. Chapman did what Chapman does, including giving up a solo shot to J.D. Martinez with 2 outs in the 9th because it wasn't a save situation. But oh well. It didn't matter in the end.
Leftovers
A Wasted Opportunity 6th Inning: Gleyber Torres (still 22!) hit a double to lead off the 6th and Brett Gardner (still red hot!) worked a walk, but the Yankees would waste the scoring chance. Luke Voit would strike out following a pitching change ahead of a Tauchman walk. That left the bases loaded with one out for DJ LeMahieu, who promptly grounded into a double play. Womp womp.
Friendly Banter from Torres To Sánchez: In the bottom of the 6th inning, with one out, Brock Holt popped up to 2nd base. Torres easily recorded the out. It was uneventful…except that it wasn't. The ball traveled past the pitcher's mound, which didn't stop Gary Sánchez from trying to catch it anyway, before Torres waved him off. After making the play, Torres dismissively flipped his glove at him and told him to stay where he belongs. The budding bromance/friendly rivalry from Torres and Sánchez is one of my favorite subplots of the season. This was just another example.
Good Defense From Boston Kept it Close: This one could have been a laugher were it not from some annoyingly good defense from the Red Sox. With 2 out in the 5th inning and two on (the Yankees had worked two walks), Encarnación popped up behind the plate. Boston catcher Christian Vazquez made a nice play against the backstop that promptly ended that rally. Oh well. There's no video online, but I promise to you, dear reader, that it was an annoyingly good play. As was this one by Mookie Betts, also against Encarnación. I'll just leave this one here:
Xander Boegarts Logged His 1,000th Hit: I feel like I need to take a shower for including this in a Yankee blog's takeaways, but it still feels notable! After our very own fun 4th inning, Xander Boegarts hit a soft grounder through the shift that was his 1,000th career hit. Here is the video, if you for some reason care to see it:
Up Next
The Yankees and their big rivals will meet again tomorrow for the Sunday Night Baseball game on ESPN. Who cares if the Red Sox are all but eliminated? When has that ever stopped Yankees-Red Sox from being on ESPN? Anyway, Mashiro Tanaka (10-8, 4.42 ERA) will take on Rick Porcello (12-11, 5.63 ERA) in a game that the Red Sox decided to list their starting pitcher a day in advance. How nice of them.
Enjoy the rest of your Saturday, everyone. It's a nice one out there.