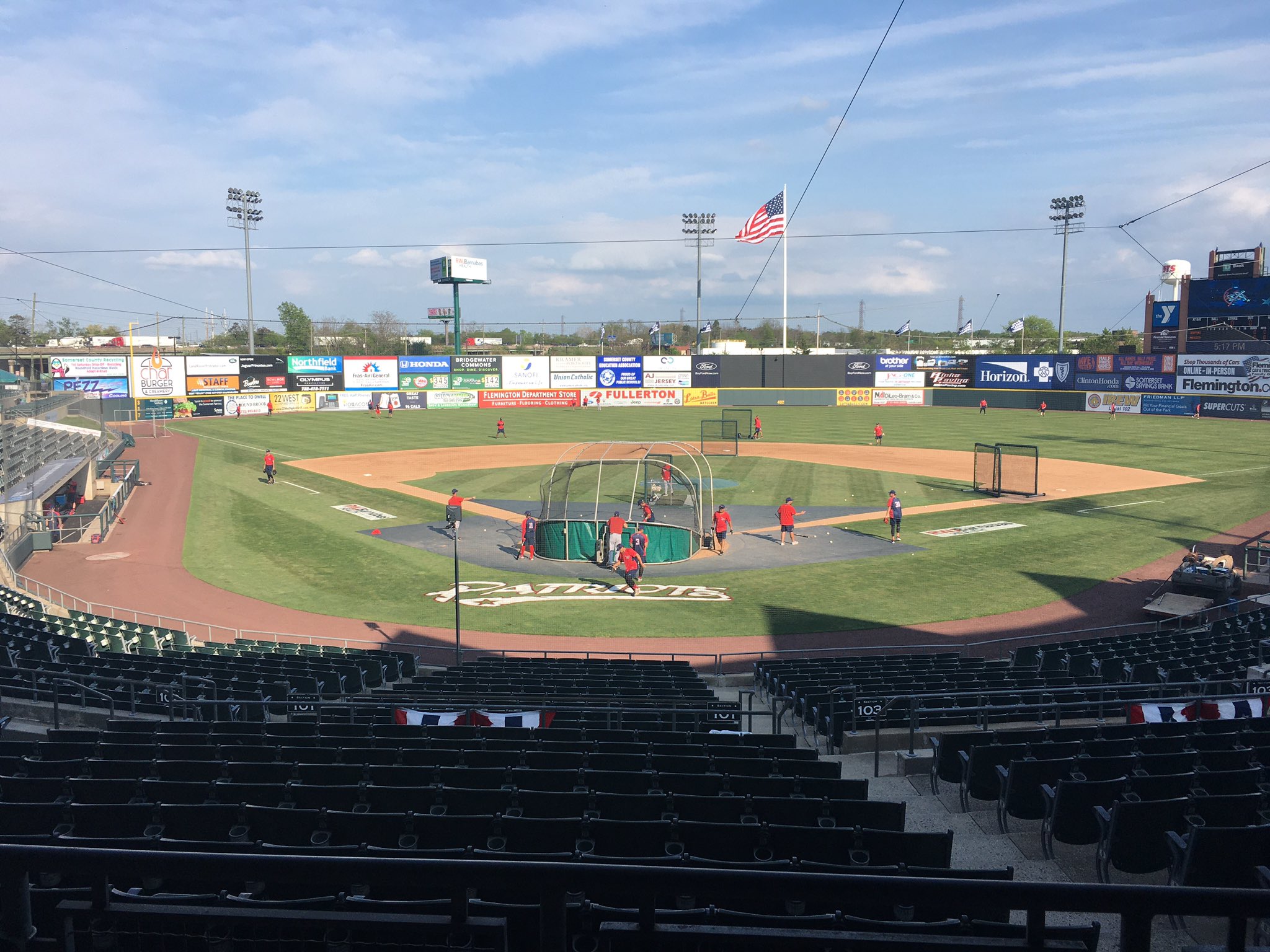 After more than 18 months, DoTF is back. It's been a long time coming. I gotta say: it actually feels like a baseball season now. Nothing quite like following along a MiLB game and the Yankees at the same time. That's the good stuff.
Anyway, I wrote up a bunch of thoughts on the Yanks farm, the changes to the MiLB structure, and some key players to watch. Check that out if you missed it. On to today's action.
News & Notes
Luke Voit, who was slated to get a rehab assignment with Double-A Somerset, will instead rehab with Triple-A Scranton. He got started there tonight, as you'll see below. It probably has to do with the COVID protocols, as Voit would have to quarantine if he came to MLB from Double-A. It doesn't apply to Triple-A, though. Here is a video of him hitting:
Results
Triple-A Scranton Wilkes-Barre RailRiders
The RailRiders fall to Syracuse 5-2 in their season opener. They are obviously 0-1 on the season, but hey: Luke Voit looked good!
Starting Pitcher: LHP Mike Montgomery: 4.1 IP, 4 H, 3 R (2 ER), 1 BB, 4 K – 37 of his 64 pitches (57%) went for strikes…the 30-year-old lefty threw 50 innings for the Royals across 2019 and 2020…he took the loss
In Relief: RHP Nick Nelson: 1.2 IP, 2 H, 2 ER, 1 BB, 3 K – It was more of the same for the frustrating Yankee reliever, who threw a wild pitch in a 1-2 count with the bases loaded…he also surrendered a home run...all in all, 20 of his 33 pitches (61%) went for strikes
In Relief: RHP Reggie McClain: 1.0 IP, 1 H, 1 BB, 1 K – the 28-year-old made his Yankees organizational debut after 30 MLB innings with the Phillies and Mariners in 2019 and 2020
In Relief: RHP Nick Goody: 1.0 IP, 2 K – nice clean inning, 8 of his 11 pitches (72%) were strikes
Rehab Watch: DH Luke Voit: 2-3, 1 2B, 1 BB – who needs a rehab assignment? I know a big league team that could use some 1B production
Miggy Mantle: LF Miguel Andújar: 0-4, 4 LOB – brutal night for 2018's breakout player, who grounded into 2 double plays…nice to see him get some work in the outfield, though
Gittens Alert: 1B Chris Gittens: 2-4 – no word on his exit velocity, though nice to see him keep up the hot spring
Leftovers: Socrates Brito, the best named player in the Yankee system, hit a 2-run homer…Robinson Chirinos played catcher, which was nice even if he went 0-3…Derek Deitrich went 1-4
Double-A Somerset Patriots
The Patriots struck out 15 on their way to a 6-0 win over the Harrisburg Senators. They start their season with a win, and Luis Gil shined in his start.
Starting Pitcher: RHP Luis Gil: 3.2 IP, 2 H, 1 BB, 6 K – 38 of his 63 pitches went for strikes…nice debut for the 22-year-old, who pounded the zone and limited the walks…love to see it
In Relief: RHP Ron Marinaccio: 3.1 IP, 0 H, 2 BB, 7 K – 29 of his 48 pitches (60%) went for strikes…dominant debut for the 25-year-old
In Relief: RHP Stephen Ridings: 1.0 IP, zeros, 1 BB, 1 K – 15 of his 20 pitches (75%) went for strikes…his name sounds a lot like Steven Tydings, which is funny to me
In Relief: RHP Greg Weisssert: 1.0 IP, 1 H, 1 K – 13 of his 18 pitches (72% went for strikes
Florial Watch: CF Estevan Florial: 1-4, 1 HR, 2 K – he lead off the game with a HR, but strike out twice…folks, it's the Florial Experience
Hitting Star: LF Thomas Milone: 2-2, 2B and 3 RBI
Leftovers: Oswaldo Cabrera went 1-4…Dermis Garcia was 1-3 with a walk
High-A Hudson Valley Renegades
The Renegades had a rough night at the plate, falling to the Jersey Shaw BlueClaws 6-2. The big story, though, is that Luis Medina performed well in his 2021 debut. They're 0-1 on the season now.
Starting Pitcher: RHP Luis Medina: 4.0 IP, 1 H, 2 BB, 8 K – 41 of his 67 pitches (61%) went for strikes, an important tell for the 22-year-old…he struck out 5 of the first 6 batters he faced…he's now struck out 71 batters in his last 47 MiLB innings
In Relief: RHP Elvis Peguero: 2.0 IP, 2 H, 4 R, 2 BB, 5 K – just 22 of his 39 pitches (56%) went for strikes…he took the loss
In Relief: RHP Nick Ernst: 1.0 IP, 2 H, 2 R, 2 BB, 3 K – 18 of his 31 pitches (58%) went for strikes
In Relief: LHP Matt Minnick: 1.0 IP, 1 BB, 2 K – 12 of his 18 pitches (66%) went for strikes
Hitting Star: RF Pablo Olivares: 1-3, 1 HR – the 23-year-old hit a solo shot with two outs in the 9th
Leftovers: Rough night for the big starters for the Renegades…Oswaldo Peraza went 0-4, Ezequiel Duran went 1-4…Josh Breaux was 0-3 with a walk…the team struck out 13 times
Low-A Tampa Tarpons
The Tarpons beat the Dunedin Blue Jays 11-7 in their debut, but it was a weird offensive performance. Of the Tarpons 12 hits, 11 came from the top four spots in the lineup…Anthony Volpe, Austin Wells, Trevor Hauver, and Jake Sanford went 11-17 with 7 walks. The rest of the team…did not do that well. The Tarpons are 1-0 on the year.
Starting Pitcher: RHP Matt Sauer: 3.1 IP, 1 H, 3 BB, 6 K – 30 of his 54 pitches (55%) went for strikes
In Relief: LHP Michael Giacone: 1.0 IP, 3 H, 3 R (2 ER), 2 BB, 1 K – 18 of his 33 (54%) went for strikes
In Relief: RHP Wellington Diaz: 2.2 IP, 2 H, 4 R, 2 BB, 2 K, 2 HR – 22 of his 38 pitches (58%) went for strikes
In Relief: RHP Nelvin Correa: 2.0 IP, 1 H, 2 BB, 3 K – 20 of his 35 pitches (57%) went for strikes…an error and a walk put the tying run on deck in the 9th, but Correa got 2 K and and a ground out to end it
First Rounder Watch: SS Anthony Volpe: 2-3, 3 R, 2 RBI, 3 BB – The 20-year-old infielder had a double and a triple as he reached base 5 times…nice to see, I left him off my to watch list, so hopefully he makes me, an idiot, look dumb
First Rounder Watch Times Two: C Austin Wells: 2-4, 3 R, 3 RBI, 2 BB – Wells hit a HR in his first pro game, and he reached base 4 times…pretty good debut, even if he struck out twice
Multi-HR Watch: 2B Trevor Hauver: 3-4, 2 R, 3 RBI, 2 BB – The 22-year-old middle-infielder hit 2 HR in the first game of the season, not bad
Four-Hit Game: RF Jake Sanford: 4-6, 2 RBI – all of the hits were singles for the 23-year-old outfielder