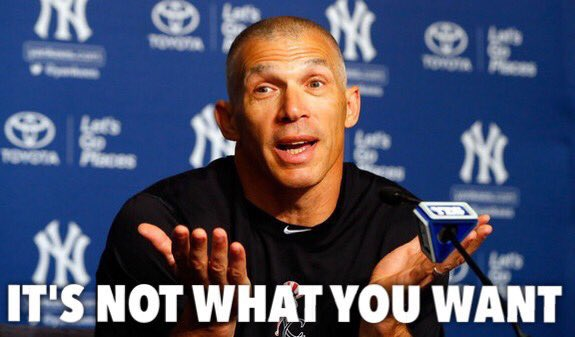 Ah, well. Nevertheless. The Yankees got a phenomenal pitching performance tonight and it wasn't enough. At one point the Rays had no hits in their last 30 plate appearances against the Yanks. The staff held the Rays to 2 runs in an elimination game but they got beat by Tampa. I have been loathe to admit this all season, but it's pretty clear now that the Yankees were the inferior team.
The Yanks fell 2-1 to the Rays in Game 5 of the ALDS tonight, and it was a fitting end for a season that felt utterly joyless at times. Even still, I am very sad to see it end. I wanted to watch more Yankee baseball. We got preciously little of it this year. Alas, it was not to be.
Let's get right to the takeaways, if you want to bear with me still.
1. That's Why You Pay Gerrit Cole: There will be a lot of people to blame for this loss – and the underwhelming season overall – but Gerrit Cole is not one of them. The Yankees' ace was marvelous tonight on short rest, and despite some less-than-stellar stuff. He lasted 5.1 innings, surrendered just one run on one hit, walked 2, and struck out 9.
As expected, he mixed in more changeups (11%) than normal, but he had velocity and used his fastball (49%) much more than any other pitch. Cole came out firing darts and he was determined to give it his all, and he sure did that.
I will say that he was clearly too amped up at the start of the game. After a first at-bat strikeout, Cole walked two of the next four batters and hit Arozerena to load the bases with one out. His pitch count was up and he fell behind Joey Wendle 3-0. he was on thin ice basically immediately. Look at his pitch location in the 1st:
He was all over the place and it almost bit him. The good news is that he came back from that 3-0 count to strike him out looking, and it was glorious:
Cole found his groove after this, and at one point struck out 7 of 9 batters, including Wendle there. He was on a roll and it was a case study in why you go out and pay a guy like Cole that kind of money. He is a true difference-maker. I mean, look at this:
The only other time Cole really ran into trouble was in the 4th inning after a Gleyber error. Torres, who had a really rough season defensively, booted a routine ball and it clearly messed with Cole again. He recovered and the only blemish against him all night was this, which came in the 5th inning:
This was extremely annoying! But you can live with it. At this point, though, Cole started to look visibly gassed. The Yankees brought him out for the 6th despite a high pitch count – the right move, might I add – and Brett Gardner saved the day. Honestly. Look at this incredible, incredible catch he made:
More on him in a minute. That ended Cole's night, and as I said, it was a truly heroic performance from him. You could not reasonably ask for more from him than what he gave us tonight. The Yankees will face many questions this offseason, but they will not wonder about their ace.
2. The Offense Lays an Egg: That was a true offensive stinker from the Yankees. Now, to be clear, the Rays were not passive actors here. Their pitchers were phenomenal and Kevin Cash's plan, which I felt gave the Yankees a pretty good chance to win, made me look foolish. The Yankees got thoroughly undressed by the Rays in this game – all year, really – and their offense got embarrassed in every way.
They did work four walks, but scraped just three hits in the nine innings of work. None were consecutive. They didn't even stage a real rally, really. It is not difficult to find a scapegoat. Gerrit Cole came out and gave this everything he had only to be given this performance by the Yankees. Frankly, they should be embarrassed. The only saving grace was an Aaron Judge home run. It didn't even look like he got it all. I mean, look at this:
I am not sure how Judge hit that out – off Nick Anderson no less! – but he did. Our man is so strong. I just wish he had more than 4 hits this postseason, even if 3 of them were home runs. Anyway, that was it. That was the whole offense.
I think the Yankees managed to have a few decent at-bats tonight. They were at least better than the box score showed. But it was a lackluster performance from a team that relies on its offense to win games. Sure, the Rays deserve a lot of credit here. They really do. But the Yankees were almost always going to need to score more than 1 run tonight to win, and they couldn't do it.
3. Another Playoffs, Another Gassed Bullpen: The Yankees went to the bullpen in the 6th inning tonight and immediately went to Zack Britton. It was, of course, the correct move. He started sloppy but settled in and looked pretty good, all things considered. He certainly did his job. There was a bit of controversy when Boone lifted him with 2 outs in the 7th after a runner reached on a Gio error.
I don't think this is fair, though. This was an elimination game and you want to use your best arms – not wait too long with a guy on 30 pitches. A fresh Chapman, for the top of the Rays order, was obviously the best move there. I give Boone props for having the guts to do it, and Chapman made him look smart:
This brings us to the 8th inning. For the second consecutive year, Aroldis Chapman could not get the job done. And for the second straight year, it was an excruciating at-bat that got us there. With one out in the 8th, Mike Brosseau – of course! – came to the plate. These guys, you remember, had a history in early September. Here is the pitch plot of the at-bat:
Pitch 10 landed in the seats. It was "poetic" if you subscribe to the narratives everyone loves. Predictably, I will not be linking to it or embedding it here. If you are a masochist, please seek it elsewhere. I do want to talk about the location, though.
Chapman was asking for it in this at-bat, honestly. None of those fastballs, save the 2nd, were high enough. He might throw extremely hard but Brosseau was increasingly on him during the plate appearance. He threw too many thigh-high fastballs on the inner third of the plate and he got burned.
It's hard to say he didn't deserve it.
Leftovers
The Curious Case of Mike Ford: Aaron Boone elected to use Mike Ford to pinch-hit for Kyle Higashioka to lead off the 8th inning. It was a strange choice! I don't really understand it. I'll think more on it than right now when I am less sad and mad, but it doesn't make sense. At least use Clint Frazier if you're going to pinch-hit, right? Ford did work a good at-bat but he struck out eventually.
DJ's Vanishing Bat: DJ LeMahieu had a quietly bad series, I think. It felt like he hit everything into the ground and was an absolute zero at the plate tonight, going 0-4. His at-bats were not right and it made a huge difference. The Yanks rely on him to set the tone, and, in a way, he did that tonight. Just not the way we wanted. This may have been his last game in a Yankee uniform, by the way.
Another Night, More Sloppy Defense: The Yankees made two errors tonight. Neither directly cost them, but it was another sloppy display. The Torres error added about 20 stressful pitches to Cole's ledger in the 4th inning and probably resulting in his plateauing earlier in the game than it otherwise may have. And Gio's forced Boone to make a move to Chapman a batter sooner than he'd have liked. Again, neither directly cost the Yanks, but these were sloppy mistakes. They happened all year, so it's not surprising they happened in the biggest game of the year.
A Potential Farewell to Brett Gardner: This is my last point of the night. We'll have more tomorrow, but I really hope that wasn't the end of the line from Brett Gardner in a Yankee uniform. I love the dude and he showed his far-too-many haters how valuable he is. He robbed a home run and was a consistently good at-bat all postseason. If that is it from him, I tip my cap to Brett. He'll be a forever favorite of mine.
---
Nothing but an excruciating ALCS to watch. I love baseball as much as anyone in the world – can't you tell? – but I will not be watching a pitch of the Astros-Rays ALCS. Not a single pitch. I just can't do it.
Anyway, before we wrap this up, I want to take a moment to thank all of you for sticking with us this year. It's been a year. It has been filled with challenges the likes of which most of us have never seen so I know I speak for all of us when I say that I really do appreciate all of you reading and following along with us. You guys are why we do this and we are eternally grateful to everyone who reads our website or listens to our podcast.
We'll have a lot more on this in the next few days. There will be a lot of questions to ask and even more to answer. This will be a significant offseason for the Yankees. We'll have you covered every step of the way.
Until then, thanks again for reading, and have a good night, everyone.