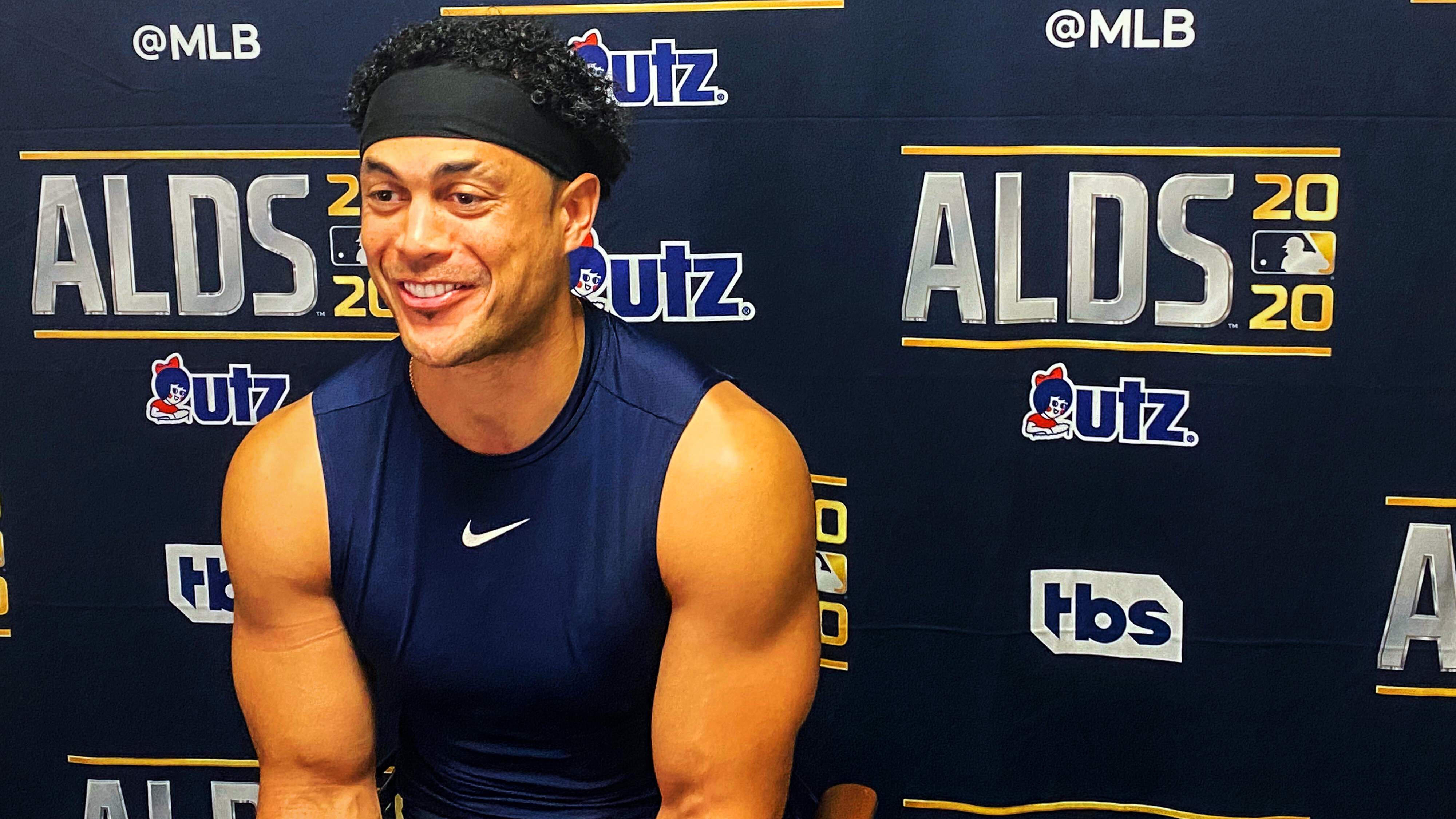 Now that was a baseball game. The Yankees smashed the Rays 9-3 (box score) and took a nice 1-0 lead in this series. This one was extremely close throughout and was just a one-run game heading into the 9th inning before the Yankees and Giancarlo Stanton blew it wide open. Two more just like it, please.
Let's get right to the takeaways in this great game, shall we?
1. Gerrit Cole Does Enough: The Yankees paid Gerrit Cole a third of a billion dollars to win a game just like this, so what does he do? He comes out and wins a game just like this. It wasn't all pretty from Cole – he really didn't have a good feel for his fastball early on – but he worked his way through it and, after 6 innings and 97 pitches, turned the ball over to the Yankees pen with a one-run lead. Can't ask for much more.
Cole pitched 6 innings, allowing 3 runs on 6 hits (2 HR) while striking out 8 and walking 2. I thought he could have gone back out there for the 7th, but I understood why Boone removed him when he did. I thought there were two big takeaways from Cole's performance.
First, as I said, Cole didn't really have his fastball – at least not early in the game. He was consistently missing low and over the plate with it. To their credit, the Rays made him pay. Here is Cole's first real mistake, which ended like this:
And here was the location:
That was a big mistake, as it gave the Rays the first inning run right back. It was, as an old friend would say, not what you want. Neither was the second big mistake, which came with the Yankees up 2-1 in the 4th inning:
And here is the location:
This was a trend early on, but Cole was able to work out of it largely because of pitches like this one:
Filth. That is pure filth. Cole's curve got a ridiculous 7 whiffs on 11 swings (64% whiff-per-swing rate), which shows how unhittable it was. It made his fastball play up a bit, which brings me to the second key takeaway from Cole: he really, really found his fastball as the game went on, particularly in the 5th and 6th innings. It was good timing.
Cole worked his way into a jam in the 5th, walking Brandon Lowe with two outs before allowing (another) single to Randy Arozarena. That brought up Cole-killer Ji-Man Choi, who the Yankees walked after Cole fell behind him 2-0, opting instead to face Manuel Margot. I hate walking a guy with Cole – I want him to embarrass everyone – but I get it. And boy did it pay off. Here is the pitch plot of the AB:

I'll have more to say about why pitch 2 was a ball below, but pitch 4 was exhilarating: it came in at 100 mph and looked like this.
Just incredible. Cole then blew through the Rays in the 6th inning, striking out the last two guys he faced. He threw 99+ mph on his 97th and final pitch of the evening. It was a good reminder that, even though Cole is going to occasionally give up HR on his fastball, he needs to be aggressive with that pitch. It's his best offering, and it's what makes him great. Aggressive Cole is a good Cole.
2. Kyle Higashioka, The Home Run Stroka (& Run Preventa): What a performance from Kyle Higashioka. Honestly, it was incredible. He picked up Cole with his bat and saved him with his glove. Let's start with the stick, shall we? With the Yankees trailing 3-2 after the Choi home run, Kyle came up to the plate and absolutely lasered a Blake Snell fastball to tie the game:
Just as we all drew it up, right? I kid you not, this homer came about two seconds after I was whining to my friends about why he was even playing at all. Shows what I know. Inexplicably, he was 2-4 with a walk (the first of his MLB career) on the evening, so it was a great performance at the plate.
But this was not Kyle's biggest moment of the night, dare I say it. That came two pitches before Cole's 100 mph beauty to Margot, on a pitch that one of them messed up. Higgy was clearly expecting a high fastball here, but Cole gave him a nasty bender instead:
Man, that is NOT easy. Again, he's expecting a 100 mph fastball up in the zone there and did not get that. (For what it's worth, Cole said after the game that this was his fault.) But instead of getting eaten alive, he somehow composed himself, made the catch, and even kinda framed it there at the end. (It was, inexcusably, called a ball.) I can't stress this enough. That was a run-saving play at a moment when the Yankees simply could not afford to let the Rays score a run. They didn't, thanks to the Cole/Higgy battery, but Higgy deserves a lot of credit for that.
3. Dominating Blake Snell: Before the game, I said that the Yankees needed to lay off Snell's off-speed stuff and punish his mistakes. Suffice to say, the Yankees did just that tonight. They seemed zeroed in on Snell all night from the first pitch of the game, actually. It was extremely impressive, and the only bad thing about it was that they didn't score more than 4 runs off him. Look at this:
This was a hell of a performance from the Yankee offense. They did not swing at nearly anything out of the zone and they really made Snell work for everything. It started with the very first at-bat from DJ LeMahieu, who got a single after this at-bat:
This really set the tone for the Yankees, who never looked back. It was exactly what we expect from DJ these days. He came around to score, after advancing on a ball in the dirt and a sac fly from Aaron Hicks:
That made it 1-0 right away. It was great, and the Yanks showed again they weren't going to be cowed by Snell. The Yankees pounded Snell for two other homers in addition to the Higashioka HR above, as well. Here is a monster blast from Clint Frazier:
This give the Yankees a 2-1 lead. And, two batters after the above Higgy bomb that tied the game, Aaron Judge hit this the go-ahead home run to give the Yanks a 4-3 lead:
It was unfortunate that the Yankees didn't score more in the 4th inning, when they had the bases loaded, but what can you do? You're not always going to come through. The Yanks absolutely made Snell pay later, and it had a lot to do with their very impressive approach all night.
4. Failing to Put it Away, Until…: Man, the Yankees really wanted to make this one as stressful as possible for a while there. They got shut down by the very good Rays pen despite putting some traffic on the bases. In fact, the Yanks had leadoff singles in the 7th and 8th inning go to waste with double plays. Gah. In a one-run game, that is very bad for my heart rate, that's for sure. I kept wanting the Yankees to break it open, but they didn't seem to want to…
…until they really, really did in the top of the 9th inning. Kyle Higashioka (who else?) got it started with a single and DJ LeMahieu followed it up with a walk. A very questionable strikeout to Aaron Judge set up this single from Aaron Hicks:
That was a huge, huge hit from Hicks. At the time, the Yanks were just up 4-3 going into the bottom of the 9th. That insurance run felt massive, especially because weak-hitting Tyler Wade was on deck. Wade walked, which brought up Giancarlo Stanton. After dropping two strikes, Stanton did this:
Folks: that is something you LOVE to see. You just love to see it. That made it 9-3 Yankees and put the bow on this one. Inject that one straight into my veins. Of course, it was their second straight game with a huge grand slam. This is a trend they should feel free to continue.
5. The Bullpen Does the Damn Job: That was a hell of a performance from the Yankee bullpen. They pitched some very high-leverage innings today and absolutely looked up to the task. Here are there respective lines:
Chad Green: 1.0 IP, zeros, 1 K, 1 BB
Zack Britton: 1.0 IP, zeros, 1 K, 1 BB
Luis Cessa: 1.0 IP, zeros, 1 K, 1 BB
A few too many walks, but that will do if you ask me. It is fair to question the Yankee pen at this point, but they met the challenge head on tonight. I thought Green looked great, even if he got a bit lucky. Here is his two-out pitch with a guy on to Arozerena:
That ball was hit 114 mph – the hardest hit of the night – but it was right at Gleyber Torres. No harm, no foul. What a performance from the pen overall, even though Green got squeezed. Even better is the fact that Chapman didn't have to pitch, though he did warm up. More on that tomorrow though. This one is long enough as it is.
Leftovers
Gleyber Defense is Okay: More shaky defense from Gleyber tonight. He airmailed a throw to first early on in the game, but Voit managed to corral it and get the out. He also bobbled a potential double-play later in the game. It would be nice to see him tighten this up a bit.
Gio's Defense is Amazing: Gio, on the other hand, is incredible. He added two hits tonight and played defense like this. Ho hum, another incredible night from Urshela, who the Yankees acquired for $25,000:
Luke Voit, Defensive Replacement: I don't really get that mad about the defensive switch for Voit. This makes me an anomaly, it seems. I'll have more on this tomorrow, but the guy can't even walk. I'm totally fine removing him for Wade when Britton comes into the game, especially in a one-run affair. I'm all for it, in fact.
Bad Blood at the End: The Rays buzzed the Yankees in a bunch after the Giancarlo grand slam. In particular, they threw up-and-in to Gleyber Torres, who got his revenge by smacking a single and stealing second base despite the 6-run lead. These teams hate each other. Worth pointing out that Kevin Cash, who managed this game terribly tonight, would be melting down right now if the Yankees did that.
---
The Yankees and Rays will play Game 2 of this series tomorrow night in San Diego. First pitch of that one will again come at 8:07 pm ET. Deivi Garcia will take on Tyler Glasnow in that one as the Yankees look to take a commanding 2-0 lead in the series. Enjoy what's left of your night, everyone.