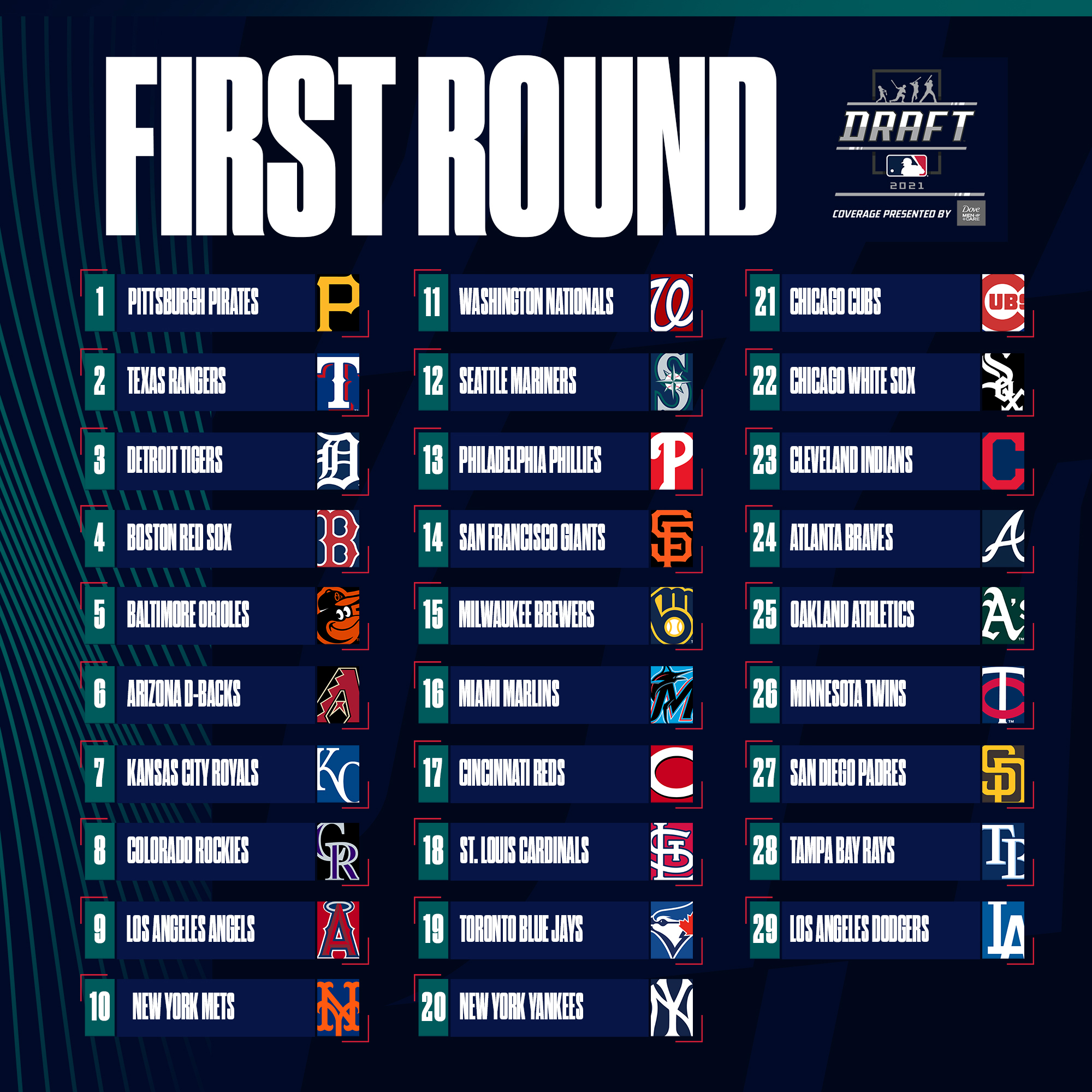 The 2021 MLB draft begins tonight at 7pm! In an attempt to increase interest, MLB decided to move the draft back and tie it in with the All-Star game. As you can see in the image above, the Yankees will have the 20th overall pick in this year's draft. Over the past few weeks, we have profiled several players the Yankees have been linked with and may select later tonight. In case you've missed any or all of our draft coverage, you're in luck – because this primer is your one stop shop for everything to prepare for tonight's draft!
What are the logistics?
Unlike last year's pandemic shortened 5 round draft or previous years 40 round behemoth, the 2021 draft will last 20 rounds which was the minimum MLB was allowed to set. The draft begins tonight at 7pm eastern and you can watch on MLB Network or ESPN. Tonight will comprise of the 1st round as well as Competitive Balance Round A and B. Rounds 2-10 will take place tomorrow and rounds 10-20 will happen on Tuesday.
Tonight is the main event, and the Yankees will make one selection. Based on previous years, I would expect the Yankees pick to happen around 9pm eastern, though it may be different this year since the draft is taking place at a different time of year. Here is the full list of Yankees' picks and the slot value for each per Lindsay Adler of The Athletic:
First round: No. 20 ($3,242,900)
Second round: No. 55 ($1,307,000)
Third round: No. 92 ($637,600)
Fourth round: No. 122 ($469,000)
Fifth round: No. 153 ($346,800)
Sixth round: No. 183 ($266,000)
Seventh round: No. 213 ($208,200)
Eighth round: No. 243 ($169,500)
Ninth round: No. 273 ($152,600)
10th round: No. 303 ($144,100)
11th round: No. 333
12th round: No. 363
13th round: No. 393
14th round: No. 423
15th round: No. 453
16th round: No. 483
17th round: No. 513
18th round: No. 543
19th round: No. 573
20th round: No. 603
That works out to a total bonus pool of $6,943,700 for their draft selections.
Recent Draft Picks
The Yankees have gone position player heavy lately in the draft with 4 of their last 5 first round picks having offensive profiles. Per Adler again, here are their last 5 first round picks as well as their performance in the minors this season:
2020 (28th pick): Austin Wells, C
• Hitting .266/.390/.463 with Low-A Tampa
2019 (30th pick): Anthony Volpe, SS
• Hitting .309/.452/.635 with Low-A Tampa
2018 (23rd pick): Anthony Seigler, C
• Hitting .192/.302/.342 at High-A Hudson Valley
2017 (15th pick): Clarke Schmidt, RHP
• Made MLB debut in 2020. On injured list with elbow strain.
2016 (18th pick): Blake Rutherford, OF
• Dealt to White Sox in 2017 as part of the David Robertson, Todd Frazier and Tommy Kahnle trade.
As you can see, Wells and Volpe have been destroying the baseball this season whereas Seigler is struggling and Schmidt is rehabbing from injury. Volpe was recently added to the Baseball America Top 100 (#100) and Baseball Prospectus Top 50 (#49) showing his rise up the prospect ranks this season.
In Thursday's Thoughts post, Derek did a great job highlighting how poor recent Yankees' first round draft picks have fared:
Wells, Volpe, and Sikkema have been solid so far, and let's hope that trend continues with whoever they draft this year.
Who Could They Draft?
We're going to break this category up into 4 different sections based on the 4 types of players drafted: high school pitchers, high school bats, college pitchers, college bats. As you saw in the table above, the Yankees have gone position player heavy lately, though they have been all over the place in terms of which types of players they draft. Typically, though, they go for college pitchers or high school bats.
High School Pitchers
The last high school pitcher the Yankees drafted in the first round was Ian Clarkin way back in 2013. In his book "The Inside Game", Keith Law outlines how high school pitchers are the riskiest bet in the draft, and that can explain why the Yankees typically don't spend first round draft picks on these players. But, if they change course and do take a high school pitcher, who might they take?
Players profiled: RHP Andrew Painter
Other names to know: LHP Anthony Solometo
Painter is a personal fave because he combines high upside with a decent floor which is more than you can say for the average high school pitcher. Solometo is a lefty out of New Jersey who has good "command and an analytics friendly pitch profile" according to Mike Axisa of CBS Sports.
High School Bats
The Yankees took back-to-back high school hitters named Anthony with their 2018 and 2019 picks. High school position players are typically higher upside picks, and you draft them hoping they can still grow and develop physically into stars.
Players profiled: OF Will Taylor, OF Benny Montgomery, INF Colson Montgomery
Other names to know: SS Max Muncy
Taylor and Colson Montgomery are two-sport stars who are likely to end up on the baseball diamond if they make it professionally. Based on recent mocks, it looks like Taylor and Benny Montgomery will both get picked before the Yankees selection. Colson Montgomery has been linked to the Mets at 10th overall for an underslot deal, though if he doesn't go there he could be in play for the Yankees. Muncy — no relation to the Dodgers player with the same name — is a power-hitting middle infielder with concerns about his hit tool and if he can remain at shortstop long-term.
College Pitchers
Most of our profiles have focused on college pitchers and for good reason. This draft is deep in college pitching in the mid-late first round where the Yankees pick. The Yankees also value college pitchers over high school pitchers, and they typically look for guys with decent command and analytics friendly profiles.
Players profiled: RHP Ryan Cusick, RHP Will Bednar, RHP Gunnar Hoglund, RHP Michael McGreevy
Other names to know: RHP Gavin Williams, LHP Matt Mikulski
Of these pitchers, McGreevy, Hoglund, and Bednar absolutely have starter profiled with multiple pitches they can already throw for strikes. Cusick, Williams, and Mikulski all have great stuff but either have mechanical, command, or lack of secondary pitches that lead to some reliever risk for them. It's worth noting that Gunnar Hoglund recently had Tommy John Surgery.
College Bats
So we didn't profile any college hitters because frankly, I find them a little boring. College hitters who make it to the back of the first round make it that far because they typically lack upside. Of course, the Yankees had a lot of success with Aaron Judge, though he is the exception, not the rule.
Players profiled: none
Other names to know: 2B Conor Norby
Norby would be an extremely safe pick. He already profiles as a second basemen and he does not have loud tools. What he does have is a solid approach that has gotten great results leading to a .415/.484/.659 batting line for East Carolina this season. He excelled at the College Super Regionals this year where he faced off against Jack Leiter and Kumar Rocker.
Prediction
Alright, if you made it this far you have more than earned reading my official and entirely uninformed prediction for who the Yankees will draft this year.
.
.
.
Gunnar Hoglund! Although he has high risk as a player who just had Tommy John surgery, he's who I predict the Yankees will/should take.
If not for the TJS, Hoglund would have been a top-10 draft pick. After Leiter and Rocker, he was the best college pitcher in this year's class due to his exceptional command and improving stuff this season.
The Yankees have prioritized command over stuff in their pitchers lately — with T.J. Sikkema a prime example — because as the old adage goes, you can't teach command. This day in age, it's easy to teach pitchers how to throw harder or to develop new pitches with advanced pitch tracking machines such as the Edgertronic camera and Rapsodo machine, though it is still difficult to teach command. And command is the most important trait for pitchers, especially for starters.
I typically don't like high-floor players, though with Hoglund I think there is upside because he improved his fastball this year bringing it into the mid-90's with good riding action. Tommy John aside, he also fits the mold for a guy who can stick in a rotation.
Of course, the Tommy John is a risk and it is worth pointing out that hasn't scared off the Yankees before. They took Clarke Schmidt in 2017 knowing he needed TJS, and they did the same with Andrew Brackman back in 2006. Brackman flamed out and Schmidt hasn't had the season we all hoped he would, but if the past is any indication, the Yankees won't be turned away from Hoglund due to his recent TJS.
We'll find out later tonight who the Yankees ultimately take, and I fully look forward to it being a player not even mentioned in this post! Follow us for coverage throughout the draft where we'll highlight who the Yankees take and what you need to know about them.