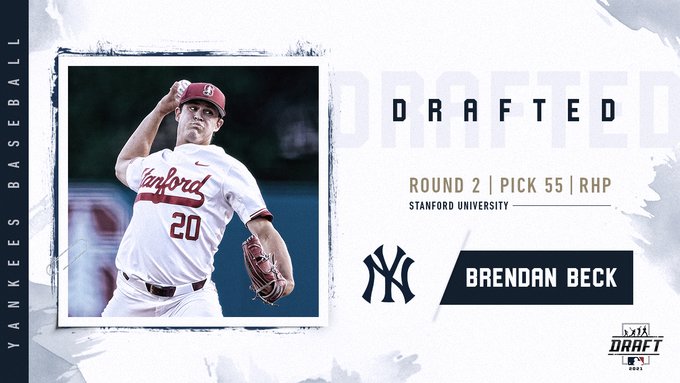 After selected Trey Sweeney in the 1st round on Sunday, the Yankees made 9 more picks on Monday to add to their draft haul. Of their 10 picks thus far, 6 are pitchers and 4 are position players, all 4 of which are infielders. Notably, 9 of the 10 players selected thus far are from colleges with only 1 high schooler taken. Here's a recap of the 9 picks from Day 2 and a look ahead to today's Day 3.
Day 2 Recap
Round 2: Brendan Beck, RHP Stanford
Beck is the younger brother of Tristan Beck, who is now in the Giants system. Beck is a typical Yankees draftee – he has great command which makes his stuff play up. Look for them to get him on their fastball velocity development program as he now only hits 93. He's definitely got some red ass in him as seen by this:
I would expect him to be a fast riser through the system and wouldn't be surprised if he's hitting 95-96 mph by this time next year.
Round 3: Brock Selvidge, LHP Hamilton High School
The lone high schooler taken thus far by the Yankees, Selvidge is a hard throwing lefty who's already hit 96 mph with his heater. 6'3″ and 205 lbs, look for him to add a little muscle to his frame in the next couple years. He has a slider, curve, and changeup that will all need to be developed if he is to remain a starter. Here's some video:
Round 4: Cooper Bowman, 2B University of Louisville
Teammate of 1st overall pick Henry Davis, Bowman is a quick 6′ 205 lb second baseman who has decent bat speed and raw power. There is 15-20 homer potential for him.
Round 5: Tyler Hardman, 1B Oklahoma
Hardman is a true power hitting first baseman who led the Big 12 with a .397 average this past season. He followed up a strong showing in the Cape Cod League by losing 20 lbs during the pandemic to get in better shape which has clearly paid off. One Yankees scouting director compared his power to Luke Voit's.
Round 6: Richard Fitts, RHP Auburn
Once considered a top talent in this draft, Fitts suffered a foot injury that set him back. He has a decent fastball at 93-95 mph with good vertical life and a solid changeup and slider which lead scouts to think he could profile as a starter. Like Beck, he is known for his strong competitiveness.
Round 7: Robert Ahlstrom, LHP University of Oregon
Ahlstrom went 9-3 with a 2.50 ERA and more than a strikeout per inning in the Pac-12 this season. He transferred to Oregon after two years at a community college and found his way to professional baseball. He is a four pitch guy with a fastball, slider, curve, and changeup.
Round 8: Will Warren, RHP Southeastern Louisiana University
Warren is known for his spin rates (which the Yankees love) on his curve and fastball. He has also spoken about how he read "The Mental Game of Baseball" which helped him progress through mental blocks as a starter. The therapist in me loves that.
Round 9: Chandler Champlain, RHP University of Southern California
This pick is a bet on returning upside for Champlain who has a great frame at 6'5″ and 220 lbs. He and I both share the same dream of visiting every Major League stadium. Hopefully he achieves his dream while starring for the Yankees.
Round 10: Benjamin Cowles, SS University of Maryland
Cowles led the Big 10 with 18 home runs this season including a home run in each of the first 12 weekend series.
Day 3 Preview
By drafting two college seniors, the Yankees may have a little bonus pool money left over to try and go for 1-2 high upside players on Day 3 that they sign to overslot bonuses. There are still 19 top 100 draft prospects who have not been selected – and while most of them have likely said they aren't going to sign – there may be a few the Yankees take a flyer on.
With the draft limited to 20 rounds instead of its previous 40, teams are less likely to take players they have no chance of signing. So although Will Taylor remains undrafted, that is clearly because he has told teams that he is going to follow through on his commitment to Clemson.
By being so college heavy thus far, I would expect the Yankees to pick a few more high school players today because they tend to have higher upside and if 1 hits, that's a huge win.